Police History: How Trooper Charlie Hanger caught the Oklahoma City bomber
Trooper Charlie Hanger is proof that one cop can have an incredible impact with a single traffic stop
---
In the years since the deadly blast that killed 168 and injured 680 at the Alfred P. Murrah Federal Building in Oklahoma City, we in law enforcement have learned numerous lessons.
We've improved our tactical response to mass casualty incidents. We've become more effective in conducting investigations – and sting operations – that prevent similar incidents from even occurring. 
One lesson we must always remember was taught to us by Noble County (Okla.) Trooper Charlie Hanger. Hanger – who now serves as Noble County Sheriff – is proof that one cop can have an incredible impact with a single traffic stop.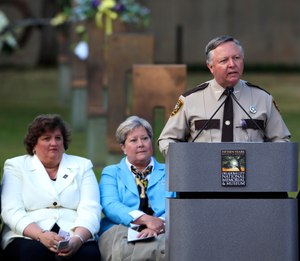 That stop resulted in the Oklahoma City bombers being brought swiftly to justice – Timothy McVeigh was put to death, and his accomplice, Terry Nichols, is serving a life sentence. 
Charlie was on patrol working the day shift when the Oklahoma City bomb exploded. He was initially dispatched from his area to assist, but almost instantly was called off and told to remain in his own area.
A short time later, Charlie passed a yellow Mercury missing a registration tag. Charlie slowed to let the driver of the Mercury get ahead of him. As he did, Charlie hit his overhead lights to begin the vehicle stop.
As the driver pulled his vehicle over, Charlie got a strange feeling about the occupant. Even though the stop was for a minor violation, Charlie sensed something more serious was going on besides a missing registration tag.
The Arrest of timothy mcveigh
Charlie paid attention to his inner voice and orchestrated a non-approach vehicle contact. Instead of just walking up on the Mercury, he called for the driver to step out of the vehicle. Hanger watched the suspect exit his car. He had the man walk to the area between the squad and the Mercury.  
When Charlie asked for the suspect's driver's license, the suspect reached for it. This movement alerted Hanger to the outline of a weapon impressed under the suspect's jacket. During a verbal exchange, the suspect – now known to be Timothy McVeigh – admitted to having a weapon and said it was loaded. 
Charlie had drawn his own weapon, and as he covered the suspect he replied, "So is mine."
Charlie handcuffed McVeigh and discovered he had a .45 caliber Glock loaded with the devastating Black Talon rounds. McVeigh carried his Glock in a quick-draw "suicide holster." Charlie's search also revealed McVeigh had a spare magazine and a knife hidden on his person. 
Charlie took McVeigh to jail and booked him on a carrying a concealed weapon charge. It was here that McVeigh gave his address in Michigan – the address he gave was that of the brother of his accomplice, Terry Nichols.
A Little Bit of Luck
McVeigh would probably have been given a court appearance date and released either the next day – or at the latest, the day after – except for a little bit of luck. The judge he was to appear in front of was unavailable because of family issues. 
This was a blessing in disguise to FBI investigators, because as their investigation led them to focus on McVeigh, they discovered they didn't have to look far. He was but a few miles from the scene, already in jail courtesy of Trooper Charlie Hanger.
During a routine search of his own squad, Charlie found a business card discarded by McVeigh while he was squirming and handcuffed in the back seat of the squad. The card would turn out to be quite damning – it was the card of a military surplus store in Wisconsin. Written on the back of the card by McVeigh were the words, "Will need more TNT – $10 a stick."
The Lesson Learned
Charlie believed that by increasing his stops, he was increasing the odds that he would make a difference, and that one stop he made years ago proved him right. 
He always modestly claimed he was just "in right place at the right time."
But it was much more than that. Any police officer can be at the right place at the right time and still choose to do nothing. Charlie proves that the right cop at the right place at the right time can do the right thing and make a difference in this world.
IN HIS OWN WORDS
In this video for the Oklahoma City National Memorial & Museum, Charlie Hanger details the routine traffic stop that ended with the arrest of Oklahoma City bomber Timothy McVeigh.
This article, originally published 04/17/2015, has been updated.