NY Assembly backs special unit to probe fatal police shootings
Former police office says the bill is part of an anti-cop movement
---
Associated Press
ALBANY, N.Y.  — New York's Assembly has passed legislation to establish a new unit in the state attorney general's office to investigate and prosecute alleged crimes by police in fatal encounters.
Assemblyman Keith Wright, a Manhattan Democrat and the bill's lead sponsor, says Tuesday there's an inherent conflict of interest when county district attorneys investigate police, who they work with in most cases.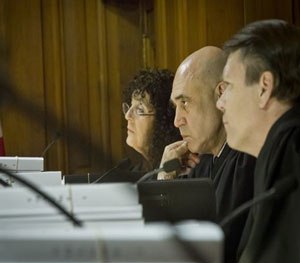 Several lawmakers referred to the case of Eric Garner, a Staten Island man who died in a police chokehold last year. Local prosecutors presented the case to a grand jury and no officers were indicted.
Assemblyman Alfred Graf, a Long Island Republican and former police officer, says the bill is part of an anti-cop movement.
The bill, which passed 82-47, would also open parts of secret grand jury proceedings.
Copyright 2015 The Associated Press.