5 things to know about gun-free zones
The debate over the efficacy of gun-free zones has only grown more heated in the wake of several recent mass casualty incidents
---
By Police1 Staff
The debate over the efficacy of gun-free zones has only grown more heated in the wake of several recent mass casualty incidents. Here are five things to know about the controversial laws. 
1. What is a gun-free zone?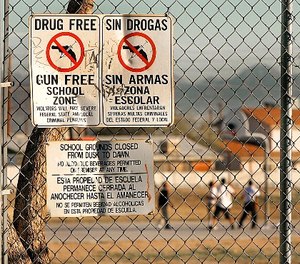 Gun-free zones are areas that prohibit the possession of firearms, with some exemptions that depend on state or federal laws.
At the federal level, schools are affected by this prohibition via two laws. The Gun-Free School Zones Act prohibits firearms at public and private schools or within 1,000 feet from school grounds. In addition, the Gun-Free Schools Act requires states to enforce a zero-tolerance gun policy toward students in their schools and at school events in order to qualify for federal funding. 
Military bases have barred personnel and civilians from carrying on site since 1992, although the Department of Defense recently made moves to loosen this policy.
State laws vary, but some locations where firearms are commonly prohibited include bars, airports and hospitals.
2. Mass casualty incidents have resulted in pushback against gun-free zones.
A common argument against these laws is that they work opposite to how they were intended; instead of keeping the public safer, they prevent law-abiding citizens from carrying but do nothing to stop criminals who intend to do harm.
Mass casualty incidents such as those that occurred last year in Ohio and Florida have resulted in a legislative push in some states to do away with gun-free zones and/or expand access to firearms.
For example, Florida recently introduced legislation that could allow firearms in police stations, courts, polling places and bars, among other locations.
3. Some argue that most mass shootings occur in gun-free zones, and that these sites attract active shooters.
Another common argument in this debate is that the majority of mass shootings occur in gun-free zones and that active shooters specifically seek out these sites to carry out their attacks.
Here's former Sen. Rick Santorum on the subject, from a 2015 interview about the Colorado Planned Parenthood shooting:
"Where do you think these people commit crimes? They go to places — these people who are ill, they go to places where they know no one's going to have a gun," he said.
Santorum's beliefs echo those of many politicians who argue these theories.
4. But are these claims true?
Here's where things get muddy. In a 2013 report, Mother Jones found no evidence that any of 62 mass shootings that occurred between 1982-2012 were at sites targeted specifically because of a gun ban. Many of the attackers had a personal connection to the site of their rampage, such as their place of work.
A study by Everytown for Gun Safety found only 13 percent of mass shootings between January 2009 and July 2015 occurred in gun-free public spaces, as pointed out by Newsweek.
On the contrary, an oft-cited 2014 study by John Lott, economist and president of the Crime Prevention Research Center, found that 98.4 percent of mass public shootings from 1950 to July 2016 occurred in gun-free zones.
A big reason it's hard to verify whether these claims are factual is because of the various definitions of what constitutes a "mass shooting," a "gun-free zone," and the differences in gun prohibition from state to state.
As reported by Politifact, not all "gun-free" zones are completely free of firearms, which researcher Louis Klarevas used in part to argue against Lott's study. For example, armed security was present at military sites categorized in Lott's findings as "gun-free."
5. Trump would like to eliminate gun-free zones.
On the campaign trail, then-presidential candidate Donald Trump promised he would do away with gun-free zones on schools and military bases. His Secretary of Education, Betsy DeVos, famously grabbed headlines last month for her pro-guns in schools stance. While it is unclear where the Trump Administration goes from here, the debate is likely to become far more intense in the coming months.