Rapid Response: Early lessons from the NYPD vehicle ambush and station attack
In the space of 12 hours, a gunman ambushed and shot an NYPD officer sitting in his patrol vehicle, then shot another officer inside an NYPD station
---
What Happened: On the evening of February 8, a man ambushed two New York Police Department (NYPD) officers as they sat in their marked and illuminated patrol van, injuring the driver with gunfire before the officer was able to drive away from the scene.
The following morning, the same attacker entered the 41st Precinct building and opened fire with a 9mm handgun, injuring a police lieutenant. When the attacker ran out of ammunition, he surrendered to police and was taken into custody.
While it's still early in the aftermath of these critical incidents, there are already some important themes emerging for Police1 readers to consider about these cowardly attacks. Some of these include: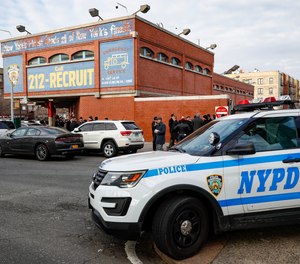 Vehicle ambushes
The first pair of officers who were targeted by this gunman was sitting in a marked police van with the emergency lights activated. As the suspect approached the van in the dark, the driver noticed that he had a handgun in his hand, pointed at the ground. As the officer began to drive the vehicle away, the suspect raised the firearm and fired, striking the officer in the chin and neck. The officer was able to drive away from the immediate danger, and switch places with the passenger officer, who drove his injured partner to the hospital.
We've talked about this before, in connection with a previous attack on NYPD officers, but it's vitally important for officers to remember that while they may feel a level of comfort and security in their vehicle, it's not a safe haven, and they have to remain alert to the danger of being ambushed while they are in the vehicle. The police car can become a "Purple Heart Box" that will trap you inside if you're not careful, so it's essential to divide your attention between whatever you are doing in the car (typing on a data terminal, writing a citation, talking on the radio, etc.) and watching the people who are approaching your vehicle.
It appears that the driver in this incident maintained this kind of awareness, and it provided him just enough advance warning of the attack to "get off the X." The shooter still injured the officer with grazing wounds to the neck and chin, but those bullets would probably have struck more lethal areas if the officer hadn't complicated the attack by driving away.
It can be difficult to monitor all the avenues of approach and potential threats when the vehicle is parked in a busy area, with lots of foot and vehicle traffic. As such, officers are encouraged to avoid lingering in a busy area if their duties don't require them to remain in that position. After a stop, call, or investigation has been completed, move the patrol car to a more defensible location to finish the paperwork (such as in the middle of a large parking lot, where an attacker would have to cross a lot of open terrain to get to you), or team up with another officer on the scene to provide overwatch for each other. Better yet, finish your paperwork inside the police station.
Some vehicle ambushes are best resolved as this one was, with the officers driving away. Others are best handled by using the vehicle as a weapon to attack the attacker, and others still are best handled by debussing the car and fighting or fleeing on foot.
Training programs should address these possibilities and allow officers to practice these various counter-ambush techniques. Additionally, officers should be cognizant of arranging their equipment inside the car in a manner that maximizes their ability to get out of the vehicle quickly. Unfortunately, the proliferation of data terminals, radios and weapons racks has made the cabin of a patrol vehicle very crowded, but officers should strive to avoid making things worse by keeping the front seats and floors clear of unnecessary clutter as much as possible because they might be the best avenues of escape when under fire.
Police building security
The attack on the 41st Precinct building highlights the dangers associated with unrestricted public access to police buildings. The suspect was able to walk right into the lobby of the precinct and launch his shooting attack, wounding a lieutenant in the arm.
Since the police are public servants, they have to remain available to the public, but this doesn't mean that the police have to accept being vulnerable to attack.
Protecting police stations begins with good, defensive architecture, and ends with good tactics. Police buildings should have vehicle exclusion measures in place (restricted parking immediately around the building, vehicle access control, fencing, speedbumps, S-curve approaches, bollards, etc.) to help mitigate the threat from vehicle attacks. They should also be well illuminated, and avenues of approach should be monitored with video cameras.
Visitor control measures (such as restricting entrances, using electric door locks, or posting security guards) and interior defensive architecture (such as ballistic-rated partitions, secured doors, and entrance hallways that incorporate curves to prevent straight-line access from sidewalk to lobby, etc.) should also be considered to prevent unrestricted access to the facility.
Personnel assigned to "front desk duty" should be armed and in full uniform, to include soft body armor and all equipment required for patrol (firearm, ammo, handcuffs, non-lethal tools, radio, etc.). They should also be in good physical health, since they may become the front-line defense for everyone in the building (a caution to agencies that put injured and recuperating officers on desk duty is in order here).
Other personnel in the facility should also be encouraged to wear body armor and duty gear whenever they are in the building since they might be needed for backup, or might become a target of an attacker who has breached the inner defenses ‒ we saw both of these things happen in the 41st Precinct assault, with officers becoming targets and also responding to the threat immediately in both cases.
Hand and arm injuries
The 41st Precinct lieutenant sustained a gunshot wound to the arm in the attack, repeating a common trend in police shootings that we've discussed before. The lieutenant's injury didn't prevent him from arming himself and responding to the attack, however. This experience reminds us that we have to prepare our people for this common injury and ensure they are ready to fight with a wounded hand or arm ‒ something for law enforcement trainers to consider, and particularly firearms instructors.
The wheel of history turns
I've been warning officers ‒ in my articles, presentations and interviews ‒ for many years about the cyclical nature of the threats being faced by today's police. If you're a student of police history, you know that things like vehicle ambushes and attacks on police stations were common events for the cops of another generation, and we can expect more of the same, as what's old becomes what's new again.
Standby for grenade, firebomb, or IED attacks on police cars and police stations, elevated snipers and squad-sized assaults on banks and precinct desks. Get ready to post police snipers in overwatch positions at police headquarters, and roving guards outside the station and in your motor pools. Start doing walkarounds on your police cars, practice your counter-ambush response, and hone your MAC-TAC and riot control tactics.
It might be 2020, but your threats are looking and acting more as if they came from the violent and turbulent 1960s and 1970s. If you want a roadmap of where things are heading, all you need is a history book and a little bit of imagination.
We at Police1 are grateful that this suspect is in custody and that the officers involved in these two ambushes weren't more severely injured or killed. However, we're also aware that there are others like him out there, so we urge you to stay vigilant and to be safe out there. May God bless all of you as you work to keep our communities safe.