Charlottesville council meets privately on personnel matters
Mayor Mike Signer said the events on Aug. 12 "raised serious questions about the city's handling of security, communications, and governance"
---
Associated Press
CHARLOTTESVILLE, Va. — Charlottesville officials will meet behind closed doors Thursday to discuss "personnel matters" in the wake of a deadly white nationalist rally, the city's mayor said in a statement.
The City Council decided to hold an emergency closed session with the city manager on Thursday, Mayor Mike Signer said in a lengthy statement posted on Facebook. Signer said the events on Aug. 12 "raised serious questions about the city's handling of security, communications, and governance."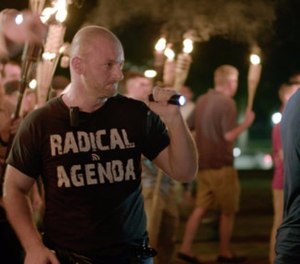 Those are questions that the city council should ask "as the ultimate authority over the city manager," Signer wrote.
It has been nearly two weeks since the rally, which attracted what's believed to be the largest gathering of white nationalists in at least a decade. One woman was killed when a car plowed into a group of counter-protesters, and two state troopers died when their helicopter crashed.
The rally was sparked by the city's decision to remove a statue of Confederate Gen. Robert E. Lee from a city park. On Wednesday, workers draped the statue of Lee and another of Gen. Thomas "Stonewall" Jackson in black fabric meant to symbolize the city's mourning.
Charlottesville residents, rally organizers and law enforcement experts are among those who have criticized the city's handling of the lead-up to the rally and the chaos and violence that ensued. Anger boiled over a city council meeting earlier this week, where scores of people screamed and cursed at councilors.
Signer, who has a seat on the city council, explained the city's form of government in his statement and defended the actions he and the council had taken.
His statement emphasized that the city manager "has total operational authority over operations like the ones on August 12" and is responsible for the staff under his command, including the police chief.
Signer said the council was not given the security plan for the rally. When he asked during a briefing days before the event what he could do to be helpful, Police Chief Al Thomas responded, "Stay out of my way," Signer wrote.
"Despite repeated requests, I was not allowed into the City's Command Center (run by City staff) and was instead asked to be in the Emergency Operations Center (where fire, rescue, and other stakeholders were monitoring the situation)," Signer wrote.
The council has called for an independent review of all decisions related not only to Aug. 12, but also a July KKK rally and a prior torch-lit rally of white nationalists at Emancipation Park, Signer wrote. He said he expects details to be announced shortly.
City officials had been expected to host a "community recovery town hall" Thursday evening in collaboration with the Community Relations Services of the Department of Justice. But they announced Thursday morning that it had been rescheduled for Sunday due to conflicts with a local high school's student activities.
Officials will provide an update on "recovery efforts" at that meeting and offer opportunities for public comment, according to a news release.
"Our community has been shaken to its core," City Manager Maurice Jones said in a statement. "We see this partnership with CRS as the beginning of a process of recovery and renewal."
In other developments Thursday, Christopher Cantwell, a white nationalist from Keene, New Hampshire, made an initial appearance in Albemarle County General District Court.
He faces two counts of the illegal use of tear gas or other gases and one count of malicious bodily injury with a "caustic substance," explosive or fire in connection with a torch-lit rally on the University of Virginia campus the night before the white nationalist rally.
Contacted by The Associated Press on Tuesday, Cantwell acknowledged he had pepper-sprayed a counter-demonstrator. But he insisted he was defending himself, saying he did it "because my only other option was knocking out his teeth." He also said he was looking forward to his day in court.
UVA police said late Wednesday night that he had turned himself in.
Cantwell told a judge Thursday that he planned to hire his own attorney, The Daily Progress reported . The judge did not set a bond, but told Cantwell his attorney could request a bond hearing later.