DA: NY man tried to take cop's gun, threatened to rape officers
The incident began when the suspect allegedly tried to prevent officers from arresting another person
---
By Maura Grunlund
Staten Island Advance
STATEN ISLAND, NY — A man tried to snatch a cop's gun and bit and threatened to rape other officers during a melee that started with an arrest in New Brighton, authorities allege.
The skirmish began when Freddie Adams, 21, of DeKalb Avenue in Brooklyn, allegedly tried to prevent officers from arresting another person, Isaiah Johnson, on Monday shortly after midnight on the 400 block of Jersey Street, according to the criminal complaint and police.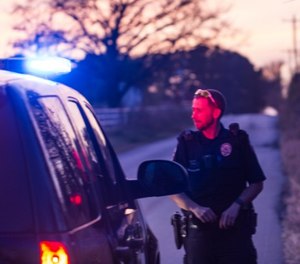 A male officer told Adams to step back and leave.
Instead, Adams, who stands about 5'11" and weighs about 180 pounds, allegedly pushed the chest of the male officer.
While police were trying to restrain Adams, the suspect grabbed the same male officer's firearm and pulled up in an attempt to remove the gun from the holster, according to the criminal complaint and a source with knowledge of the investigation.
The suspect allegedly bit the left arm of a female officer and continued to resist arrest and shove officers, the complaint alleges.
Adams threatened to rape and spit on that female officer and also made the same threats against a second female officer in a holding cell at the 120th Precinct stationhouse in St. George, according to the source and the criminal complaint.
The female officer suffered a bruise and redness where she was bitten, but did not go to the hospital.
Adams has been charged with attempted robbery, assault, obstructing governmental administration, resisting arrest and harassment. 
Johnson, 21, of Crescent Avenue in New Brighton, was also arrested.
An officer allegedly saw Johnson driving a black motorcycle recklessly at a high rate of speed southbound on Jersey Street with no license plate shortly after midnight. Johnson refused to show his identification when requested by police, according to the criminal complaint filed against him. 
A police officer asked Johnson to step down from the bike, but the suspect allegedly refused.
When officers tried to arrest Johnson, he allegedly swung his arms and stiffened his body in an attempt to prevent being handcuffed.
The investigation revealed that the bike was not insured and that the defendant's license was suspended, the criminal complaint said
Johnson faces charges that include obstructing governmental administration, resisting arrest, aggravated unlicensed operation of a motor vehicle, disorderly conduct and driving without a license.
McClatchy-Tribune News Service