Wanted man to Canada PD: See you Monday
Rodney Constantine made good on his promise after he commented on the department's Facebook post regarding his warrants
---
By Police1 Staff
ST. JOHN'S, Newfoundland — A man wanted by the Royal Newfoundland Constabulary turned himself in Monday – a day after he made the promise in a post to the department's Facebook page.
CBC News reports 29-year-old Rodney Constantine commented on the department's post regarding his outstanding warrants.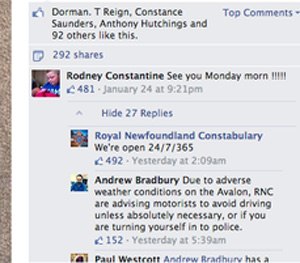 "See you Monday morn," the fugitive wrote.
"We're open 24/7/365," the department wrote back, according to MSN.
Police were seeking Constantine on assault, breach of probation, breach of recognizance and failure to appear in court charges.
The department confirmed the man followed through on his word in a second Facebook post, writing, "Thank you for sharing. We hope that we can see more success with apprehending wanted individuals using Facebook and Twitter."