Baltimore's next police chief faces demoralized department
The next police commissioner will have a daunting to-do list
---
By Juliet Linderman
Associated Press
BALTIMORE — Baltimore's next police commissioner will have a daunting to-do list: quell a surge in murders, rebuild trust between officers and the public, win the confidence of a demoralized and alienated department, and keep the peace when the explosive Freddie Gray case comes to trial.
"It's the toughest job in the United States at the moment," said Eugene O'Donnell, a professor at the John Jay College of Criminal Justice in New York and a former New York City police officer.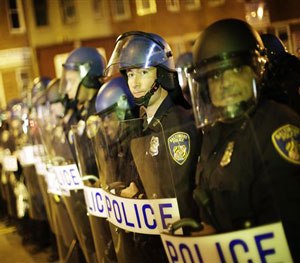 Commissioner Anthony Batts was fired by the mayor on Wednesday, less than three months after riots erupted over Gray's death from a spinal injury the 25-year-old black man suffered while being bounced around the back of a moving police van. Six officers are awaiting trial in October on charges ranging up to murder.
"You have a confluence of factors: You have an ongoing criminal case that's traumatic for everybody. You have the specter of riots. For the police union and officers, they're alienated, and the concern is that the cops will be further alienated," O'Donnell said. "You need a chief who can, first and foremost, drive everyone toward common ground."
In dismissing Batts, Mayor Stephanie Rawlings-Blake said his approach was too divisive and his presence too damaging.
Just hours before his firing, in a sign that the 2,800-officer department's rank-and-file had lost confidence in Batts, the police union issued a report blasting his response to the looting, arson and vandalism that broke out April 27. The report said Batts discouraged officers from wearing protective gear and told them not to engage with rioters. Roughly 200 officers were injured during the unrest.
"The officers characterized the Baltimore Police Department's leadership during the riots as unprepared, politically motivated and uncaring and confusing," said Gene Ryan, president of the police union.
Batts' standing was further damaged by soaring bloodshed in the city in the weeks after the riots.
In May, Baltimore saw its biggest surge in homicides in four decades, while arrests dropped by half compared with the same period a year earlier. The city's homicide total so far this year is 156, a 48 percent increase from the same time last year. And shootings have climbed 86 percent.
Community members have accused police of not doing their jobs in the wake of the Gray arrests. Batts and the police union denied that officers were shirking their duties but acknowledged that police are angry, frustrated and fearful in the wake of the Gray case of being second-guessed and prosecuted.
Peter Moskos, also with John Jay College and a former Baltimore police officer, said the Gray case led police officers to question whether the department had their backs.
"The harm from the Freddie Gray death is it had a chilling effect: Cops were saying, 'That could have been me,'" he said. But he said getting rid of Batts was "a step toward getting things on track."
"Batts was a leader without a following," Moskos said. "If none of the rank and file thinks you're competent, it's as good as being incompetent."
Batts' deputy, Kevin Davis, will serve as interim commissioner until the mayor appoints a permanent replacement. City officials gave no time frame for selecting someone.
"My message to the rank and file is I will walk with them, I will serve with them, and I intend to be with them every step of the way as we focus on the crime fight," Davis said.
On Thursday, Davis said his first order of business was appointing someone to focus on riot response. Davis added that he would like to remain in the position permanently.
In the most violent and drug-ridden neighborhoods in Baltimore — a city of roughly 622,000 people, 63 percent of them black — residents have a long history of mistrust of the police department. After Gray's death, the U.S. Justice Department opened an investigation into whether Baltimore police engage in discriminatory practices, including unlawful stops and excessive force.
"The new chief has to institute a culture that builds much closer relationships between the department and the community," said Erwin Chemerinsky, dean of the University of California, Irvine School of Law. "Police departments and their cultures have been reformed. Change can happen. But who is at the top is really crucial for that."
Copyright 2015 The Associated Press.