How the NYPD is fighting to end the opioid crisis
The bottom line is this: We cannot arrest our way out of this problem
---
The Police Executive Research Forum has released an extensive new report on the state of the opioid crisis and how law enforcement agencies are combating the issue, including a profile of New York City's multi-agency, multi-pronged approach to the epidemic. This article is reprinted with permission from the Police Executive Research Forum report, "The Unprecedented Opioid Epidemic."
By NYPD Commissioner James O'Neill
Make no mistake about this: the opioid epidemic is a national crisis. Here in New York City, it is happening in all five of our boroughs. It is affecting people from all walks of life, of all races, ages and financial backgrounds. No facet of our society is immune.
What makes matters worse is that illegal drugs like heroin are increasingly being cut with fentanyl, a powerful synthetic opioid that is 50 to 100 times stronger than the pain killer morphine.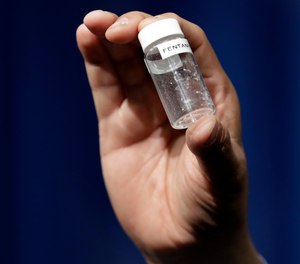 Last year, we had fatal 1,300 overdoses; 1,100 of them were opioid-related. To put that in perspective, New York City had 335 homicides and 220 traffic fatalities. The opioid issue is a crisis, and it is not going away on its own. This is why the NYPD is proactively facing it head on.
This crisis is changing the way the men and women of this police department do their jobs. In 2013, NYPD began a pilot program on Staten Island with our officers carrying naloxone. We expanded that program citywide in 2015. We have trained 17,000 of our officers to use the naloxone kits deployed across our city.
To date, the NYPD alone has recorded more than 140 saves, with 51 last year and about 20 already this year. These numbers do not include hospitals and other places where people were saved by EMTs or Good Samaritans.
84 NEW INVESTIGATORS TO FOCUS ON OPIOIDS
The NYPD will now investigate all cases of overdoses we are made aware of, both fatal and nonfatal. We investigated 381 of them last year.
Going forward, this will be a massive manpower issue. In order to accomplish our goals, we are specifically assigning 84 NYPD investigators to tackle the problem. Sixty-four of them will be assigned to our borough narcotics squads citywide, and the remaining 20 will be assigned to our Criminal Enterprise Division, where they will work with federal agents and handle more complex cases.
We are dealing with this on international, national, regional and local levels. Every day we partner with New York's five district attorneys, the Office of the Special Narcotics Prosecutor (which prosecutes sophisticated narcotics trafficking organizations, including those that cross state and national boundaries), the FBI, the DEA, HIDTA and the U.S. Attorneys' Offices for the Eastern and Southern Districts of New York. The goal of these partnerships is to keep dangerous opioids from entering New York City in the first place, and to dismantle the network of traffickers who support the market for illegal drugs.
We are doing this at New York City airports, highways and ports of entry, and our teams are working to identify major drug cartels, to gather intelligence, and to conduct surveillance to prosecute major drug suppliers.
50 NEW TECHNICIANS IN NYPD LAB TO TEST HEROIN
In addition, we are bringing in 50 new technicians to our NYPD lab, specifically to test the heroin we seize. Like many of you and your agencies, we used to test heroin in the field. However, we found that the fentanyl the heroin is being mixed with is so potent that it is highly unsafe for our people to breathe the air in an uncontrolled area. You are seeing that is the case all across the nation now.
We are also studying the possible expansion of other initiatives already in place, including the Heroin Overdose Prevention & Education (HOPE) program, an early diversion pre-arraignment effort on Staten Island for people charged with low-level drug offenses.
New York City is also launching a campaign to raise public awareness about the state's 911 Good Samaritan law, which grants immunity from prosecution to those who call for help during an overdose and who are in possession of small amounts of drugs or drug paraphernalia.
WE CAN TURN THE TIDE ON THIS
The bottom line is this: We cannot arrest our way out of this problem. When our investigators interview those who have been lucky enough not to die after an overdose, we tell them we are not going to lock them up. We want to know how and where they got their drugs, and we want to move further up the food chain to cut off the supply.
From 2011 to 2015, we saw a 57 percent increase in arrests for heroin sales here, and our efforts resulted in a 32 percent increase in heroin seizures from 2014 to 2015.
This is our multi-pronged approach to this issue: life-saving, administering aid out in the field, arrests of those manufacturing and distributing these drugs, and education. This is about teaching everyone – from school-age kids to adults with major substance abuse problems – to make good decisions, to resist peer pressure and to live their lives in a positive, healthy and productive way.
I am confident that we can turn the tide on this. However, it is going to take cooperation at every level of government, and working in public- and private sector partnerships. This is our way forward.
---
About the author
James P. O'Neill was appointed the 43rd police commissioner of the City of New York by Mayor Bill de Blasio in September 2016. He had served previously as chief of department, the NYPD's highest uniformed rank. He was instrumental in developing neighborhood policing, which is renewing and recasting the NYPD's patrol function to provide greater police and community interaction and collaboration.
Widely experienced in both the patrol and the investigative sides of the department, Commissioner O'Neill is a hands-on police practitioner and a dedicated police reformer. He speaks with urgency about the need for police to evolve if they are to succeed in connecting with communities, and about keeping people safe in the 21st century.
Follow Commissioner O'Neill on Twitter.