LAPD police chief discusses street takeovers, LAUSD cyberattack
"We've impounded more than 500 cars year to date, we've made more than 500 arrests, 2,500 citations," Chief Michel Moore said
---
By Amanda Spence
LOS ANGELES — Los Angeles Police Department Chief Michel Moore is opening up about a number of pressing issues, including street takeovers and the recent LAUSD cyberattack.
Moore, who spoke with KTLA 5 Morning News, first discussed street takeovers happening throughout the state. "Well, this is a phenomenon that's occurring not just here in Los Angeles, but across this entire region, and across the state," Moore said. "It is a challenge for us that we're taking head-on from an enforcement posture. We've impounded more than 500 cars year to date, we've made more than 500 arrests, 2,500 citations. But more is needed. And frankly, those fines and the impound costs and so forth are not deterring as much as we'd like to see."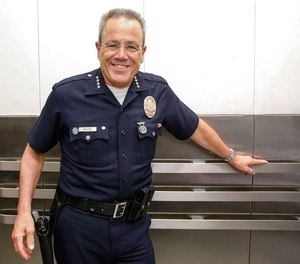 As a result, Moore said the department is working with state legislators to "stiffen the penalties." An impounded vehicle could then not only be held for 30 days, but the driver would lose the vehicle completely.
Moore also noted that robberies are "flat" or "slightly down," but robberies involving firearms are up by almost 60%.
"What I'm asking for is that judges, prosecutors, that all of us look at this and recognize, that a person, a habitual offender, a person using a firearm in the commission of a crime. We need to counter that by having the full weight of the criminal justice system," he said. "That will have a consequence both for that individual, but also act as a deterrent to others that might be tempted to have ready access to a weapon and go out and use it against someone else."
Lastly, Moore talked about the cyberattack that hit the L.A. Unified School District over the weekend, saying the situation is ongoing.
"We're working to identify the culprit who's responsible behind this, but right now the primary focus is [to] get these systems restored to ensure that the school district can operate. We've added extra patrols with our uniform resources in the support of L.A. Unified. We don't see any specific threat to any of the children's or staff's safety. But we also recognize that these types of cyberattacks can be unsettling to parents and the staff, so we want to ensure that we have a little extra presence today as our young people are coming to and from school. And the staff will see more patrols throughout the city."
NEXT: LAPD closes L.A.'s new bridge 3rd night in a row after street takeovers, crashes