Ariz. police use doorbell camera footage shared by residents to curb thefts
Critics claim the use of video evidence without a warrant is problematic; police say the doorbells are equivalent to a digital neighborhood watch
---
Jim Walsh
East Valley Tribune
EAST VALLEY, Ariz. — A doorbell never made as many friends and enemies, but then again, The Ring is far from the ordinary lighted button with chimes.
Ring videotapes people walking up to your front door – some of whom might be up to no good.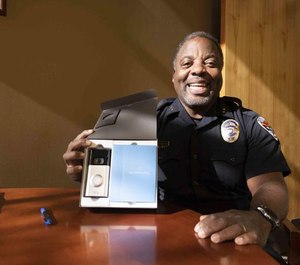 And at a time when Christmas online shoppers are expecting packages, Ring has become a new crime-fighting tool for Mesa, Chandler and Gilbert police.
In police Commander Ed Upshaw's south Chandler district, Ring has helped police nab a stalker, porch pirates swiping Amazon packages – even a couple of Amazon delivery workers caught stealing packages they supposedly delivered or a previously delivered.
Chandler police also used the Ring to bust another sort of ring – a carload of teens from Phoenix who jumped out of a car early in the morning and opened the doors of unlocked, park cars to steal whatever valuables they could find.
"We have used it in multiple cases. It is a valuable tool our agency uses,'' Upshaw said. "It's 2019. It's not the same world you lived in in 1970. The world has changed. You are under constant surveillance.''
But some civil libertarians consider Ring a technological manifestation of Big Brother and a dangerous intrusion on privacy rights, with innocent people suddenly accused of suspicious behavior without reason and cops obtaining evidence quickly, with no oversight, through a network of nosey doorbells.
Upshaw and other East Valley police officials say their concerns are overblown.
They consider Ring the equivalent of a digital block watch, an update on an aspect of community policing departments have promoted for decades.
Instead of holding a Block Watch meeting or calling each other, neighbors are sharing videos and issuing potential crime alerts of their own.
"They are giving it to us for free and it works with every camera system,'' Upshaw said, referring to Ring's Neighbors App. "We've been trying to create something like this for years. No one has ever done it.''
Gilbert police spokesman Sgt. Mark Marino, another Ring fan, said town residents have shown no hesitation about sharing Ring videos.
"The Valley as a whole works well with law enforcement,'' Marino said. "As long as people are willing to share their videos, it will help us.''
In a world where customers always are under surveillance at supermarkets, big box stores and other public places, it shouldn't be shocking the same concept would be extended by technology into neighborhoods, he said.
"We don't have the ability to pull video from anyplace. This is a voluntary submission. We don't have access unless you provide it to us,'' Marino said.
Police have been asking major companies for access to surveillance videos for decades while investigating a wide range of crimes, from armed robberies to even hit-and-run accidents, he said.
"No one ever had privacy rights in public. Privacy and public are contradictory terms,'' Marino said. "I think there is a misconception about what privacy is.''
A Ring doorbell also recorded two thieves going through the owner's car in a Mesa driveway while the unsuspecting owner was asleep inside his home. Mesa police eventually arrested the suspects.
None of these incidents qualify as crimes of the century. Instead, they are what police often describe as crimes of opportunity – incidents upset victims to no end but often do not lead to an arrest.
But to Chandler, Mesa and Gilbert police – which all have relationships with Ring along with about 600 agencies nationally – the popular device represents another crime-solving tool.
Residents can go to police web sites and enter a code to sign up for Ring's Neighbors App, where videos are shared.
"We're not seeing it wipe out the burglary problem, but it gives residents a little bit of power,'' said Mesa police Commander Ed Wessing.
Residents download videos taken by the Ring, with a smartphone and other devices to Ring's Neighbors App, alerting each other about suspicious activity.
Police can view such videos through Ring's law enforcement portal, using geofencing to monitor up to a five-mile area.
Cops can also put out an alert requesting videos in response to a particular crime or crime trends, such as the vehicle burglaries.
Police also say civil liberties are not violated because they have no direct access to anyone's Ring system and do not monitor specific doorbells on a daily basis.
"They are empowering each other through the Neighbors App, sharing the activity involved,'' Wessing said. "Just like your neighborhood can view it, we can view it.''
"It's community-driven. These are videos they are giving us,'' Wessing added.
After a string of vehicle burglaries in the Dobson Ranch neighborhood, for instance, when thieves can commit 15-20 burglaries in short period of time, "it was overwhelming sought after and supported by the community,'' he said.
These agencies report no major crimes, such as homicides or sexual assaults, being solved by Ring.
But they say the doorbell might just capture a fleeing suspect's car driving by or license plate number could be used a track down a suspect.
"It's a much faster way for us to canvass a neighborhood than 15 years ago,'' Wessing said.
The traditional police procedure is for officers to comb through a neighborhood, knocking on doors, looking for witnesses or others with information.
A civil libertarian, however, argues it's part of the problem with Ring.
Depending upon how the settings are set by the owner, Ring can also record innocent people doing nothing wrong in a neighborhood – such as a delivery person simply leaving a package near a front door, someone soliciting contributions for charity or someone walking their dog along a familiar route.
Evan Greer, deputy director of Fight for the Future, a digital civil rights advocacy organization, fears Ring could create a nationwide neighborhood surveillance network, with police involved in cozy relationships with Ring and evidence obtained by police without obtaining a warrant.
She said there are no oversight or safeguards, creating a permissive atmosphere where residents with no law enforcement training have engaged in racial profiling, automatically assuming someone innocently walking through a neighborhood is acting suspicious because they are not white.
"Speed matters. It changes the impact on society,'' Greer said. "I think it's what is so concerning. They don't need a warrant. It allows them to do it astonishingly fast. It makes it so much easier.''
With Ring becoming so popular, it's hard to escape from surveillance, she said.
"It's not just stores, it's literally everywhere,'' Greer said.
Greer's fears were amplified when BuzzFeed.com reported a former Chandler police assistant chief had spoken about the capability of matching Ring videos with facial recognition technology at a seminar in April before the International Association of Chiefs of Police.
Police have acknowledged they have access to facial recognition technology through the Arizona Counter Terrorism Information Center, but Upshaw said the level of effort would be reserved for solving major crimes, not property crimes.
"It's there, but it's for kidnappers, bank robbers, active killers,'' Upshaw said. "We're not going to use for simple burglars and shoplifters.''
Greer accuses Amazon, the owner of Ring, of turning police into glorified Ring salesmen.
Police reject such a characterization. Upshaw said Ring gave Chandler police 25 doorbells when police entered into the agreement, and one new doorbell for every 20 people who sign up for the Neighbors App through the Chandler police web site.
The relationship paid dividends in crime prevention when Chandler police gave a free doorbell to a woman in south Chandler who was being stalked by her ex-boyfriend after she ended the relationship and threw him out of her house.
Upshaw said the ex-boyfriend is accused of terrorizing the woman for two months, slashing her tires, entering her house through a window and sending her text messages he was watching her.
The woman placed the Ring in an unconventional spot, not as a doorbell, and the video captured the ex-boyfriend trespassing on her property shutting off her power. Police arrested the ex-boyfriend at a hotel.
Despite the privacy concerns, Wessing said, "At the end of the day, we are trying to prevent future victims."
McClatchy-Tribune News Service