COVID-19 crisis: Looking back 1 year later
A look at the pandemic's impact on law enforcement
---
It's been one year since the World Health Organization declared the novel coronavirus a pandemic, upending every aspect of our daily lives. First responders have been particularly impacted, from facing potential exposure during a severe PPE shortage to being on the frontlines of mask and shelter-in-place enforcement.
Throughout the pandemic, Police1 has brought you news, expert analysis, safety tips, research and other resources to help you navigate the crisis. Visit our COVID-19 page here, and for expanded training and policy resources, be sure to visit Lexipol's COVID-19 Learning & Policy Center.
LOOKING BACK: BY THE NUMBERS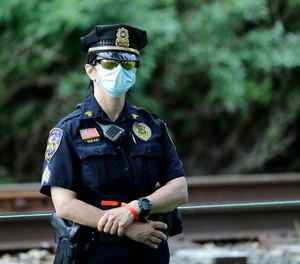 730: The number of uniformed members of the NYPD who tested positive in the early days of the pandemic. New York was hit particularly hard during the first wave, and the NYPD was no exception to this, ultimately resulting in staggering loss for the department.
92%: The percentage of cops we polled who said first responders should receive hazard pay during the pandemic. The issue was a hot topic throughout the year, with some local governments implementing various forms of COVID-19 compensation.
266: The number of line-of-duty deaths caused by COVID-19, according to the Officer Down Memorial Page. COVID-19 claimed more police lives than any other cause in 2020.
30%: The spike in homicides in 2020 compared to 2019, part of a larger trend of rising crime last year that has been partially attributed to the pandemic and widespread civil unrest.
8%: The increase in domestic violence incidents that occurred after stay-at-home orders.
42,060: The number of people who died in vehicle crashes last year – an 8% increase over the previous year and the first rise in fatalities in four years. Despite fewer cars on the road during the pandemic, reckless driving reportedly increased, leading to the jump. According to some officials, that behavior doesn't appear to be abating with more cars on the road this year.
38%: The percentage of officers who say 'Yes' to getting a COVID-19 vaccine, according to our poll conducted in late December.
29%: The spike in opioid overdoses year over year. While drug ODs were trending upward before the emergence of the coronavirus, the rate has accelerated during the pandemic, according to the CDC.
LOOKING BACK: COPS ASSISTING THEIR COMMUNITIES
From helping parents with their children's at-home learning to delivering groceries to the most vulnerable, officers went above and beyond throughout 2020 to help their communities through the pandemic.
RELATED NEWS
Read more of Police1's coverage of the COVID-19 crisis:
What cops need to know about the COVID vaccine right now
A three-pronged strategy for reducing violent crime
Remote dispatching gives Arlington ECC an edge in operations, staffing
Firearms training after COVID-19 shutdowns
On conquering COVID, the invisible suspect
Arizona police leaders discuss COVID infection rates among officers, vaccination protocols
How public safety agencies can combat the financial impact of COVID-19
How the National Center for Missing and Exploited Children battles child abuse and exploitation
Responding to an epidemic amid a pandemic: Drug interdiction and opioid response grants
10 ways cops went above and beyond during the COVID-19 crisis