Opinion: Let officers ask the COVID question
Cops ask people if they're armed all the time, why wouldn't they ask if someone has been exposed to the coronavirus?
---
What should officers be doing while on patrol? What calls do you defer for a response? How can you keep officers motivated? Register now for a free webinar on April 15 from Calibre Press that will address these issues and more facing police leaders during the COVID-19 crisis.
This article is reprinted with permission from Calibre Press 
By Jim Glennon
Should officers be prevented from asking people if they're infected with COVID-19 to protect themselves, other officers, citizens and their own families?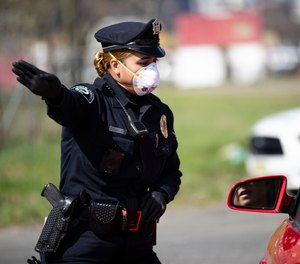 Well, they've been prevented from asking in one county in New Jersey.
As reported on PoliceOne last week: "The prosecutor in New Jersey's hardest-hit county for coronavirus cases has ordered police chiefs to stop any efforts to require infected residents to self-identify or place quarantine signs on their front doors." Bergen County Prosecutor Mark Musella wrote in a directive that "such requirements are totally inappropriate and therefore banned." The directive was sent this past weekend to all county police chiefs and directors, the sheriff and officers-in-charge. It came after several police departments "advised their residents (with COVID-19) to self-identify when seeking police assistance and/or to post notices on their residences."
Musella – who, by the way, is not personally responding to calls and risking exposure – has said, "Asking COVID-19 positive/quarantined individuals to self-identify that status when they seek police assistance may discourage those (with coronavirus) from seeking police assistance when they need it, thus endangering them, their families and the general public."
So, I'm confused about why the restriction is needed? We ask people if they're armed all the time, and quite frankly, guns and knives right now aren't as dangerous to police officers as this virus.
Yeah, I get that quarantine signs may be over the top, almost a Scarlett Letter-type branding, stigmatizing all those in the residence. But restricting officers from asking?
That's ludicrous on every level. And it's dangerous well beyond the health of the individual officer doing the asking.
Let's be rational and practical.
An officer who gets exposed creates a contagion conundrum for his agency. What do you do with that officer? While exposure doesn't mean that the officer is actually infected, that exposure is something the agency still must deal with.
Should the agency quarantine the officer because of the exposure or keep him/her on duty and engaged with other officers and the public?
If you do remove the officer from the duty roster, you've depleted your force in a time when roles need to be filled. If you don't quarantine then agencies now risk infecting other officers.
As of this writing, 20% of uniformed NYPD officers are out sick! Chicago PD, the second-largest local police force, is experiencing the same issue with more than 800 officers out.
Consider the smaller departments, say staffed with 20 officers? More than 85% of departments have less than 50. What do you do if one officer is exposed and sits in roll call the next day with five others?  Quarantine a quarter of your police force? How about the 45% of agencies that have less than ten officers?
And if you don't quarantine an officer who has been exposed and that officer goes on a call and infects a citizen, now what? Would the ethics of the agency be questioned? Does that adhere to the mission of the organization, which is protecting people from harm? Lawsuits would unquestionably follow. People would get sick and some may die because they were exposed to an infected officer.
And if infected those officers will carry that disease home to their families, now harming those they love.
Much of this could be avoided by just simply asking the question: "Have you been exposed to COVID-19 or have you been around anyone in the last two weeks who has been diagnosed?"
I doubt many citizens would object. Everyone in the country is aware of COVID-19 and most are trying to personally avoid it. Why would they be surprised that the cops wish to do the same?
Hospitals are overwhelmed with patients; 163 police officers have tested positive in New Jersey.
The Ridgewood Police Department in Bergen County was one of the agencies asking residents to self-identify during the 911 call and with a note on the front door.
Ridgewood has 45 sworn officers, according to its website, and as of this writing, they have not taken that request for self-identifying down. Nor should they.
These are extraordinary times and police officers, front-line workers and other first responders are being asked to do – and in fact, are doing – extraordinary things. Risking their lives by simply doing their jobs.  The vast majority are showing up, not calling in sick unless they actually are sick. Their dedication should be commended as they're doing their duty even though they put themselves and their families at risk.
So maybe during these extraordinary times, as officers are doing extraordinary things, prosecutors such as Mr. Musella should think past their politics and allow officers to do their jobs and protect their communities.
Let them ask the damn question! I think they're going to do it anyway…and I think they should.
---
About the author
Lt. Jim Glennon (ret.) is the owner and lead instructor for Calibre Press. He is a third-generation LEO, retired from the Lombard (Illinois) PD after 29 years of service. Rising to the rank of lieutenant, he commanded both patrol and the investigations unit. In 1998, he was selected as the first commander of investigations for the newly formed DuPage County Major Crimes (Homicide) Task Force. He has a BA in Psychology, a master's in Law Enforcement Justice Administration and is the author of the book "Arresting Communication: Essential Interaction Skills for Law Enforcement."