With upcoming events, Pa. city up for challenge of keeping visitors safe
To prepare, officials research trends and gather intelligence to try to predict — and prevent — outbreaks of violence
---
By Andrew Goldstein
Pittsburgh Post-Gazette
PITTSBURGH — In his 25 years with the FBI, Wendell Hissrich had to concern himself with security of large crowds while working at command posts of major national and international events, from the first Obama inauguration in 2009 to Pope Francis' visit to Philadelphia in 2015. 
Those events drew crowds of a million or more and were peaceful, but Mr. Hissrich's first exposure to a mass gathering while working for the FBI was anything but. At the World Trade Organization's ministerial conference in Seattle in 1999, mass protests that turned violent caused the Washington governor to declare a state of emergency and brought widespread criticism upon the city for its lack of preparation.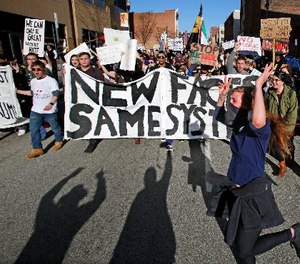 "There were a lot of things done wrong there," Mr. Hissrich said.
Although nothing has reached that level in Pittsburgh since Mr. Hissrich took over as the city's public safety director in January 2016, he said he was concerned by some of the violence he saw at special events — largely in Downtown — over the summer.          
High-profile crime incidents made headlines seemingly after every big event: a shooting on Liberty Avenue following Fourth of July Fireworks; juveniles fighting and causing disturbances throughout the Golden Triangle during the Regatta; a car crash critically injuring two people just outside Pride Fest in the Cultural District. 
As a result, Mr. Hissrich said he and other city officials have "fine-tuned" event planning, starting the preparation earlier and bringing the various components in the public safety department together.
As the weather turns warmer and millions of people are expected to attend events in Downtown, the public safety department faces the challenge of keeping visitors safe as business owners and event planners try to attract as many people as they can.
"Downtown's a showcase, and it's under a microscope for public safety," Mr. Hissrich said in a recent interview at the City-County Building. "Anything that happens there is going to be well publicized, but crime is not really excessive down there."
Event Planning
When then-candidate Donald Trump visited Pittsburgh in April for the first time on his campaign trail, thousands of supporters and protesters came together in the streets near the David L. Lawrence Convention Center. The rally was mostly peaceful, but a clash between protesters and police resulted in several arrests and injuries. 
Officials decided changes were needed after reviewing that event.   
"There has to be a clear-cut chain of command," Mr. Hissrich said. "Who is in charge? And that person needs to be in charge of the entire event."
Since then, Mr. Hissrich said, preparation has become more consistent between the city's police, fire and EMS departments. An entity comprised of a police commander, an assistant chief or the chief of fire and an assistant chief from EMS make their plan together.  
"Before, the planning was done separately by police, fire and EMS, and two weeks before they'd all come into a room like this and all try to put their plan together," Mr. Hissrich said. "A lot of times it was cohesive. Many times it wasn't."
Mr. Hissrich said one of the first things he noticed when he took over the public safety department was that planning for special events didn't start as early as it could have. Planning for events now begins the day the permit for the event is issued.
Officials can plan all they want, but it's still hard to know what's going to happen the day of an event.
To prepare, officials research trends and gather intelligence to try to predict — and prevent — outbreaks of violence. Mr. Hissrich said authorities will look at what happens in other cities and plan accordingly.
The reaction to some violence has been as simple as checking bags and using metal-detecting wands. Portable lights have been brought in to illuminate dark areas. Extra security cameras from elsewhere in the city have been moved to high-traffic locations during events.
Other responses are more complex. Attempting to thwart an attack such as the one that happened in July in Nice, France, when a terrorist killed dozens as he drove a truck through a crowd, the city started moving public works trucks and Port Authority buses into positions that block vehicles from entering areas where a large number of people might be during events.
Intelligence and presence
The EQT Three Rivers Regatta in August was considered by most to be successful, with events on the rivers returning after a year's hiatus. But outside of the confines of Point State Park on the final night of the Regatta, a wave of trouble was washing over the rest of Downtown.
Groups of juveniles were running amok, getting into altercations with civilians, police officers and each other. Several minor injuries were reported, and more than a half-dozen arrests were made.
"The night of the Regatta I came across two probably 20-year-old girls who were in tears because they were scared, and I made sure they got to their car," Mr. Hissrich said. "I don't blame them."
Mr. Hissrich said authorities had information that problems might occur on the Saturday night of the Regatta. Extra resources were brought into town that night, and in the end nothing happened.
"But it did occur on Sunday night, and we probably did not bring enough resources into town," Mr. Hissrich said.
The takeaway: Bring in more resources earlier and continue to bring more as problems persist.  
Mr. Hissrich said officials appeared to avert issues at Light Up Night festivities in November doing just that.
When authorities learned through monitoring social media that juveniles were planning to come Downtown to cause problems, plainclothes officers were dispersed throughout the crowd.
"They blend in and they listen to what's being said," Mr. Hissrich said. "If there's any intel which hints that there's going to be problems, we start moving uniformed police officers and resources to that problem area."
City officials and Downtown community members agree that police presence is the keystone to public safety, not only at special events but on a daily basis.
Along with putting more officers on the street, the plan is to have a police substation in the Cultural District that will be staffed 12 to 16 hours a day and can function as a command post during events.
"I've heard the saying 'an ounce of prevention is worth a pound of cure,' " said John Valentine, executive director of the Pittsburgh Downtown Community Development Corp. "I think having a satellite station, more police presence at these big events just make a world of difference."   
Day to day 
Only a small amount of the crime that occurs in Downtown happens during big events. For those who live and work in the Central Business District, public safety is an essential issue.
Drug dealing and abuse in Market Square once again became problematic in the past year. The Pittsburgh Downtown Partnership recently decided to remove tables and chairs from the square after lunchtime to deter troublemakers from loitering there.
Several violent incidents have occurred in the last few years at the Wood Street T station, including a shooting in September that left a 17-year-old boy critically injured. Police have increased their presence in the area, particularly around 3 p.m. when teenagers from rival neighborhoods cross paths on their way home from school.
Officials believe police presence can increase public safety day to day, just as it does at big events.
Mr. Hissrich said the police substation will be in operation by the end of the year. He said he was hoping to have it open earlier, but there's been "some minor hang-ups" on negotiations with the Pittsburgh Cultural Trust, which may lease a space to the city.
He said that the regular work for mounted police units — which the city recently announced it would bring back after 14 years — will be in Market Square. Officers on horses would fill the absence of a beat cop in the square, which has been without one for over a year.
"We [support] any action that is being taken because we're happy to see that there is an action taken," said Brian Gorder, manager of Diamond Market in Market Square.
"It's a positive sign that people are working together," said Jordan Nicholas, owner of Nicholas Coffee. "It may not be the right solution the first time, but I'm confident we'll get it right eventually."
Mr. Gorder and Mr. Nicholas said programming, such as outdoor movies, concerts and sports-watch parties are in the works to give the square a more family-friendly vibe this summer.
But no matter what happens, and even if safety cannot be guaranteed at all times, stakeholders still believe people will flock to Downtown for big events or a night on the town.  
"You can talk about high-profile incidents anywhere in the world," Mr. Valentine said. "I can show you high-profile incidents in the suburbs of Pittsburgh. ... But that can't stop you from living."
———
©2017 the Pittsburgh Post-Gazette
McClatchy-Tribune News Service