How a 'bleed-safe' community can help during an active violence event
The Las Vegas shooting demonstrated that the true first responders are those in attendance when an incident takes place
---
Joshua Bobko, MD, a reserve police officer for the Westminster (Calif.) Police Department and medical director for West (Orange) County SWAT, was a featured presenter at the 124th International Association of Chiefs of Police Annual Conference in Philadelphia where he spoke on how to create a 'bleed-safe' community. In 2014, Westminster PD started an innovative program to integrate trained citizens into the disaster planning framework. Implementation of these First Care Providers has improved community resilience and public relations, and delivered a statistically significant improvement in the ability to provide care in the "hot zone." Here Bobko shares some key points from his presentation.
By Joshua Bobko, MD, Chief Robert B. Wylie (ret), BS, EFO,EMT-T, William Harris, NREMT-P, & R. Todd Baldridge, MS, NREMT-P
On October 1, America was thrust into an era of fear and uncertainty not seen since September 11, 2001. With 58 people killed, and more than 500 injured, the massacre at the Route 91 Country Music festival has law enforcement leaders asking, "How would we handle if this happens in my town?"
Police response models under evaluation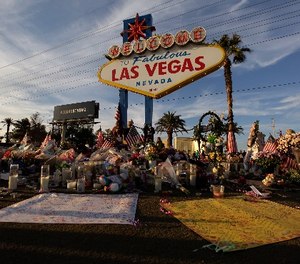 Police departments nationwide are re-evaluating response models not only for how they respond to active violence, but also for mass casualty incidents.
In the nearly 20 years since the Columbine high school shooting, agencies have focused on reducing response delays, equipping officers and improving critical decision-making, but when such atrocities occur in major destinations like Las Vegas and Orlando, police leaders face new questions from city managers, council members and the public about litigation concerns and lost tourism revenue.
Even with new policies for law enforcement and emergency medical responders, there remains a considerable gap in the ability to get medical care to the wounded during active violence events (AVEs). First responders – no matter how progressive their policies and tactics – are bound by the inherent delay of system activation and response time to multiple locations. The average law enforcement response time to an urgent 9-1-1 call is 11 minutes.
While this time varies based on department and circumstance, medical response usually follows several minutes after. Even in circumstances such as the Las Vegas shooting, having officers on scene does not equate to medical care. In the setting of a dynamic threat, the time it takes to begin caring for the injured may be doubled, or even tripled.
2 questions police leaders must answer
Knowing that dispatch will likely come after an event has started, the first question police leaders should be prepared to answer is: "What has your agency done to prepare officers to care for casualties of active violence?"
Fortunately, the Stop The Bleed initiative launched by the Department of Homeland Security in 2015 empowers communities to engage civilians with life-saving interventions that are easy to teach, easy to learn, and will save lives in the time between notification of an emergency event and the arrival on scene of traditional first responders.
The next question police leaders have to answer is, "What tools do we have, and are our people trained to use them?"
Current standards for law enforcement are immediate suppression of threat and tactical first aid. Just like you wouldn't send your officers out on the street without body armor and a functional weapon, you should not send them out without the right equipment and training to effectively care for themselves and their partners in a life-or-death situation. Yet most departments that issue tourniquets to their police officers provide minimal, if any, training on tourniquet use.
Your community is going to come to your agency
Communities now realize that the true first responders on the scene of an active violence event are the people in attendance when an incident takes place. With this reality in mind, communities are looking for law enforcement to tell them how they need to prepare.
Just in this past year alone, the Pulse shootings in Orlando, terror attacks in London and hurricanes in the south have shown our communities that they have to get involved in their own security. This provides police departments with the opportunity to present a unified message of empowerment, mobilizing communities as part of an integrated solution to disaster. The public is relying on law enforcement agencies to provide the framework for how to respond after they've called 9-1-1.
First Care Provider network offers strategy to train civilians
Departments everywhere are looking for ways to become part of the communities they serve; this is the essence of community policing. The goal of the First Care Provider network, which is the only Stop the Bleed program designed and implemented by first responders, is to provide agencies with an easily implemented strategy to enlist their communities. What better way to engage citizens than to empower them to act when a disaster – manmade or natural – strikes?
Again, using the Las Vegas shooting as an example, few departments would have the mutual aid resources to respond in a timely manner and begin to address the critical aspects (500+ wounded, barricaded threat, unknown location of the shooter) of the situation. We know that during these critical responses sufficient resources will not be immediately available and departments will be stretched to breaking point.
Local police and sheriff departments are victims of our own success. Since the first 9-1-1 call in 1968, we have created a world in which 80 percent of our public expect an instant response.[1] Yet today, even on our best days, departments are limited by manpower shortages, high call volumes, weather, traffic and other unforeseen obstacles. In fact, the national average for police response times in the United States is approximately 11 minutes.[2] Unfortunately, this leads to a "perception gap" where the public's expectations exceed our operational capabilities. The lay public does not yet understand dispatch priorities, response limitations and other operational challenges that may be concurrent with their emergency.
Community education programs improve resilience
The first step to empowerment is to understand the realities of the world we live in and the limitations of the system we work under. When 70 percent of the public sees their only contribution to disaster response as making a 9-1-1 call, we have missed an opportunity to activate our public. By educating bystanders to become First Care Providers, we create a broad network of potential force multipliers that can improve operational effectiveness in a dynamic threat situation the same way CPR and AED training has worked for out-of-hospital cardiac arrest. Although unlike cardiac arrest, there is little or no role for CPR in active violence events.
Further, community education programs improve resilience by providing a framework for not only treating those injured in a disaster, but becoming the conduit between departments and their public. If any good can come out of the recent disasters, it is that now we know people are going to respond to the injured. Instead of calling 9-1-1 and waiting, trained First Care Providers can begin stabilizing and evacuating victims, saving lives and time before first responders arrive. This allows patrol and SWAT officers to concentrate on the threat at hand. But beyond improving efficiency, in a world looking for answers, we have an opportunity to empower our public to be part of the solution.
References
1. Sinha M, Torrez S, Bobko J. Demonstration of a Perception "Gap" in Public Disaster Preparedness. Abstract presented at EMS World Expo, Las Vegas, 2017.
2. Department of Justice. Bureau of Justice Statistics, 2013.
About the authors
Dr. Joshua Bobko is a board-certified emergency physician and an adjunct professor of emergency medicine at Loma Linda (Calif.) University. Prior to medicine, Dr. Bobko graduated from the US Air Force Academy and served for five years on active duty as a line officer. He continues to serve as a reserve officer with Westminster (Calif.) Police Department and is the medical director for West (Orange) County SWAT. He is also a medical team manager for California Task Force 5 Urban Search and Rescue and provides training and operational support to several federal agencies. Dr. Bobko is a national authority on high-threat civilian medicine and authored the landmark papers on pediatric casualty care and civilian response to disasters. In 2015, he was recognized as one of the "10 Innovators in EMS" for founding First Care Provider, a veteran-run non-profit foundation integrating first responders and their communities for disaster resilience. He has held advisory positions on multiple law enforcement and EMS commissions and is currently serving on the California POST TEMS advisory committee and the Committee for Tactical Emergency Casualty Care.
Chief Rob Wylie (ret.) joined the First Care Provider board after serving in the fire service for 30 years. As both a volunteer firefighter and then as a career firefighter, Rob rose through the ranks to become the fire chief of the Cottleville FPD in St. Charles County, MO in 2005.  He is a graduate of Lindenwood University, the University of Maryland Staff and Command School and the National Fire Academy's Executive Fire Officer Program. He is featured regularly on FireRescue1.com.
Bill Harris, NREMT-P, is a retired US Navy veteran with over 20 years of service and multiple combat deployments during his career. Having spent six years within the special operations community, he has had the unique perspective of preparing literally thousands of military and civilian personnel to improve their resilience in some of the most dangerous places on Earth. Wanting to bring those skills back to his community, Bill helped found First Care Provider with the goal of helping others save lives.
R. Todd Baldrige, MPS, NREMT-P, is a firefighter/paramedic in Southern California with 30 years of experience in EMS. He has been a tactical paramedic for a local and Federal team for over 17 years, and was a reserve police officer for 11 years. He is an adjunct faculty at Citrus College and teaches emergency management and disaster preparedness. He is a graduate of Penn State Medical School's Homeland Security in Public Health Preparedness program and received a master's in Professional Studies. He has lectured throughout the country on EMS and emergency preparedness topics.