Ark. police officer involved in filmed arrest back on the job
Last month, two deputies were charged with civil rights violations in the arrest of a man outside a convenience store that was caught on video
---
By Andrew DeMillo
Associated Press
LITTLE ROCK, Ark. — An Arkansas law enforcement officer who held down a man while two others beat him during an arrest recorded on video is back on the job after he did not face any criminal charges.
Mulberry Police Officer Thell Riddle was reinstated and returned to work Friday, Chief Shannon Gregory confirmed Tuesday. The decision came after a state prosecutor last week said she wouldn't be charging him and a federal grand jury earlier declined to indict him.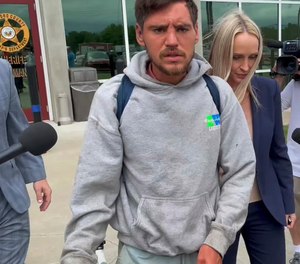 A bystander used a cellphone to record Riddle and two former Crawford County sheriff's deputies during the Aug. 21 arrest of Randal Worcester in the small town of Mulberry, about 140 miles (220 kilometers) northwest of Little Rock, near the border with Oklahoma.
A federal grand jury last month charged King and White with civil rights violations. The video shows one of the deputies repeatedly punching and kneeing Worcester in the head before grabbing his hair and slamming him against the pavement. The other kneed him repeatedly. The grand jury did not charge Riddle, who has been with the Mulberry Police Department since 2017.
The state also has been investigating, but special prosecutor Emily White said in a letter dated Feb. 15 that she would not pursue any charges against Riddle. White said the investigation against former deputies Zack King and Levi White remained open.
"Please understand, by making this formal declaration regarding Officer Riddle, I am not making a formal statement regarding the other two involved law enforcement officers," she wrote.
In federal court, King and White have pleaded not guilty to using excessive force by hitting Worcester multiple times as he lay on the ground. They are scheduled to go to trial in April.
Former Crawford County Sheriff Jimmy Damante fired both deputies in October.
Damante has said Worcester, 27, of Goose Creek, South Carolina, was being questioned for threatening a clerk at a nearby convenience store and that he attacked one of deputies. The deputy suffered a concussion, Damante has said.
The three officers were suspended after the video came to light. Television station KHBS/KHOG first reported Riddle's reinstatement over the weekend.
Worcester, who has filed a federal lawsuit against the three officers, was treated at a hospital then jailed on charges including second-degree battery and resisting arrest. He was released the following day on a $15,000 bond. Worcester's lawsuit said he has permanent injuries and will need continued medical treatment.