State your case: Staffing assignments during shelter-in-place orders
Should all able-bodied sworn officers be placed in uniform into field operations until the orders are rescinded?
---
This month's "State your Case" considers whether agencies should operate with staggered shifts during COVID-19 shelter-in-place orders or take an "all-hands-on-deck" approach to personnel deployment.
Our debaters: Jim Dudley, a 32-year veteran of the San Francisco Police Department where he retired as deputy chief of the Patrol Bureau, and Chief Joel Shults, EdD, who retired as chief of police in Colorado. 
The ground rules: As in an actual debate, the pro and con sides are assigned randomly as an exercise in critical thinking and analyzing problems from different perspectives.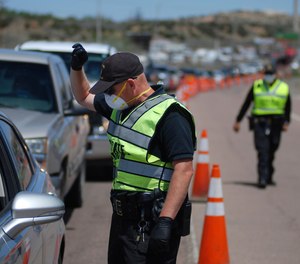 The issue: Staffing during the response to a natural disaster or manmade mass casualty event can be a challenge for police agencies, especially if the incident is prolonged. In response to COVID-19, some departments have deployed an all-hands-on-deck strategy, which could also be used for just about any conflagration or disaster that rises above the norm with a longer than usual operational time period. But is it the right option?
Jim Dudley: Agencies large and small create an instant force multiplier by taking an "all-hands-on-deck" approach. There are so many benefits to this. By being strategic, they can create a platoon system of groups working in pods dedicated to their primary priority: serving the community with a high-profile uniform presence. 
By going to pods or small groups, they can create a firewall between personnel to prevent the spread of the virus. It also serves as a nod to morale in that there is a fair distribution of effort, not just heaped upon the patrol force. 
Joel Shults: Jim, we both know that staffing contingencies for emergencies is just smart leadership, but emptying all the offices to put everyone in uniform is very likely to be counterproductive in the long run. All-call is fine until the workload of those support and administrative units is backed up, investigations go cold, and the grease that keeps an organization going via desk jockeys runs out.
Most emergency staffing can be supplemented and backfilled by mutual aid agreements or even National Guard troops because the event is localized. The "all-hands-on-deck" model is a good public relations move and a reasonable short-term Band-Aid, but a data-driven staffing approach that realigns service demands with efficient service delivery is important. This requires a data collection process to answer the question of whether call demand is higher, lower, the same, or merely different.
It may be theoretically possible to decide that taking officers off the streets to do remote call taking and reporting may be more efficient, or re-prioritizing non-uniform and civilian employee tasks to some degree that still allows them to complete their normal duties. In an ideal world, this approach to staffing would be an ongoing circular process all the time.
Jim Dudley: The devil is in the details. I would not just order everyone to get into uniform and hit the streets without direction, goals, or plans to keep areas saturated with a visible presence, while other areas of the agency are suspended. By ordering everyone to leave assignments to go to uniform patrol only, you may do more harm than good. 
A good leader should consider the expertise and not entirely strip critical units that investigate violent crimes such as homicide, gang violence, sexual assault, child abuse and domestic violence. Care should be taken not to waste critical resources to merely serve as "scarecrows."
They should also seize the opportunity to put all command officers on the streets (chiefs and sheriffs included) to see first-hand what they are asking their personnel to do. That would build morale and allow leaders to analyze their policies to decide priorities for their officers and their communities. 
Mutual aid is probably not an option because everyone would be affected. Also, I would not use the National Guard at all unless there is a natural disaster where they could help, or in an absolute unmanageable situation, as a last resort. 
Joel Shults: Jim, I agree with your comments that the availability of mutual aid and the National Guard would not be guaranteed due to the extent of an emergency as widespread as COVID-19. However, there are always agencies hit less hard that can provide mutual aid, such as the EMS volunteers who went from areas less impacted by COVID-19 to deploy to the New York epicenter. The vast areas destroyed by Hurricane Katrina got first responder help from all over the nation. This kind of help may even include supplemental assignments from mutual aid partners to investigative services since an uptick in crime might require immediate investigative attention that could not be served as efficiently with detectives working uniform. I've always been of the opinion that specialty units and administrators spend at least some time in a patrol car to keep in touch with those competencies, with the likely side effect that it would affect morale positively. 
I still lean toward realignment as opposed to reassignment. Alternative service delivery using digital means, self-reporting methods for citizens, increased dispatch screening, use of volunteers, retirees and reserve officers could leave high priority responses to the uniforms who could even conduct preventive patrol.
Good regional pre-planning and coordinating with emergency managers should prepare for these "all-call" contingencies, including detailed equipment and personnel compensation agreements that conform to FEMA guidelines to ensure the best reimbursement from a declared emergency. Contracting with private security for alarm responses and building security checks could ease patrol's burden and might be less expensive than hefty overtime costs, not to mention the cost of altering all those uniforms that don't quite fit anymore.
What do you think? Email editor@policeone.com.
NEXT: Read more "State your case" debates here. 
---
About the authors
James Dudley is a 32-year veteran of the San Francisco Police Department where he retired as deputy chief of the Patrol Bureau. He has served as the DC of Special Operations and Liaison to the Department of Emergency Management where he served as Event and Incident Commander for a variety of incidents, operations and emergencies. He has a Master's degree in Criminology and Social Ecology from the University of California at Irvine. He is currently a member of the Criminal Justice faculty at San Francisco State University, consults on organizational assessments for LE agencies and co-hosts the Policing Matters podcast for Police1.
Joel Shults operates Street Smart Training and is the founder of the National Center for Police Advocacy. He retired as Chief of Police in Colorado. Over his 30-year career in uniformed law enforcement and criminal justice education, Joel served in a variety of roles: academy instructor, police chaplain, deputy coroner, investigator, community relations officer, college professor and police chief, among others. Shults earned his doctorate in Educational Leadership and Policy Analysis from the University of Missouri, with a graduate degree in Public Services Administration and a bachelor's in Criminal Justice Administration from the University of Central Missouri. In addition to service with the U.S. Army military police and CID, Shults has done observational studies with over 50 police agencies across the country. He has served on a number of advisory and advocacy boards, including the Colorado POST curriculum committee, as a subject matter expert.