Using technology to mitigate mass violence: Before, during and after the call
For technology to be useful, it must be available quickly, and officers have to be trained in its use
---
By Philip Schaenman and Hollis Stambaugh
This article briefly describes some technologies for handling mass shootings and other mass violence events based on lessons learned from over 50 after-action evaluations, including the Virginia Tech shooting, the Aurora, Colorado theatre shooting and the Boston Marathon bombing. In the Marathon bombing incident, thermal imaging found one of the two suspects. In the Aurora theatre shooting, a robot disarmed a complex explosive device left in the shooter's apartment that was intended to booby trap officers investigating the location.
For technology to be useful, it must be available quickly, and officers have to be trained in its use. In some incidents, officers had not practiced sufficiently to use the interoperability features of their radios. Or even more basic, could not quickly remove shotguns from their car mounts.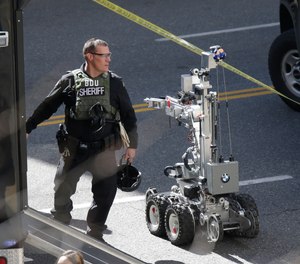 In this article, we will review technologies that can be used before, during and after the active phase of an incident.
PREVENTION TECHNOLOGY
The best intervention is one that is averted before it starts, such as identifying bad guys and stopping their entry.
Magnetometers and radiometers are being used more frequently to screen building entrants, but are far from common in places of public assembly such as shopping centers and stadiums. Israel, which is under continual threat of terrorist attacks, has widespread entrance screening, which has been successful, though at considerable expense.
Artificial intelligence software that processes video from surveillance cameras can detect weapons with high probability, and then alert law enforcement. This can replace more unwieldy magnetometers.
Facial recognition technology is another form of surveillance-camera processing. Following mass shootings, some schools in Florida installed the technology to screen for students, teachers and approved visitors. This can identify persons of interest to LE, such as those with outstanding warrants or restraining orders. However, the technology is raising concerns about civil liberty and racial equity. And sometimes the potential harm-doer is authorized to be present, such as someone who plans to attack fellow students or co-workers. [1]
Where several buildings are involved, like a college campus or industrial site, it often is desirable to order an immediate lockdown. One approach is an electronic emergency lockdown system where a security officer or other authorized person can push one button to lock all doors on all buildings at the same time. We saw this demonstrated in a large city university, which prefers anonymity.
Other physical security technologies include access control readers on buildings or rooms in-office or in-classroom video broadcast capabilities, and of course vehicle barriers.
EARLY WARNING TECHNOLOGY
The goals for early warning systems are to alert law enforcement that an incident has started, and to alert the people at risk of an immediate threat, and what to do.
Technologies can provide real-time information and instructions using visual and audible communication modalities, both indoors and outdoors, through personal and public means. There ideally should be capabilities for two-way communications for event reporting and message verification, and an audit trail for post-alert analysis. Such warnings are commonly used on cell phones for weather events and amber alerts and can be used for other threats as well.
Traditional loudspeakers and megaphones also can alert those in danger, and relay instructions on what to do, especially for those without a cellphone on, or who have not registered for alerts. Some agencies have reserved use of public safety vehicle "hi-lo" sirens as a rudimentary but readily available warning system. One of the latest versions of loudspeaker technology allows messages to be broadcast from an LE cellphone to an area. This super-powerful loudspeaker system, known as an LRAD or Long Range Acoustic Device, can be mounted temporarily at a rally or rock concert or staged at the scene. It is louder and clearer than most loudspeakers.
Outdoor fixed or mobile electronic messaging signs are old technology but can be effective to supplement broadcasts.
Shot detectors can discriminate shots from other noises. These systems can be fixed (e.g., on telephone poles, as in Washington DC), or mobile (e.g., on SUVs) that can be parked at outdoor events like rock concerts and demonstrations. The detectors immediately report that a shot has been fired. They can also pinpoint the source for larger munitions, such as RPGs.
INCIDENT OPERATIONS AND MANAGEMENT TECHNOLOGY
For an active shooting, current protocols call for the first officers on the scene to go to the shooter. The most basic technology is for officers to wear ballistic vests with rifle plates inserted and be equipped with long guns. Endoscope attachments to officer cellphones can help see around a corner without being exposed. Extensions of this are optical fiber technologies that enable officers to see into rooms through existing or drilled holes.
"Black box" systems can link building security cameras directly to police commanders. [1] To trigger the linkage, an authorized person in the building hits a "panic button" or turns on the system via a coded cellphone call. Police then have real-time views inside the event building via its surveillance cameras, to help guide their response. Again, some schools have installed such systems following mass shootings of schoolchildren.
Drones with cameras are increasingly inexpensive, and usually faster and cheaper to deploy than helicopters, but they need to be quickly available and operated by a trained user. Drones can give an excellent command view, check rooftops, examine bomb damage, and look for suspects and victims.
Digital files of building plans should be readily available to incident commanders. Even better is 3-D imagery of the interior and exterior of complex building sites. They can be produced with rotating laser survey scanning instruments.
GPS tracking software that shows the path used by a patrol unit or officer on foot to get to the scene can be installed in cellphones. They can show follow-on units where to go. Think of a complex of buildings or an outdoor setting where the street address alone may not be enough to find the specific location of the incident.
Live bodycam video and images can be relayed to an incident commander to improve situational awareness.
Large incidents requiring mutual aid can be managed better with compatible regional CAD systems, so the incident commander knows who is where and can track their assignments. Responder locations can be shown graphically.
Portable license plate readers may be installed or staged at locations from which suspects, witnesses and victims may be fleeing, to assist with the investigation.
Interoperable communications are critical in a large incident. They enable responders to communicate with sister agencies such as fire and EMS, neighboring jurisdictions, and state and federal agencies. Many "black boxes" can handle frequencies of other agencies interoperably. Interoperability worked well by and large at the Boston Marathon bombing across local law enforcement, and to FBI and National Guard units.
Often a large incident requires calling up off-duty officers, which can be done with software that is an extension of daily attendance systems.
Some incidents pose a concern about chemical, biological or radiological threats. There are good static and mobile CBR detection systems. For large, potentially problematic events (e.g., the Boston Marathon, or New Year's Eve), the detection units can be pre-positioned. Many local agencies rely on nearby National Guard or federal CBR detection units for this purpose. CBR detection monitors were critically important immediately after the bombs went off at the Boston Marathon; they showed that the bombs were ordinary explosives and not contaminated with worse stuff, key information on proceeding with rescues and the investigation.
Robotics are increasingly available for analysis of packages, disarming bombs and even interdiction, but they are often expensive and require considerable expertise to use. Since time is of the essence, some agencies like to have several inexpensive, simple robots that have a mounted camera, can shake a package, and operate almost like a toy. As mentioned earlier, robotic bomb dismantling reduced casualties in the Aurora theatre shooting – not in the theatre, but at the shooter's apartment, which he had booby-trapped. The robot used to snip wires on the explosive device actually was operated by an FBI expert in the DC area! As a side note, nearby military units are often relied on for EOD assistance, but they may not be trained to collect and preserve evidence.
Armored vehicles often take too long to get to a scene unless there is a prolonged incident, and may appear too militaristic to purchase these days if you do not already have one. A dual-role rescue vehicle may be more acceptable. They can be invaluable in rescuing citizens and LE personnel.
AFTER THE VIOLENCE STOPS
Every patrol vehicle should have a medical first aid kit with tourniquets and occlusive dressings for sucking chest wounds. Many lives have been saved by officers not waiting for the first ambulances to deliver care, or where the wounded are in a hot zone.
Immediately after an MCI, police departments often are overwhelmed by families and media seeking accurate information about the people killed and wounded, and where to get assistance. Often victims are spread across multiple locations. Public assistance software can be used to centrally track the location and status of victims, and information such as where personal effects have been taken.
A host of facial recognition and other picture analysis algorithms can be used to identify a shooter or bomber. The FBI did a masterful job in going through cellphone and security camera recordings to quickly identify the Boston Marathon terrorists.
It is beyond the scope here to go into DNA and other technologies available to crime labs, but it is a good idea to have the crime lab that you use to review the state-of-the-art technology.
Conclusion
We hope this article gives you some ideas about the technology that you might consider for dealing with mass casualty incidents. More are in the pipeline, such as small robotic devices that can scurry ahead of officers to search for perpetrators and victims; remote-controlled scoop stretchers to retrieve victims from hazardous environments; more advanced drones for use indoors; and technology (other than TASERs) to disable without killing perpetrators. Most important, however, is to make sure that your officers know how to use the technologies you already have.
Police1 readers: If you know of successful technologies in practice not noted in this article, we would appreciate hearing from you. Email editor@police1.com.
Reference
1. An excellent report on technology that can be used in schools and elsewhere is "A Comprehensive Report on School Safety Technology" prepared for The Department of Justice's National Institute of Justice by The Johns Hopkins University Applied Physics Laboratory in cooperation with The Johns Hopkins University School of Education, Division of Public Safety Leadership. The research described in this report was sponsored by the National Institute of Justice, 2016.
---
About the authors
Philip Schaenman is founder of TriData LLC, which specializes in public safety consulting and research. He has advanced engineering degrees from Columbia and Stanford Universities. He led over 50 after-action reviews of mass casualty incidents and has written articles and reports on advanced technology for public safety, and technology for improving the efficiency of police and corrections.
Hollis Stambaugh, a former senior project manager at TriData, heads HS Management Consulting. She has been the project manager for many after-action reports, consulted on improving arson investigation in over 50 communities, and helped lead a series of focus groups across the nation on technology needs for counterterrorism. For further information, email pschaenman@tridata.com.