IACP Quick Take: How law enforcement can use the media to reach, engage the public during civil unrest
Reporters from FOX, ABC, CBS and CNN shared their experiences from covering 2020 civil unrest
---
Four national television correspondents offered advice and encouragement to law enforcement on how to build mutually respectful and beneficial relationships with the members of the media covering their department and officers.
A live panel discussion, part of the IACP 2020 Critical Issues Forum, was moderated by incoming Chief Cynthia Renaud, Santa Monica (Calif.) Police Department, IACP 1st Vice President.
The members of the panel were:
The session began by comparing the widespread protests, violence and property damage of 2020 to the 2015 Ferguson, Missouri protests. Other topics included how to best explain the use of less-lethal tactics, how to change public perception of law enforcement, how chiefs and members of the media can have a better relationship, and how law enforcement can use the media to discuss the progress and improvements that have been made in police-media relations.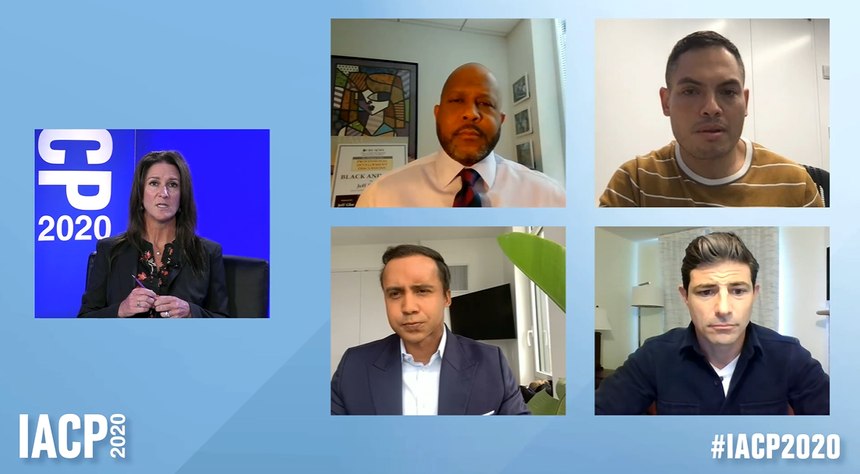 Memorable quotes on law enforcement and the media
The panelists shared their insights, knowledge and experiences from being on the ground reporting on recent civil unrest. As experienced television reporters, they were all adept at delivering noteworthy quotes. Here are three memorable quotes.
"Establish a relationship with the media to explain what is going on." — Brian Llenas, FOX News
"We are not the enemy. Our goal is to cover the story. To get the best story we can. To get information other people don't have. If you are law enforcement think about how that can help you." — Jeff Pegues, CBS News
"Tell all of your people on the ground everything they do is going to be on television. You are not off the record." — Matt Gutman, ABC News
Top takeaways on police-media relations
The presenters covered a lot of material during the panel presentation. Make sure to register for IACP 2020 to view the full archived presentation. Meanwhile, here are five top takeaways from the presentation.
1. Protests are different in 2020
Renaud began the session by asking the media professionals to compare the protests of 2020 to the 2015 protests, which were primarily in Ferguson, Missouri. Panelists, who covered protests in cities across the country, described the 2020 protests, violence and civil unrest as more frequent, in more places, with more people, higher intensity and a greater diversity of people participating.
Several of the panelists attributed the increased intensity and frequency of the protests to a combination of political polarization, heated rhetoric, frustration from pandemic-related lockdown boredom and underemployment. They also noted that they met a lot of first-time protesters and the effectiveness of social media to promote protests and recruit participants.
2. Police are the most visible form of government
Police are a common and visible sign of government and authority. Several of the panelists discussed how most citizens have no access to the president, senator, governor or most elected officials to communicate their needs, frustrations or disappointments. On a day-to-day basis, as well as during the protests, police are the frontline of government and as such undeservedly get much of the blame for federal, state and local policies that are unpopular, sometimes unfair or not well understood.
Though on the receiving end of anger and complaints, Gutman encouraged attendees to not undervalue the fact that police are often the recipients of expressions of joy and appreciation by being on the frontlines. Other government officials rarely have the face-to-face, spontaneous positive interactions that police have every day.
3. Social media is a force multiplier
Videos, information and disinformation quickly spread on social media during protests. Just as law enforcement can use social media as a force multiplier, protest organizers are able to use social media to galvanize participation and make calls to action. Social media in real-time helped organize people, which quickly grew the size of crowds. Social channels gave near-instantaneous instructions on where to go, how to get involved and mobilized far more people much faster than previous events. The panelists witnessed how videos of police officers spread rapidly between communities and that protestors in one city were immediately reacting to events that happened moments ago in a city 1,000 miles away.
"The narrative of the protests was being told in real-time," Brian Llenas, Fox News, said. The story of the protests was being told by journalists, as well as anyone with a smartphone. Any person, having any interaction with police could be telling a story and some of those stories, without context, ignited violence across the U.S.
Social media is also a tool for law enforcement to distribute information to the media and the public. Panelists encouraged police to be transparent in releasing video and information they have so it is available to the public and the media.
4. Explain less-lethal tactics to the media to tell the LE story
Before answering a question on how to best explain the purpose and deployment of less-lethal tools to the media Brian Llenas, FOX News, provided some useful insight into how media has changed in the last 20 years. According to Llenas, with agreement from the other panelists, newsrooms, especially locally, are shrinking. It is increasingly unlikely that a television station or newspaper has a reporter assigned to the police beat. Generalists, reporters without a full-time law enforcement coverage assignment, are more likely to find themselves thrust into the midst of a major incident. A generalist lacks the relationships, previous experience and knowledge to understand how a department operates, the department's policies and procedures, and to gauge normal versus abnormal.
Because of this, before an incident, Llenas encouraged attendees to contact local journalists to create a shared understanding and engage the media in a conversation about tactics and policy. Use these meetings to explain to the people who have the job to explain to the public what to expect from law enforcement during a protest. For example, Llenas explained how he found it helpful and effective that the NYPD used a loudspeaker warning to a crowd that their actions were unlawful and ordered the crowd to disperse before taking action against the crowd. These announcements before police action were helpful to protestors and reporters.
During an incident, if personnel allow, Llenas recommended a community liaison to work with the press to explain or give an indication of why the police are there, what is happening. This liaison can give the reporter context and perspective as the reporter is delivering breaking news.
5. Media is not the enemy
It is important for law enforcement to cultivate relationships with the media. The panelists were emphatic that as they ("the media") were not the enemy of law enforcement. Rather, explaining to attendees that traditional members of the media – local and national news reports – have a job to do and their work is guided by standards and principles. Non-traditional members of the media – bloggers and YouTubers – are not guided or beholden to these standards and principles.
Gutman also compared the initial media reporting from the scene to the first police report made during an incident. Just as in a police investigation, the first media reports from an incident aren't the final report. The initial reporting is based on the reality as the media understands it at the time of the report. All of the panelists encouraged departments to be the source of initial and ongoing information. If a department chooses to not release any information or even say that it has nothing to share, traditional and non-traditional media will seek sources to continue reporting a story the public wants to hear, read or view.
Summary
The top themes in the discussion were to establish police-media relationship ahead of time, grant as much access before the crisis as possible, consistently interact day-to-day, be transparent with information, have a great PIO and get information out to the media as soon as possible.
"These things build a foundation or a relationship between us so that when a critical incident happens, we are prepared to help each other with what you need to report and what we need to reach our community," Chief Renaud said.
Finally, newscasts want to end on a high note with a feel-good story. Pegues reminded the police leadership audience, "There are a lot of police officers doing the right thing. How as a police department can you get that message out there? We are interested in those stories."
Learn more about media relations
Police1 has dozens of articles, videos and other resources on media relations, social media and the role of the public information officer, a role that panelists described as one of the most important in the department.
Top Tweets from Public Information Officers