How military research has influenced police products and tactics
Law enforcement and the public they serve benefit every day from advances developed in military research
---

Editor's note: Uniforms and armored vehicles aside, U.S. law enforcement has much it can learn from military-level training and tactics that could transform operations from a leadership, organizational, and officer safety standpoint. This series, "Military methodologies: Organizational and leadership lessons for LE," looks at what lessons law enforcement should take from the military experience.
I awoke from resting on my memory foam mattress and drove to the coffee shop in a vehicle equipped with radial tires. I fixed a shelf this morning with a cordless drill. My last doctor visit I got my temperature taken with an infrared thermometer. All of these products were developed or vastly improved by research for space flight for NASA. I enjoy the benefits of the massive effort to explore space.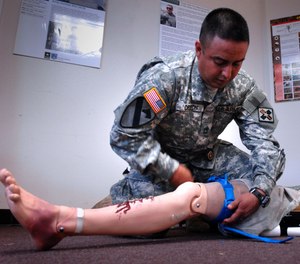 Similarly, law enforcement and the public they serve benefit every day from advances developed in military research. When the public imagines the military at work, images from our favorite war movies are likely to come to mind with explosions, machine gun fire and the thud of helicopters. Certainly billions of dollars have been invested in the search for effective weaponry, but even modern warfare is dependent on individuals and teams of soldiers, sailors, airmen and marines. Making their jobs safer and more productive has generated many products and processes that help improve safety for first responders and the public they serve safer.
Ergonomics
Soldiers aren't always lost on the front lines. Short- and long-term stress on the body can create back and joint failure, as well as fatigue. Police patrol officers typically carry 20-30 pounds of equipment and protective gear compared to 60-120 pounds for a soldier. Patrol duty can require long hours of activity where immediate access to weapons systems is essential.
A comprehensive study of load carriage in military operations cites a multitude of potentially lethal and disabling issues and summarizes that "Load reduction can be accomplished by tailoring the load to the specific objective and by using special load-handling devices." A recent study in Wisconsin revealed that load-carrying vests, rather than police duty belts, produce less fatigue and discomfort.
Trauma care
Every police officer has watched seconds pass like hours waiting for EMS to arrive, sometimes as victims lay dying until a scene is rendered safe for unarmed first responders. Some changes in emergency care are happening.
Most departments have strict policies against using police vehicles to transport injured persons, fearing liability and a public that shortcuts the cost of an ambulance ride for a black and white. In Philadelphia, police practice "scoop and run," getting victims into patrol cars and making a fast run to the closest trauma center.
Often cited as one cause of reduced traffic and homicide rates, emergency medicine has been greatly informed by battlefield practices, including the enthusiastic return of the tourniquet. New compresses, clotting agents and products like the XSTAT syringe developed in research for the battlefield is saving lives of officers and civilians. Between 30 and 40 percent of civilian deaths by traumatic injury are the result of hemorrhaging, according to the United States Army Institute of Surgical Research. Between 33 and 56 percent occur before the victim reaches the hospital.
More police officers are getting the kind of training that can save lives where a traumatic injury is discovered.
Technology for scouting
Drones are nothing new to the military, starting with WWI balloons and WWII targets for fighter plan practice. The evolution of the use of unmanned aircraft should be a surprise to no one. A quick survey of topic headlines in Police1.com's 2018 Guide to Drones in Law Enforcement shows uses for crime scenes, car crashes, emergency management, pursuits, surveillance and building searches.
What was once considered useful only for spotting marijuana grows has now become small and inexpensive enough to become a part of nearly every police agency. Some units are small enough to enter a home to provide eyes inside before a tactical entry. Others are large enough to deliver supplies to areas inaccessible or unsafe for wheeled vehicles. Some have infrared capability to spot suspects hiding in darkness, or a lost child in the night.
Fatigue research
Despite amazing stories of endurance under fire and hostile conditions, the human body has performance limits. Research and strategies to keep soldiers alert is increasingly being recognized for its relevance to police officers. A study of the efficiency of scheduling for air crews in the US Air Force to minimize errors and maximize staffing has implications for deciding best practices for police shift assignments. Police leaders are recognizing that fatigue has immediate consequences for tactical and technical failures, and long-term consequences for health and morale of their officers.
Tapping in to knowledge
"There is no knowledge lost in police work" has been a motto of this author from my earliest days as a trainer. When law enforcement fails to learn from lessons learned in other fields it is poorer for it. The difference in our military colleagues' mission and that of law enforcement may be greater than the similarities, but when it comes to saving lives we can often sing from the same sheet of music.