4 Australian officers killed in collision
A refrigerated truck drove into the officers and their vehicles as they were responding to a traffic stop
---
dpa Berlin
MELBOURNE, Australia — Four Victoria police officers have been killed in a crash involving a truck on the Eastern Freeway in Melbourne.
Victoria Police Commissioner Graham Ashton said two senior constables and two constables were killed. One senior female officer was killed, along with three male officers. One was relatively new to the force, Ashton said.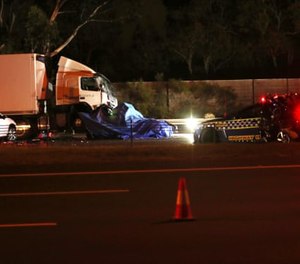 He said two officers intercepted a Porsche 911 that was speeding on the freeway, and after pulling over the vehicle they decided to impound it. Shortly after two other officers were called to assist at the scene, a large refrigerated truck for a poultry company drove into the four police officers.
The driver of the Porsche fled the scene, Ashton said, and he urged the driver to get in contact with the police.
A male truck driver was taken to hospital with non-life-threatening injuries. Ashton said he had a medical episode at the scene, and will be tested for the presence of drugs and alcohol as part of the inquiry.
Ashton said it was a "very tragic night" for Victoria police, and he was not aware of any other incident where four officers were killed at once.
"It's a reminder for the dangers of the work police do every day," he said.
Motorists have been asked to avoid the area as the road will be closed for some time.
Premier Daniel Andrews released a statement saying the officers were "heroes", whose death would be a cause of sorrow for all Victorians
"Four families' hearts are breaking. Our hearts are breaking with them," Andrew said. "We grieve alongside them – just as we grieve with every member of Victoria Police and every member of our emergency services family."
The state police union released a statement saying it was "shocked and immensely saddened by the deaths of four of our dedicated members, who were killed while protecting the community on the Eastern Freeway this afternoon".
"This is a brutally sad reminder of the danger police face in the course of their service, every minute of every shift. We mourn their loss, we grieve with their families and colleagues and we will never forget them."
McClatchy-Tribune News Service