2017 line of duty deaths drops to lowest level in 4 years
Overall, line of duty deaths decreased 10 percent in 2017 to 128, with traffic-related fatalities the leading cause of officer deaths
---
By Police1 Staff
WASHINGTON — The number of law enforcement officers who were killed in the line of duty in 2017 dropped to its lowest level in four years,  according to the National Law Enforcement Officers Memorial Fund.
Overall, line of duty deaths decreased 10 percent, with traffic-related fatalities leading the cause of officer deaths this year.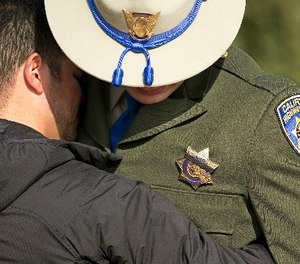 In its 2017 Preliminary Law Enforcement Fatalities Report, the NLEOMF notes that 128 federal, state, local, tribal and territorial officers died in the line of duty over the past year. That is the lowest number of LODDs since 2013, when 117 officers died. Last year, there were 143 LODDs.
Traffic-related fatalities were the leading cause of deaths of officers this past year, which claimed 47 lives. While it is a 13 percent drop compared to the 54 officers killed in traffic-related incidents in 2016, there was an increase of officers killed in single-vehicle collisions, with 14 officers killed. In 2016, there were 11 single-vehicle deaths.
Traffic-related incidents have been the number one cause of officer fatalities over the past 20 years.
Firearm-related deaths claimed 44 officer lives across the country in 2017, a 33 percent decrease over 2016 when 66 cops died. The number one circumstance of firearm-related deaths are officers responding to domestic disturbances.
Texas had the highest number of officer fatalities with 14. New York and Florida had nine deaths, California had seven, and Georgia and North Carolina each had six. 
NLEOMF CEO Craig W. Floyd said that while it's encouraging to see a decrease in LODDs, the 128 officers who died this year "reminds us that public safety comes at a very steep price."
Floyd said the number of deaths decreased due to a number of reasons, including better training for officers, a better emphasis of officer safety and the improving relationships between police and the community.
Read the full report below:
2017 End of Year Officer Fatalities Report FINAL by Ed Praetorian on Scribd