Bystander rushes to aid wounded N.J. officer after shooting
When Officer Robert Shisler was shot, a neighbor applied pressure to control the bleeding until another officer arrived and applied a tourniquet
---
By Matt Gray
nj.com
DEPTFORD, N.J. — A Deptford police officer remains hospitalized but is making progress after a Friday shooting that left another man dead, officials said.
Donations for the officer continue to flow in as an investigation into the incident continues.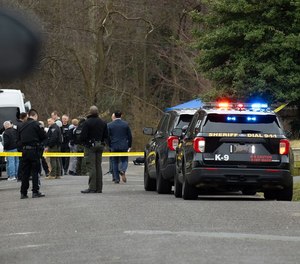 Officer Robert Shisler stopped pedestrian Mitchell Negron, Jr., 24, of Deptford, shortly after 12:30 p.m. on Delsea Drive, according to the state Attorney General's Office, which is investigating the shooting.
Negron took off running and Shisler chased after him before both men were shot in a struggle on Doman Avenue, according to investigators. Negron died at the scene, while Shisler suffered a leg wound.
[READ: Why all cops need first aid and CPR training]
Authorities have not officially discussed how the shooting occurred or provided details about why Negron was stopped.
A neighbor who saw the injured officer applied pressure on the wound until another Deptford cop, Detective Sgt. Bob Jones, arrived at the scene and applied a tourniquet to slow the blood loss, according to a source.
While Jones was first on the scene, other Deptford officers quickly followed to help the fallen officer.
[READ: What cops need to know about purchasing and applying tourniquets]
Cpl. Michael Devito, Patrol Officer Frank Moran and Detective Cpl. Tim Parks rushed Shisler to Cooper University Hospital in Camden where he underwent emergency surgery for what the state PBA described as "critical life-threatening injuries."
While he would not comment on his involvement at the scene, Jones, who is also the department's public information officer, said Shisler is making steady progress.
"No word on a release date yet. I still believe he has a surgery or two ahead of him," Jones said. "He is progressing rather well. Everything seems positive thus far."
Shisler, 27, has been with the department for four years and is a lifelong Deptford resident, according to the agency.
Nichole Rodgers, wife of a Deptford officer and current leader of a support group made up of Deptford Police family members, said she's been amazed by the outpouring of donations made for Shisler.
The group is accustomed to organizing meal drop-offs for officers at the station and for families waiting at the hospital when an officer is injured, she said, but his situation quickly evolved into something much larger.
"The donations were extremely overwhelming within two hours on Friday," Rodgers said. That prompted her to launch a GoFundMe campaign, which had raised more than $95,000 as of Tuesday.
All of the finds will go to Shisler for whatever he needs, she noted.
They've received support from local residents and business, and have even heard from people in Texas and Alabama looking to lend a hand. Many of those making donations are first responders themselves.
"We had no idea the amount of support we would get," Rodgers said. "It's coming from across the nation. It's amazing. I never imagined this becoming what it has become."
Local business In Stitches Monogramming is selling shirts honoring Shisler, with the proceeds going directly to the officer. Holy City Publick House in Gloucester City is holding a Back the Blue guest bartending event March 19 from noon to 6 p.m., with 25% of sales and 50% of tips going to Shisler.
Details about support efforts for Shisler can be found on a Facebook page created to highlight the fundraisers.
The officers and their families are grateful for the response, Rodgers said.
"It's very unfortunate that this is what brings people together, but I know that his family and all of us as a police family are just very thankful."
Rodgers noted that officers like her husband are at risk every day they go to work and the shooting has hit home for her.
"It strikes a nerve. I have two children," she said. "Fundraising and dealing with messages from all over the country has distracted me slightly, but as soon as I start to talk about the actual incident it becomes very overwhelming and emotional."
A member of Negron's family declined to comment when contacted over the weekend, but said the family would speak at some point. Efforts to reach the family member on Tuesday were unsuccessful.
©2023 Advance Local Media LLC.
Visit nj.com.
Distributed by Tribune Content Agency, LLC.
McClatchy-Tribune News Service