Death penalty sought in Pa. rookie officer's shooting death
Rahmael Holt was arrested for fatally shooting Officer Brian Shaw after an attempted traffic stop Nov. 17
---
Associated Press
NEW KENSINGTON, Pa. — Prosecutors will seek the death penalty against a Pennsylvania man accused of killing a police officer and then leading law enforcement on a four-day manhunt with the help of his mother.
The Westmoreland County district attorney's office has filed a notice of intent to seek capital punishment if 29-year-old Rahmael Holt is convicted of first-degree murder.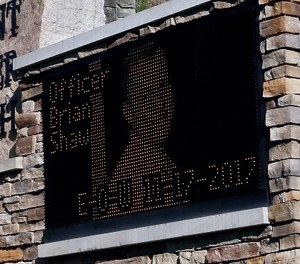 Holt is charged with shooting 25-year-old New Kensington officer Brian Shaw as the officer chased him on foot after an attempted traffic stop Nov. 17.
Holt was arrested four days later in Pittsburgh. Defense attorney Justin Ketchel has called the evidence against his client "scant."
Prosecutors say the manhunt was prolonged by conflicting narratives told by the suspect's mother about when she had last seen her son. She has been charged with hindering apprehension.