Ferguson residents worried about cost of US-mandated police changes
The cost of implementing the mandated changes would be significant with preliminary estimates at $500K
---
By Jim Salter
Associated Press
FERGUSON, Mo.— Many Ferguson residents expressed concern Tuesday that a settlement with the U.S. Department of Justice could financially ruin the St. Louis suburb where a police officer fatally shot 18-year-old Michael Brown.
About 100 people crammed into the tiny Ferguson City Hall chambers for the first public meeting on a proposal that seeks to avert a civil rights lawsuit against the city. An equal number of residents were turned away due to space limitations. The City Council could approve the agreement as early as Feb. 9.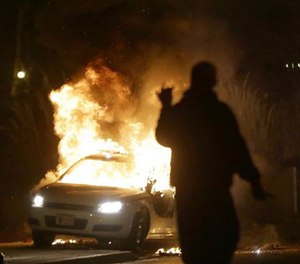 The city has been under federal scrutiny since the August 2014 shooting of Brown, who was black and unarmed, by white Ferguson officer Darren Wilson. The killing led to protests and promoted a wave of national scrutiny about police use of force and law enforcement's interactions with minorities.
The Justice Department cleared Wilson in the shooting, but issued a report in March criticizing the city's police force and a municipal court system that made money on the backs of the poor and minorities.
Residents who spoke at Tuesday's hearing were about evenly split on whether the city should go along with the agreement, which includes overhauling police policies, training and practices. Cost concerns were a common refrain among opponents.
The cost of implementing the Justice Department-mandated changes would be significant — preliminary estimates are at least $500,000, Mayor James Knowles said. The city already faces a $2.8 million deficit in part to legal fees, lost sales tax revenue from businesses damaged in protests that followed Brown's death, overtime costs for officers handling the protests, and lost revenue from municipal court changes already implemented.
Knowles said in an interview that the city has already made cuts to pay and benefits for all employees. Ferguson voters will consider two tax increases in April — one imposing an economic development sales tax, the other a property tax increase that would cost about $76 annually for a home worth $100,000. If voters turn down the tax increases, the city will have to make even deeper cuts, he said.
"Obviously if we agree to this we're going to have to find some way to fund it," Knowles said.
The city is also seeking grants to help fund improvements to the police force.
Many of those opposing the consent agreement were white. Supporters were split between blacks and whites.
Tom Sansevere, who is white, said the Justice Department should help pay for improvements.
"Don't put it on the backs of the people that really had nothing to do with any problems caused in the city of Ferguson. The residents here didn't do this, but we're going to pay for it," Sansevere said.
Blake Ashby, who is white, believes the agreement would lead to dissolution of Ferguson.
"If you want to see Ferguson wiped off the map, sign this consent decree," Ashby said.
Adrian Shropshire, who is black, urged the council to approve the deal.
"What the DOJ has presented are not punitive demands, they're constitutional demands," Shropshire said. "There's so much in this consent decree we need so badly."
In its March report, the Justice Department found officers routinely used excessive force, issued petty citations and made baseless traffic stops in Ferguson, where about two-thirds of the 21,000 residents are black but nearly all police officers are white.
Within days of the report, Ferguson's police chief, municipal judge and city manager resigned.
The agreement envisions a top-to-bottom reshaping of basic policing practices — how officers conduct stops, searches and arrests, use their firearms and respond to demonstrations. Ferguson officials also agreed to rewrite their municipal code to restrict the use of fines and jail time for petty violations.
Also, officers and jail workers would be required to wear body-worn cameras and microphones within 180 days of the agreement's implementation. Cameras would be activated for all traffic stops, arrest, searches and encounters with people believed to be experiencing a mental health crisis.
Copyright 2016 The Associated Press