Patrol response to face masks during COVID-19
Face coverings present unique challenges for law enforcement that involve varying laws, public concern, health issues and officer safety
---
The Centers for Disease Control and Prevention (CDC) is now recommending that face coverings are worn in public to slow the spread of the coronavirus. This results in unique challenges for law enforcement that involve varying laws, public concern, health issues and officer safety.
How can patrol officers confront these issues when there are so many variables and expectations? Examining the challenges and planning for a solution offers the best path to success.
Why the change?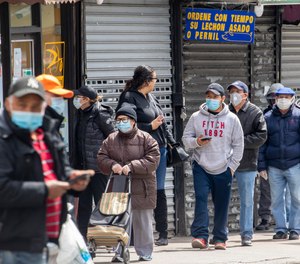 As medical experts continue to study the spread of COVID-19 across the country, evidence shows the virus can spread from individuals without symptoms, in what is known as asymptomatic transmission. Since asymptomatic transmission is a possibility, and the virus can spread between people in close proximity, the CDC has recommended the use of face masks in public. This is especially important when social distancing is difficult, such as in grocery stores and pharmacies and areas with significant community-based transmission.
Several states and individual communities across the country have issued requirements that the public wear face coverings. There is also an increase in people voluntarily wearing masks.
Law enforcement issues
Since the wearing of face coverings varies, confusion can occur based upon the laws and regulations in different jurisdictions. This can change not only from state to state, but between different communities.
Some towns may require the wearing of face coverings, while others may have no requirements and, in some areas, it may still be illegal to wear face coverings in some circumstances.
Sheriff's offices and state police need to know if there are variations between communities. Municipal officers need to know not only what is required in their jurisdiction but also understand what surrounding areas require to better understand why someone traveling may either be wearing or not wearing a face covering.
As confusing as this may be for law enforcement professionals, it can be equally confusing to the public. Agencies should use the news media, social media and even signboards to announce if requirements are in place, or if the wearing of face coverings is prohibited.
The wearing of masks also creates issues around when law enforcement can require someone to remove the face covering. Similar to the Fourth Amendment issues that control when a person may be required to remove a jacket or a hat, answers to these questions can vary greatly between jurisdictions.
Public concerns about face coverings
There are instances of law enforcement being called because of concern of someone wearing a face covering. Locations such as banks, 24-hour convenience stores or gas stations can cause public concern due to fears of robbery.
Law enforcement may need to work with businesses to educate them on new requirements, and what to do if there is a concern about someone wearing one.
People may also be concerned by the types of masks being worn. Instead of a typical medical face mask or N95 respirator, some may wear full-face coverings with prints that look like skulls, clown faces, or other designs similar to those seen in horror movies.
On the other side of the issue, some people are concerned that wearing face coverings may result in inaccurate profiling, such as being unfairly associated with criminal gangs or other criminal activity. The challenge for law enforcement is how to determine who is wearing a mask for legitimate purposes, and who is attempting to conceal their identity to avoid criminal liability.
How police should respond
Law enforcement professionals encountering persons wearing face masks must look at the totality of the circumstances. Before the COVID-19 pandemic, it may have been reasonable to suspect that a person wearing a mask indoors could be concealing their identity for criminal purposes. Under current circumstances, that may no longer be a reasonable suspicion.
Being able to distinguish suspicious behavior from the "new normal" starts with the process of answering calls for service. Call takers at communications centers or police/sheriff agencies must continue to elicit as much information as possible from callers. This includes asking if anyone involved in the incident is wearing a face covering and obtaining a description. This will not only allow responding personnel to know if they will be encountering people with masks and better identify a masked person, but will also allow the officer to gauge the risk of potential coronavirus exposure if someone is not wearing a mask.
Upon arrival, basic officer safety tactics need to be used, starting with observation skills:
What is the nature of the call?
Is the person simply carrying out routine tasks?
Is the person acting in an articulable suspicious manner?
Is this an appropriate and legal place to be wearing a mask?
Talk with your legal counsel about when the Fourth Amendment allows you to order someone to remove their mask for identification.
Keeping a safe distance provides for officer safety against attack and also exposure to COVID-19. Remember, the person could be wearing a face covering to avoid spreading the virus in addition to prevention.
Calls may also be based upon a person not wearing a mask when required. Explain the requirement for wearing the mask. Be sure you know the current requirements in your jurisdiction. Requirements are changing often so know where to get the most current information.
Some agencies have elected to distribute basic masks to those people they encounter who are not wearing one. If this is the case, be sure to have a supply available and refresh it before it is depleted. It creates an awkward situation if you can only give a mask to one person and not others during a call.
Know if your agency requires the issuance of citations or warning notices. If required by your agency to cite a person, be sure you know the appropriate statute or ordinance to use.
If masks are required, first responders should wear them too. The intent is to prevent people from spreading COVID-19, and that includes police officers, firefighters, paramedics, EMTs and emergency call takers. It not only protects them but sets an example in the community. However, just as officers may be concerned about others wearing a mask, the public may have the same concerns as the police. When interacting with the public while wearing a mask, try to start your conversation by explaining, "I apologize for the mask, but I am wearing it for your safety and mine. Can you hear me ok?" This may be especially true when dealing with younger children who may be afraid, or the elderly or others who may not hear well.
While the COVID-19 pandemic continues to evolve and alter how law enforcement responds to events, the basics of good officer safety and community education remain at the core of operations. Do not assume the public knows the regulations for face coverings. It becomes the obligation of law enforcement to assist in that education. Working with local businesses, explaining requirements and even increasing our own understanding will help move us forward during this national emergency.
Reference
Centers for Disease Control and Prevention. Recommendation regarding the use of cloth face coverings, especially in areas of significant community-based transmission, April 3, 2020.