How patrol officers can prioritize safety during the COVID-19 pandemic
Steps to keep officers safe, healthy on the frontlines while serving their communities
---
The COVID-19 pandemic is bombarding us at every turn. As a result, it can be easy to dismiss all the information as hype or over-reaction. You cannot let that become your mindset. The coronavirus is present in our communities, and it is our responsibility to take precautions to avoid infection or spreading the virus. This means changing how you provide services so you can still protect yourself and your community. So, as a patrol officer what can you do?
1. Know your agency's policies
Read and understand your agency's current policies and procedures for dealing with COVID-19. There may be additional preventive guidelines on bloodborne pathogens, communicable diseases, or other biohazardous exposure. If you have any questions, ask. If you have any expertise on a topic from your training, offer to share your knowledge with others within your agency. Regardless of rank, knowledge stands on its own. It is always appreciated when someone expresses concern about an issue and offers a solution.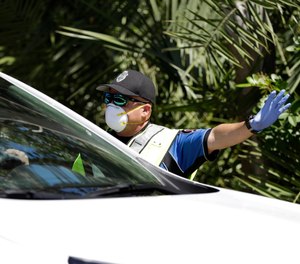 2. Have and use your personal protective equipment (PPE)
You should have a PPE kit. The Centers for Disease Control and Prevention (CDC) recommends your PPE kit contains at a minimum:
Disposable examination gloves
Disposable isolation gown or coveralls
An N95 or higher-level respirator
Eye protection
If you do not have access to a respirator, a facemask may be an alternative. Your eye protection should completely cover your eyes on the front and side. It is crucial that you know the location of your PPE kit, how to use it and that it is properly maintained. Now is not the time to find out your kit is missing equipment or that you do not know how to use the equipment when you're out in the field.
Always use your disposable examination gloves. Viruses can be spread by touching contaminated surfaces. Protect yourself by using your gloves as a barrier between surfaces and your hands. Do not reuse disposable gloves. Remove and dispose of the gloves before touching another person or as soon as practical. Always wash your hands or use hand sanitizer immediately after removing your gloves.
3. Social distancing
The virus causing COVID-19 is thought to spread via respiratory droplets during close contact. This can occur when an infected person sneezes or coughs and respiratory droplets enter the respiratory systems of people who are nearby. As with bloodborne pathogens, the CDC also expresses concerns about contact with other bodily fluids such as blood and mucus from an individual carrying COVID-19.
As much as possible, limit direct contact with people. That is not an easy task based on the nature of your work as a law enforcement officer. But these are not normal times. You must make wise decisions to avoid direct contact for everyone's safety. A health threat anywhere is a health threat everywhere. For example, you may want to avoid going into a business for a cup of coffee and instead opt to use a drive-through. A friendly wave may be better than stopping to talk to a group of kids. If allowed by your agency, consider handling calls for service that are not "in progress" or an "emergency" over the telephone.
If you're responding to a situation that requires close contact, try to limit your exposure to persons who may be ill or have COVID-19 type symptoms. Allow emergency medical personnel to assess and treat patients. Wear your PPE and follow disinfecting procedures if you are required to assist emergency medical personnel.
4. When you need to get up close
There are times we must talk with people at their homes, businesses or other calls for service. During those calls, try to control the distance between you and the person you are speaking with. Because the virus can be spread through respiratory droplets, it is recommended you keep a 6-foot distance between yourself and others.
As you know, keeping that distance is not always possible. When you place someone under arrest, work crash scenes or are near others, your uniform and equipment may become contaminated. As a result, you need to properly clean and disinfect your equipment. Your duty belt and gear should be cleaned using a disinfecting wipe or spray before reuse. If your uniform is contaminated (such as being spit on, sneezed/coughed on or exposed to blood) change into a clean uniform. At a minimum, wear a clean uniform each day and launder your uniform after each use. Avoid shaking clothes when taking them off or before cleaning.
If you must transport a person, close any partitions between yourself and the transported person. Open any outside air vents or open a window in the driver's area and in the rear of the vehicle to help create airflow to move air out of the patrol vehicle. Disinfect your patrol vehicle after each transport. Using a disinfecting wipe or spray, clean the passenger compartments and anything that may have been touched or exposed to respiratory droplets. Although doing this may take some extra time, it may save a great deal of time, effort, or even lives later down the road. Again, wear your PPE when there is a possible exposure to bodily fluids.
5. Exercise proper hygiene
The CDC recommends you wash your hands using soap and water for a minimum of 20 seconds. Use an alcohol-based hand sanitizer containing at least 60% alcohol if soap and water are not available. To avoid dangerous drug interactions, alcohol-based hand sanitizers should not be used if you suspect you have had direct contact with an illicit drug. Avoid touching your face. Do not wash your face until after washing your hands to avoid spreading germs or contamination from dirty hands.
6. If you are sick or exposed
Lastly, if you suspect you have been exposed to COVID-19 or feel ill, notify your supervisor. Depending on the circumstances, it may be appropriate to contact a health professional and follow their recommendations.
The global pandemic will require a change of mindset in how you and your agency conduct daily business. It is important to limit your chance of catching or spreading the virus to your coworkers, family and the community. As law enforcement professionals, we must be available to assist those in need, maintain law and order and, as always, go home safe every day.
References
Centers for Disease Control and Prevention. What Law Enforcement Personnel Need to Know about Coronavirus Disease 2019 (COVID-19), March 14, 2020.
Centers for Disease Control and Prevention. Interim Guidance for Emergency Medical Services (EMS) Systems and 911 Public Safety Answering Points (PSAPs) for COVID-19 in the United States, March 10, 2020.