Quick Take: What does social distancing look like for LE street operations?
New Jersey State Police Colonel Patrick J. Callahan discusses how the state's troopers and officers are keeping a social distance during the COVID-19 pandemic
---
The COVID-19 pandemic is showing no signs of slowing down in the United States.
First responders, including police officers, EMTs, paramedics, firefighters, dispatchers and correctional officers, are coming together to share best practices and insights on how they're coping with and responding to the COVID-19 outbreak.
To get a better idea of how departments are facing the pandemic, FirstNet brought four U.S police leaders together for its "Coping with COVID-19: Best practices for law enforcement" webinar.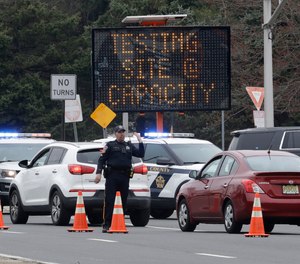 The goal of the webinar, FirstNet said, is to give police departments an idea of what COVID-19 practices are working, which ones are not and lessons leaders have identified as they continue to battle the outbreak in their communities.
Colonel Patrick J. Callahan, a 25-year veteran with the New Jersey State Police, was among the four presenters in FirstNet's webinar. His presentation, which focused on street operations amidst the COVID-19 pandemic, stressed the importance of enforcing social distancing at every department.
Memorable quotes on social distancing and street operations
Callahan provided a handful of ways the New Jersey State Police is attacking the COVID-19 pandemic head-on, including preparations for worst-case scenarios. Here are five memorable quotes from Callahan's presentation.
"We are the ones to have a measured, calm approach to this. From the time that I was a young trooper and you show up to an overturned tractor-trailer or you have a quadruple fatal on the highway, everybody at that accident scene is looking for you to bring calm and order to that, and this is no different."
"The fact that I was knee-deep in the response to Hurricane Sandy has offered me a tremendous amount of insight, but I can tell you that this is a different storm."
"We are preparing for the worst-case scenario and hope that the mitigations efforts we put with social distancing help. I think they have, and I can't stress that enough."
"We want that trooper to be able to look back and say, 'Listen, I stayed away from my squad.'"
"What means the most to me is watching the men and women of not only the State Police, but of all departments in New Jersey, and across the country, that shoulder-to-shoulder partnership and those relationships you make on those blue-sky days are paying off in a big way for New Jersey."
Top takeaways on COVID-19 preparations for police
Callahan, who served as recovery bureau chief in the wake of Hurricane Sandy in 2012, says his disaster experience has allowed him to always think with the end in mind. Police departments' response to COVID-19, he says, should be no different.
Here are three key takeaways from Callahan's presentation:
1. Consider splitting your squads in half
Last week, the New Jersey State Police took every squad in their field operations and split them in half. Half of their troopers, Callahan said, are working 14 days straight and the other half are on "stand by at home."
"We envision whole stations and squads going down with this," Callahan said.
To avoid that scenario, Callahan said they've focused their efforts, including their decision to split up squads, on lessening the chances of officers becoming exposed and falling ill.
Currently, 163 officers in the state have tested positive for COVID-19 and another 1,272 officers are being quarantined.
2. Have cleaning, disinfection and distancing protocols in place
The New Jersey State Police, Callahan said, is now at single trooper patrols.
They have multiple new protocols in place, including:
Wiping down every contact point in the patrol car
Allowing officers to take their uniforms home
Prohibiting officers to eat together
Disallowing officers to get dressed in the locker room
"All of these things … regardless of your rank … you need to start thinking about," Callahan said.
3. Keep a reserve group of officers, troopers in the bullpen
Last week, another six New Jersey State Police troopers and five recruits tested positive for COVID-19, Callahan noted. As a result, officials sent nearly 200 state police recruits home.
"We tried some mitigation efforts. We tried to break up the class but we made the decision to send them home and do remote learning with the hopes to bring them back April 6," Callahan said. "I'm cautiously optimistic, but I'm not sure we will get that class through."
Station staffing, Callahan said, is more important than ever now.
"Keep a reserve group of officers and troopers in that bullpen, because I'm telling you, with the nature that we're experiencing, we're going to need them," he said.
And, if an officer is off-duty or on standby, Callahan says departments must make one thing clear: officers need to be ready to serve at a moment's notice.
"This is not the time to go hunting or fishing. You need to be ready to come back to backfill your station or someone else's station," he said.
Learn more about why officers are taking social distancing seriously
Throughout the webinar, Callahan stressed the importance of social distancing among troopers and officers by offering examples of how departments can put this important measure in place.
To learn more about why social distancing is being enforced and how departments are prioritizing officers' safety during the COVID-19 pandemic, see these Police1 articles:
Read the next article in the series: How police leaders can improve officer safety during the COVID-19 crisis