Policing in America during Thanksgiving weekend
For police officers, Thanksgiving can be a pretty busy time
---
Working any holiday can be tough. Like anybody else, police officers want to be with their families on special occasions, and Thanksgiving is no different. Sure the overtime pay helps to take the sting out of being away from loved ones, but money is no match for memories. 
Officers with enough seniority will have the opportunity to take time with friends and family in celebration of Thanksgiving this weekend. Those cops on the more junior end of the ranks will be out on patrol, settling perhaps for a turkey sandwich at a restaurant with a couple of partners from the shift.
For those of you who are fortunate enough to be getting ready for what I like to call "The Great American Festival of Sloth and Gluttony," give thanks for having your partners step up and take to the streets this weekend. For those of you who are doing just that, here are some thoughts about what you're about to experience.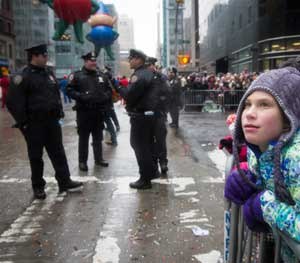 Thanksgiving is a looooooong weekend
For police officers, Thanksgiving can be a pretty busy time — beginning early in the morning on the Wednesday before the big feast. Many departments have programs through which officers deliver food to homeless shelters and food kitchens. Citizens volunteer to help the police pack bags full of canned foods and other essential Thanksgiving items, and load up the trunks of the squad cars with the donations.
This may be the very best part of the weekend for many cops — whose sense of service runs deep and whose desire to help people drove them to become a police officer in the first place. 
The feeling of joy one gets in acts of kindness will serve those officers well, because by the time Wednesday afternoon arrives, the long weekend of real police work has begun.
As all of those people hit the roads across the country, the sheer volume of cars on the freeways skyrockets, and with that increase in the number of cars comes the prospect of an uptick in traffic collisions. Depending on where you patrol, weather and road conditions could amplify this problem. If you are working a collision, wear your reflective vest and keep your head on a swivel — we don't want any struck-by LODDs. 
Wednesday evening rolls around and transplanted friends and relatives returning "home" from where they presently reside frequently get dinner at a restaurant (who wants to cook a big meal two days in a row?) and head to the local watering holes to catch up over a few drinks.
Herein lies problem number two: the Thanksgiving holiday weekend frequently outpaces other holidays in the number of DUI traffic collisions. Many agencies publicize that they will be conducting DUI enforcement, and still, drunks decide (stupidly) to endanger themselves and others by getting behind the wheel. Brush up on your SFST skills and keep those drunks off the roads. 
Thursday morning is generally quiet, with annual "turkey bowl" football games played by men who long outgrew their athletic abilities they cherished in high school. Twisted ankles and other injuries keep our EMS partners busy, but for the cops, a respite until about noon. In the cities and towns that have a Thanksgiving Day parade, police will stand guard to ensure that the festivities proceed without incident.
In the early afternoon, as the Turkey roasts in the oven and the NFL games get underway, the combination of alcohol and emotion again can cause problems. The number of domestic violence calls on Thanksgiving Day frequently rise, as drunken uncles who differ on anything from the teams on television to the recent presidential election needlessly come to blows in the living room. Some confrontations can turn deadly, promoting serious criminal interdiction and the involvement of homicide investigators. It's sad to say, but it's true.
By late Thursday afternoon, police may have had more than one opportunity to work with first responders from other disciplines. They may be called to assist during a medical emergency being handled by fire and/or EMS. They may also be called to aid those same responders in dealing with a house fire started in an oven in the kitchen or the deep fryer in the garage. 
After sundown and moving into the nighttime hours, officers brace for the dreaded "Black Friday" shopping routine. With many stores now opening at the stroke of midnight with the promise of "door buster" deals, the potential for mobs getting out of hand is a very real thing. People get hurt as fists fly over who gets the last big-screen television on the shelves. Charges are filed and reports are taken. This means a copious amount of paperwork lays ahead (yay!).
The bedlam of "Black Friday" continues in earnest all day with millions of people flooding the malls and the big box stores. One of the things that police must be most concerned about is the possibility of an attack on these soft targets. Whether at the hand of a deranged man seeking to get the "high score" in a long list of rapid mass-murder incidents, or an ISIS-inspired terrorist attack by one or more radical Islamist jihadis, cops need to be on their toes and ready for anything. 
The weekend slowly winds down
For the remainder of the weekend, it's really much of the same — lather, rise, repeat. The DUIs and DVs continue throughout Saturday and Sunday. Officers working the airports, train stations, and other major transportation hubs will be on high alert as the throngs make their way back home. According to the trade group Airlines for America, more than 27 million people will fly during the holiday weekend — cops have overwatch for their safety and security.
Speaking of security, this year presents another wrinkle for police, as the prospect of post-election protests spilling into the weekend looms. Crowd control tactics and de-escalation techniques may be at the forefront as cops protect people's First Amendment rights, while also preventing violence and the destruction of property. 
Through it all and no matter what your shift or assignment, officer safety will be paramount. Cops out there on the roads need to watch their six and the six of their fellow-officers. Even if no backup call is made, do everything in your power to be that backup officer for whatever call comes in, no matter how trivial it may sound on the radio. Inspect your long gun, your less lethal tools, and be sure you have your self-care/buddy care kit strapped to your ankle. 
In closing, it is important for us all to remember that even in these trying times, there is a lot to be thankful for. What are you thankful for? I'll start: "I'm thankful that American law enforcement officers are out there 24/7/365, serving their communities and keeping our country safe." 
Add your comments below, and stay safe out there my friends.