Dallas officer slain by Kennedy assassin honored
Members of the Dept. wear a special badge to commemorate J.D. Tippit, the officer slain by Lee Harvey Oswald less than an hour after Kennedy on Nov. 22, 1963
---
By Jamie Stengle
Associated Press
DALLAS — About 45 minutes after President John F. Kennedy was assassinated in downtown Dallas, Officer J.D. Tippit was on patrol in the nearby Oak Cliff neighborhood. He slowed down as he saw a man who met the vague description of the shooting suspect walking down the street.
Moments later, Tippit got out of his patrol car and Lee Harvey Oswald opened fire, killing Tippit instantly.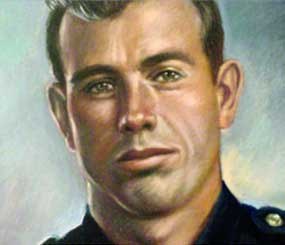 In tribute to the fallen officer, the city's police force can wear a special badge throughout November, which marks the 50th anniversary of Kennedy's assassination and Tippit's death.
"We wanted to pay our respect to the sacrifice that J.D. Tippit made to the city of Dallas," said Ron Pinkston, president of the Dallas Police Association, which is helping facilitate the sale of the badges.
Tippit's 85-year-old widow, Marie Tippit, appreciates the gesture. She said the badge bearing her husband's name, number and date of death not only honors him but also serves as a reminder of all of those who have died in the line of duty — and how fast an officer can be killed.
"It was just remarkable that I kept going. Without God's help I wouldn't have because I just couldn't picture how we were going to live without him," she said. "I just couldn't figure that out.
"I had three children that needed their Dad, but he wasn't there anymore."
J.D. Tippit had broken from his usual routine that day and ate lunch at home, where his wife fried some potatoes and made a sandwich for him.
"I kissed him bye not realizing that would be the last time I would see him, but I felt the Lord really blessed by letting him come by that one last time," she said.
He was killed at about 1:15 p.m. by Oswald, who was arrested shortly after at the Texas Theatre. Oswald was killed two days later by nightclub owner Jack Ruby during a police transfer.
Tippit, 39, had been an officer for 11 years when he was killed. He and Marie, who were both from the small northeast Texas town of Clarksville, were married Dec. 26, 1946, after he returned from World War II, where he served as paratrooper in the U.S. Army.
"He was a great family man," said Marie Tippit, now a great-grandmother. "He loved his work. He felt that he was helping."
The badges, made by Utah-based SymbolArts, cost $70, with $5 from each sale going to the Dallas Police Association's Assist the Officer Foundation, which helps injured officers and their families.
Rich Fiet, a sales executive with SymbolArts, said that so far about 300 have been sold.
"It just is a reminder to the officers that we lost an officer in the line of duty and all of us are out there doing the same duty that J.D. Tippit was doing that day and we should all be mindful of the dangers of the job," said Sr. Cpl. Rick Janich, curator of the Dallas Police Department's museum.
Copyright 2013 The Associated Press