Deputy saved by own LEO brother after being shot
Deputy Eddy Luna's brother, who is also a cop, applied a tourniquet at the scene
---
By Suzie Ziegler
COMAL COUNTY, Texas — A Texas sheriff's deputy was shot in the line of duty last week while trying to serve a felony warrant. Luckily, his brother in blue – literally – was there to save him. 
According to KENS5, Deputy Eddy Luna was saved when his own brother and fellow deputy, Rene Luna, applied a tourniquet at the scene.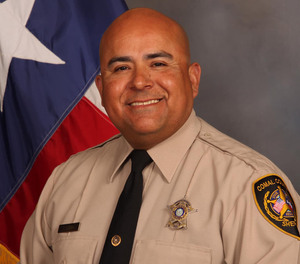 In a radio call, the family tells KENS5 you can hear Rene Luna talk about the life-saving moment. 
"I applied a tourniquet at 12:35 hours," he said. "He has lost a lot of blood. He has significant damage to his arm." 
But the family calling goes even beyond the two brothers. Eddy's son, Daniel Luna, is also a Comal County sheriff's deputy. 
"I don't know of a stronger and more loving guy than my dad," Daniel told KENS5.  
Eddy was shot in his right arm and has a long road to recovery ahead, according to KENS5. He remains in the hospital after undergoing surgery Monday morning. Daniel says his dad's medical team is working on a plan to save the arm, but they're also considering the possibility of a prosthetic. 
"[My dad] is just glad [Rene] was there and that he was able to perform everything that we have been taught, so he could save my dad's life," Daniel said. 
The suspect was being sought on a felony warrant for evading arrest with a motor vehicle, reported KENS5. He's now also facing two counts of aggravated assault on a public servant. 
NEXT: New TCCC guidelines provide officers more tourniquet choices