The Up-Beat: Cops go above and beyond for theft victims, homeless, hungry
Check out this week's round-up of inspiring stories from around the country
---
By Police1 Staff
Lending a helping hand is part of the job for officers of the law — but their daily good deeds rarely make headlines. With this series, we aim to bring some much-deserved attention to the little things our officers do for our communities every day. Check out this week's round-up of inspiring stories from around the country. 
1. Tenn. officers feed elderly man in need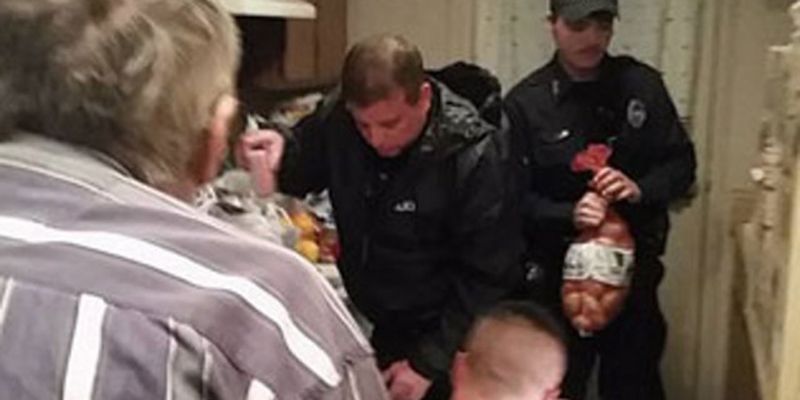 ​(Facebook Image)
COLUMBIA, Tenn. — An elderly man who was the victim of theft received some much-needed help from a group of Tennessee officers.
According to The Daily Herald, William Isabell was struggling to purchase groceries for the month after his former caregiver stole $70 in cash and a debit card from the retired truck driver.
Upon hearing about Isabell's tragic circumstances, Officers Adam Runions, Nathan Bolton, Buddy Odom and Brian Grey banded together and pooled $160 of their own money to purchase food for Isabell.
"We all just lended a hand and took care of business. It was the right thing for us to do," Grey told the publication.
Various officers from the department have reportedly been taking the time to check up on Isabell at his home for several weeks since the department's initial act of kindness.
"I thank them for everything they do for me. You know I don't have a lot of friends down here," Isabell told the Herald.
2. Ind. State sergeant prays with distressed driver​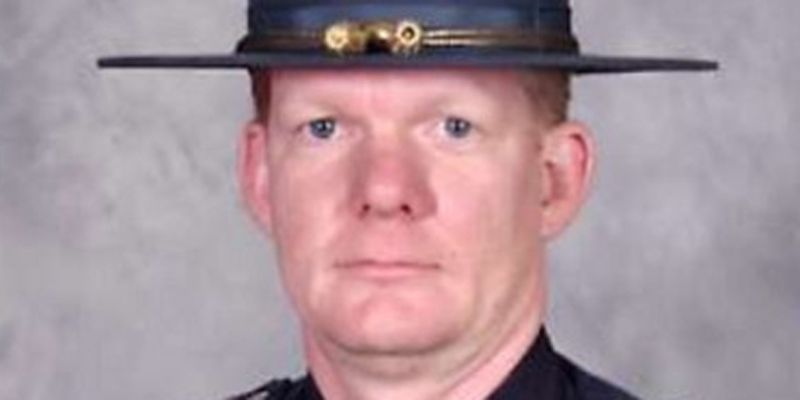 ​(Indiana State Police Image)
BLOOMINGTON, Ind. — A commercial truck driver is praising law enforcement after his encounter with an Indiana State Police sergeant on a very difficult day.
According to the Herald-Times, Rodney Gibson had just left his 35-year-old daughter's home when he was stopped by Sgt. Todd Durnil. Gibson's daughter, who has been battling breast cancer for several years, had taken a turn for the worse.
Distressed and with tears welling up in his eyes, Gibson explained his situation to Durnil after the pair bonded over an angel pin that both coincidentally carried in their vehicles.
After Durnil declined to cite Gibson for any violations, the truck driver half-jokingly requested the officer pray with him.
"He reached for my hand, and this man sent up a prayer, for my daughter and for my family, that sent chills all over my body," Gibson told the publication. "I will never, ever forget this, nor will my family."
3. Milwaukee cop helps mom, 3 kids find home
MILWAUKEE — A Milwaukee officer is receiving high praise after aiding a homeless woman and her kids in securing housing.
According to the Journal Sentinel, Officer Karla Lehmann started a GoFundMe page after learning that Latasha Hayward, along with her 8, 5 and 3-year-old children, were without shelter.
Hayward had lost her apartment and vehicle after becoming unemployed and had been living in a homeless shelter with her children. After she was hired at another job, she was asked to leave the shelter to make room for someone less fortunate, but financial difficulties resulting from her prior eviction prevented her from finding another apartment.
Lehmann's page raised over $8,300 for the family, who were able to rent a new apartment.
"She just wants the best for me and my kids," Hayward told the publication. "My kids love her dearly. Without her, I don't know where I would be right now."
As a result of the campaign's success, Officer Lehmann has set up a new GoFundMe for the Milwaukee Center for Children and Youth, an organization that assists at-risk families in need of "safe and healthy housing."
4. NJ cops come to rescue after family's clothes stolen from motel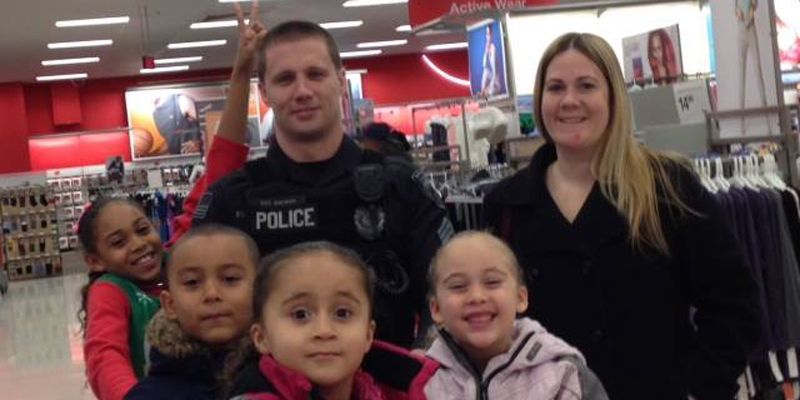 ​(Facebook Image)
WESTAMPTON TOWNSHIP, NJ — A Massachusetts mother who was staying in a New Jersey motel with her four young children after undergoing cancer treatment received aid from two officers after discovering someone had stolen their winter clothes from the motel's laundry room.
According to NJ.com, all of the winter clothing the children and mother had received as Christmas gifts were stolen, leaving the family to travel back to Massachusetts in 10-degree weather with only their pajamas.
When the mother reported the theft to the Westampton Township Police Department, Sgt. Andrew Brewer and Officer Joshua Wood gathered donation funds and took the family to a local store to replace the hundreds of dollars in stolen winter clothing.
"I put myself in her position, having children of my own, and realizing how distraught and upset I would be," Brewer told the publication. "She was very ecstatic about it. She was overwhelmingly happy and grateful for us coming to her need and helping her in this incident."
5. Ex-con searching for NY cop who helped him get to job interview
NEW YORK — A man is searching for a New York officer who helped him get to a job interview in time, ABC7 reported.
58-year-old James Roberts spent the majority of his life running from police.
"I got chased for 11 years when I was doing bad," Roberts told the news site.
The ex-con had trouble finding a job due to his criminal record. When he finally scored an interview, his hopes were high, until he realized he used his only round trip bus pass to get to the wrong location.
The company was with the airport, where he arrived, but his interview was with the staffing agency a few miles away. With limited funds and time, Roberts was in distress and almost-tearful when an officer approached him.
"He said, 'You're not going to walk there and make it there. What time do you have to be there?' and I said, '1 o'clock,' and it was like 12-something, and he said, 'Get in the car,'" Roberts said.
Roberts got the job and now wants to commend the officer for his help.
"I love this guy wherever he's at, I love this guy, and I have to see him, I have to," Roberts said.