Cop creates cool, breathable vest to wear under armor
The Maxx-Dri vest is a thin vest made out of unique mesh material that's meant to be worn under ballistic armor
---
Business Name: 221B Tactical
Product Name: Maxx-Dri vest
Officer/ Department:  Officer Suresh Madhavan, Wall Township, N.J. Police
Website:  www.221btactical.com
Officer Madhavan got so uncomfortable wearing a vest in the warmer months that he wished he could leave it in his locker. But he'd made a promise to always wear it on duty and wasn't about to break it, so he created a solution.
We talked to Officer Madhavan about the product, its inspiration and what the future holds.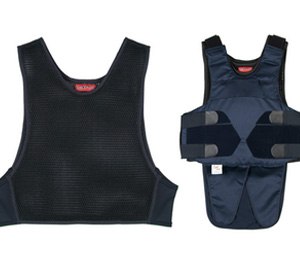 What is your signature product?
The Maxx-Dri vest is a thin (3/16-inches) vest made out of unique mesh material that's meant to be worn under ballistic armor to keep officers cool and comfortable. The material – a derivative of polyester – is very lightweight and allows for multi-directional airflow. It's currently patent-pending.
It's machine washable and doesn't need to be dried – in fact it comes out of the wash ready to be worn because it doesn't retain moisture. 
Where did the idea come from?
I came up with the idea after suffering for over a decade as a police officer wearing a ballistic vest on duty, and hearing so many other officers constantly complain about how hot and uncomfortable they were when wearing theirs.  Plus, sweat can actually deteriorate the integrity of your vest's Kevlar material.
Things came to a head for me when I broke out in a rash on my back and ribs from having a sweat-soaked shirt and vest against my skin for 12 hours a day and my skin had no ability to breathe, and I wasn't alone.
Many officers were even neglecting to wear their vest on duty. So I got to work on designing something that would keep the vest just slightly off my body so that fresh air could circulate between my body and my bulletproof vest.  
How did that idea turn into a product?
My very good friend Brad, who is now my business partner, has been in the textile business for over 25 years. So when I came up with the initial concept, I went to him for ideas.  
He was able to give me various samples based on what I wanted to do, but nothing seemed to work. Then one day we came across this material that was being used overseas in the bedding industry, and that was it. As soon as I touched the material, I knew it was the one.  
What was it like creating the first prototype?
Turning an idea into a finished product was a grueling process. There were a lot of failures and disappointments, but I was determined to find a solution. Honestly, I just wanted to create something that would work for me personally at first. But when I created the final prototype, I used it on duty and realized that it actually worked; I had to let co-workers try it to make sure I wasn't dreaming. And they all came back and said, "Suresh, whatever this thing is, it works! Can I have one?"  And that's when I knew I could have something really special on my hands.  
How did you test it out? 
By wearing it on duty myself and giving some to fellow officers. All of my test subjects were actual, full time patrol officers who work the streets and highways in the elements. Guys didn't want to give the prototypes back to me. Some were offering me cash on the spot to keep it, but I knew I had to perfect it and make it a nice, clean finished product. I'm a bit of a perfectionist. 
Where did the names of your company and product originate?
The name 221B Tactical was derived from Sir Arthur Conan Doyle's famous fictional character Sherlock Holmes. In his books, Holmes' address in London was 221B Baker Street.
I came up with the name Maxx-Dri after I realized what I was trying to accomplish: maximize dryness while wearing a ballistic vest.  
Where can they be purchased?
Right now they are available exclusively on our website. They're $69.99 each and are available in sizes S-XXL (unisex).
I wanted to make it affordable for everyone, even rookies who are only making peanuts. Money is tight for a lot of officers I work with and know. But that doesn't mean they don't deserve to be more comfortable while on duty. They need to be focused on the job and potential threats, not how hot and sweaty they are. 
Anything else you'd like readers to know about your business?
For every Maxx-Dri vest purchased, I make a donation toward the families of fallen officers and fallen soldiers.