Product review: 5.11 A.T.L.A.S. Boots
This footwear line helps you support the extra weight you might don for a mission without punishing you for it
---
At this year's SHOT Show, 5.11 rolled out an entire line of footwear called ATLAS. The series starts with a trainer-style shoe, moves up to a mid-boot, and also includes a couple of versions of an 8" boot (one that laces, as well as a side-zip). Each entry is available in black or brown.
With 15,000 steps being a daily norm during a convention like SHOT, I donned a pair of ATLAS mid-boots and imagined I'd have some good feedback by the time I circled around to writing this review. I went through several experiences that had me appreciating the quality of these boots. I didn't wrap up the review until well after COVID-19 had made its mark on all our lives.
ATLAS? Like the Greek God?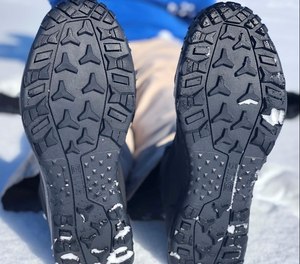 Yes, the guy who carried the world on his shoulders lent his name to the new footwear line from 5.11. The acronym stands for All Terrain Load Assistance System so the name fits.
The basic idea is these shoes are not only designed to handle all the crazy things we do, but they are made to help us support a heavier load while we do it. The fine folks at 5.11 understand whether we're working or recreating, we typically carry extra gear with us ‒ it doesn't matter if that's the mission load out or we pack all those "just in case" items with us.
The amount of tech and research that's gone into this line is impressive. Much like a laminate, the sole of the shoes works in conjunction with an Echo Foam, energy-returning layer. This, in turn, works with the ATLAS Plate, a more rigid form that gives support, especially under heavy load. This is topped off with an Ortholite Comfort Foam Footbed for your foot to rest in. The result is impressive, offering a layered effort to support your foot while remaining comfortable.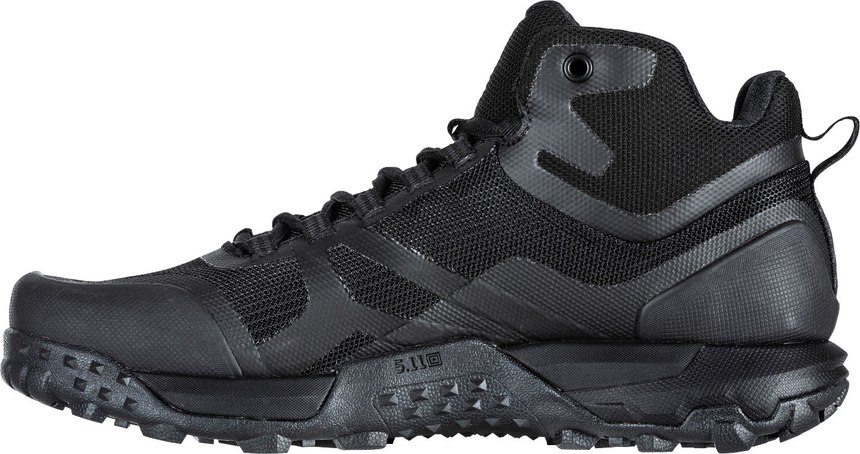 That's Neat, But Does it Work?
Short answer, yes! At SHOT I spent an entire day running all the levels and floors easily racking up 15,000+ steps before the evening plans solidified. We ended the night at an establishment where fun was heavily encouraged and I'm pleased to share with you, your humble narrator got out and cut a rug. That's right. I don't know if 5.11 planned on this when they designed the ATLAS boots, but they actually dance really well.
I was duly impressed at the end of an arduous day of running around, which was capped off with an evening of dancing. My feet did not have blisters or even hot spots. For that matter, they didn't even hurt. There was no break-in time required with these boots. Eventually, SHOT concluded and we headed back home.
Still More Testing
I wore these boots on duty, mostly on range days where I spent the bulk of my time on my feet. Moving around, working drills and picking up brass, the boots wore all day and stayed comfortable. During an NLEFIA RDS Instructor Course I spent an additional two days on the range putting a lot of steps in.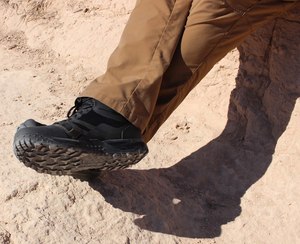 The weather was still pretty cold in Colorado and wearing the boots, I noticed my feet stayed warm and dry though I was not specifically testing for this. The sole provided enough grip that I did not fall while navigating the snow or ice we experienced.
Finally, I tested the boots in varied terrain and found them breathable in the hot weather too. In early April, I took a long hike out to eastern Colorado to try and escape the coronavirus, quarantine and social distancing all in one. The boots were absolutely solid and served well because I was carrying a couple of packs with food, water, essentials and camera gear. The following morning, I dusted them off and headed in to work.
Proof in the Pudding
The ATLAS boots are outstanding. They are a full mesh upper so they may not be suitable for duty wear in some agencies with more traditional requirements. However, if your department allows them, you'd do well to pick up a pair. Alternatively, they are wonderful for recreational aspects of your life like hiking, hunting, or any other activity where you spend time on your feet. The ATLAS are extremely comfortable and can handle hours and hours of movement without making your feet hurt. They are lightweight yet supportive. Moreover, they support the extra weight you might don for a mission without punishing you for it. The technology actually feeds back energy for wearers meaning you can wear the ATLAS for long periods of time.