PRESS RELEASE
The TacPlate Modular System Receives Excellent Reviews from NTOA
---
The TacPlate Modular System from Atlas Load Bearing Equipment has been tested and recommended by the members of the National Tactical Officers Association. After a month-long trial with the National Tactical Officer's Association, TacPlates earned a 4.47/5 rating.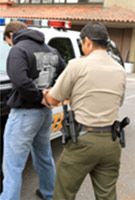 A tester from Connecticut with a recent back injury found himself in a situation similar to many officers and said, "… after coming off a back injury, this system took all the weight and discomfort away.  This system seems to push your duty belt and gear in and up making your gear seem weightless."  He also noted, "TacPlates do exactly what the company claims. They distribute the weight of your duty gear across your hips and pelvis, taking the weight off your abdominal muscles… and eliminating the pulling on your lower back and spine."
TacPlates represent a whole new way to carry your duty gear. Worn under the duty belt, TacPlates distribute the weight comfortably, channel loads away from the spine, and securely couple the duty gear to your hips.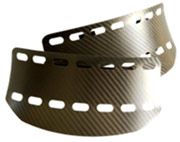 An NTOA tester from Minnesota added, "The plates definitely changed the way the weight of my gear felt on my body.  As an added benefit, the TacPaltes provided a very stiff platform for the gun holster.  My gun presentation was noticeably smoother with the reduction in belt movement."  Recognizing the potential benefits to the health of the law enforcement community he added, "The TacPlate system does support the weight of your duty belt as advertised. This product, in combination with sensible gear placement, will likely go a long way in preventing lower back issues in the long term."
TacPlates are made from ultra-light carbon fiber. With TacPlates your gear will feel light and secure, making you more mobile and agile. In addition to stabilizing your holster during a draw, TacPlates simplify the gear-up process by minimizing the need for extra keepers. TacPlates are compatible with all duty gear, are very difficult to see, and incredibly easy to use.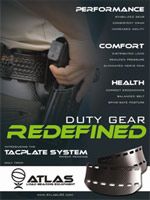 About National Tactical Officers Association
NTOA's Member Tested and Recommended online database is the most comprehensive product review database in law enforcement. This program allows manufacturers to have their products tested in the field by the law enforcement community. A manufacturer will provide the NTOA with 2-4 samples of a product.
Products are tested and scored in 13 possible categories on a scale of 0 to 5.
5 - Excellent– Defined as a product that performs at a level above advertised specifications and demonstrates its usefulness and quality of workmanship every time it is used and can be used for other purposes.
4 - Very Good – Defined as a product that exceeds advertised specifications on a regular basis and outperforms others in usefulness and quality of workmanship.
3 - Average– Defined as a product the meets minimum advertised specifications, has practical use, but does not go above or beyond the scope of quality or usefulness that is expected.
2 - Fair – Defined as a product that has occasional applications and in some situations meets advertised specifications, but overall is not effective.
0-1 - Poor – Defined as a product that does not meet minimum advertised specifications needed to make the product useful, product does meet any of its practical purposes.  
About Atlas Load Bearing Equipment
Atlas Load Bearing Equipment was formed in 2008 by Stanford engineers Matt Coleman and John Cromie. Matt & John developed a passion for solving the issue of back pain in police officers after spending time with embedded with the Stanford Police Department, and gaining a first hand knowledge of the unnecessary pain endured by law enforcement officers.  Atlas is devoted to helping officers carry the load of their equipment day in and day out by bringing technical excellence and disruptive innovation to duty belts.  Moreover, while working closely with police officers, Atlas has developed a deep passion for serving those who serve.  

Request more info from National Tactical Officers Association
Thank You!