How to pick the right small spotting scope and tripod
Whether hunting "bad guys" or big game, a small, spotting scope can be nearly as handy as your rifle
Whether your mission is hunting "bad guys" as a police sniper or hunting big game for sport, a small, spotting scope can be nearly as handy as your rifle. The smaller the scope, the more likely you are to have it along when you need one.
The evolution of shooting-oriented spotting scopes is making them ever larger and more expensive. Most of the outdoor optical firms now have huge 20-60x scopes with 80mm objective lenses as the flagships of their scope lineup.
These optical marvels weigh more than three pounds (plus the necessary tripod) and can cost more than your rifle/scope. I have a buddy who guides sheep hunters in Alaska and Wyoming every fall and he needs a large, high-resolution spotting scope. Often, a guide must be able to count the faint growth rings on ram's horns to see if they are old enough to be legal.
Most of us, however, can benefit from the added magnification of a spotting scope to identify potential targets, but are best served by small, lightweight models.
What to Look for in a Scope
You'll need a minimum of 15x magnification to be worth the added weight of the spotting scope. Otherwise, you're better off sticking with quality 10x42 binoculars. Similarly, since most small scopes have objective lenses of 60mm or less, pushing the magnification factor beyond 30x makes for a dim image under low light conditions.
Vortex currently makes a 15x fixed power model with a 50mm objective they call the Recon Mountain scope, which weighs just under a pound and is only seven inches long.
Leupold makes a Gold Ring spotting scope which zooms from 10x-20x and matches the Vortex for size and weight, at just under a pound. Older spotting scopes are more likely to be smaller and can often be found at a reasonable price on eBay.
I recently noticed the image in my old 25x Leupold wasn't focusing sharply. Looking through the front lens showed an obvious haziness inside. I sent it back to Leupold and less than two weeks later it came back, fitted with a bright, clear new front lens element for no charge. It's hard to beat their lifetime warranty.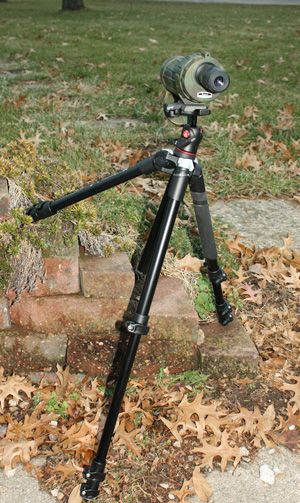 This very sturdy tripod packs down to a 16 inch, 3 pound package. Each leg can be set to different angles to level up on very rough terrain. (Photo courtesy Richard Fairburn)
Tripods
Finding a small, lightweight tripod to match a small spotting scope can be tricky; most are better suited for large scopes and cameras. Camera vendors often have table-top tripods which can serve well for a small scope used on a shooting bench or in the field.
At times, you may need a full size tripod which allows you to stand up to clear parts of a building or vegetation. One of the best I've found is the Manfrotto Befree aluminum model which allows full standing height, only weighs three pounds but will support up to 8.8 pounds (equivalent to a DSLR digital camera with a large telephoto lens).
The carbon fiber version will shave off another half-pound, but adds $150 to the price. The Manfrotto tripods are the sturdiest I have found for their weight.
Larue Tactical products makes a Picatinny rail mount to adapt one model Manfrotto tripod to field use with heavy sniper rifles - that is one tough tripod.
Whether you are checking 100 yard groups at the sight-in bench, spotting for your police sniper partner on a call out, or judging a good mule deer at 300 yards, a small, light spotting scope will help you gather good information and save steps