LAPD uses spit from sidewalk to tie suspect to 2 killings
Detectives began following Geovanni Borjas and collected his DNA surreptitiously after he spit on a sidewalk
---
By Michael Balsamo 
Associated Press
LOS ANGELES — Authorities trailing a man suspected of sexually assaulting and killing two young women who disappeared from their Los Angeles neighborhoods used his DNA to tie him to the 2011 crimes after he spit on a sidewalk.
Geovanni Borjas, 32, was identified as a suspect in the slayings of Michelle Lozano, 17, and Bree'Anna Guzman, 22, after investigators used a controversial DNA testing technique known as familial DNA testing, Los Angeles Police Chief Charlie Beck said.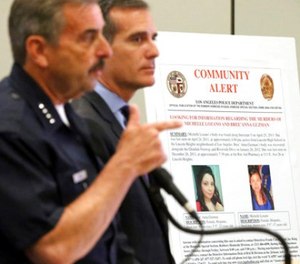 The technique enabled investigators to compare forensic evidence from the victims to law enforcement databases to identify likely relatives of the person who may have committed the crime. The search resulted in a match to Borjas' father, whose DNA was on file from a prior arrest, Beck said.
Detectives began following Borjas and collected his DNA surreptitiously after he spit on a sidewalk, the chief said. That sample matched the DNA that was collected from the crime scenes and Borjas was arrested Thursday, he said.
Borjas was charged Tuesday with two counts each of murder and forcible rape, and one count of kidnapping and was scheduled to be arraigned Tuesday afternoon. A call placed to a number listed for Borjas in public records went unanswered Tuesday, and it was not immediately clear if he had an attorney who could comment on the allegations.
Lozano was found dead April 25, 2011, a day after she disappeared from the Lincoln Heights neighborhood. Her body was found wrapped in plastic bags and stuffed inside a container that was dumped in the brush along Interstate 5, police said. An autopsy found she had been strangled.
"Michelle was murdered, she was sexually assaulted and she was discarded," Beck said. "These two murders were horrific."
Borjas is also charged with kidnapping, sexually assaulting and killing Guzman, who had disappeared from the Boyle Heights neighborhood on Dec. 26, 2011. Guzman, who had dreamed of becoming a pastry chef, told family members she was going to a nearby pharmacy to buy cough drops but never returned. Her body was found a month later along a ramp leading to State Route 2.
Detectives have said forensic evidence linked the two slayings, but have declined to provide specific details. Investigators are still trying to determine if Borjas knew the two victims, but he hasn't cooperated with detectives, Beck said.
Several members of Guzman's family attended the police news conference Tuesday afternoon. Her father broke down in tears as he described his daughter's life. He said his daughter did not know Borjas.
"He's in jail and he's never going to leave," Guzman's father, Richard Duran, said in Spanish. "That gives me a lot of happiness. I have closure now."
Los Angeles Police Chief Charlie Beck said investigators had exhausted every lead in the case and credited the familial DNA testing with giving detectives the break they needed to finally solve the case. The technique has raised ethical issues in the forensics community, but law enforcement officials have argued the testing can provide investigators with valuable leads.
It has been used only a handful of times in Los Angeles and led to the arrest of Lonnie Franklin Jr. in the Grim Sleeper serial killings, which spanned from 1985 to 2007. Sheriff's officials also used it earlier this year to solve the decades-old killing of the ex-wife of Righteous Brothers singer Bill Medley.

Request product info from top Police DNA Forensics companies
Thank You!