Robot cop now on patrol in Dubai
The robot will patrol the city's malls and tourist attractions
---
By Police1 Staff  
DUBAI — There's a new officer in town and he's operated by a touchscreen.   
Dubai's robocop was deployed Sunday at the city's malls and tourist attractions, according to a press release.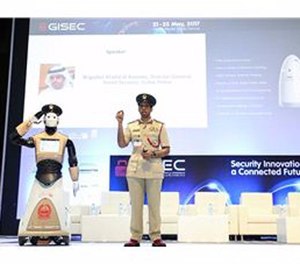 The multi-lingual robot comes equipped with a touchscreen, allowing citizens to report crime, pay traffic fines or chat with the officer in Arabic or English. The robot has built-in cameras that stream directly to the police command center.  
"It has a smart intelligent system so it can protect people from crime, because it can broadcast what is happening right away to our command and control centre," Brig Khalid Al Razooqi, Dubai Police director general of smart services, said in the statement. "We are also working on facial-recognition systems."  
Police officials said that the next robots deployed will be used to combat crime and misdemeanors. In the next two years, the department plans to debut a robot that can run up to 50 mph and will be operated by an officer seated inside. The department told The Gulf News that they hope robocops will make up 25 percent of the police force by 2030.  
"We are not going to fire our police officers by replacing them with this tool," Al Razooqi said. "But with the number of people in Dubai increasing, we want to relocate police officers so they work in the right areas and can concentrate on providing a safe city."

Request product info from top Robots companies
Thank You!