Looking ahead: How policing and public safety are changing
How will issues like police reform, staffing challenges and cybersecurity shape the future of the profession?
---
Sponsored by Mark43
By Police1 BrandFocus Staff
The phrase "reimagining policing" has become part of a national conversation about the mission of law enforcement – but what that phrase means depends on whom you ask.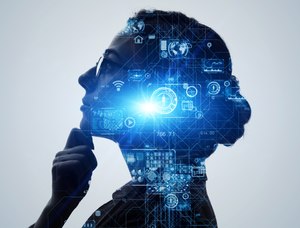 This article explores six key trends shaping the future of public safety in the United States, based on a report prepared by Mark43 (available here), to help agency leaders decide what "reimagining policing" means for your agency and the community you serve. Use this information to identify strategies and tools to guide your organization forward in this time of change.
TREND #1: 'REIMAGINING PUBLIC SAFETY' ISN'T JUST A CATCHPHRASE – IT'S A CRITICAL NEXT STEP
Over the last few years, public safety agencies have had to contend with a general decline in goodwill toward police, the arrival of COVID-19 and a historic rise in violent crime, as well as the nationwide protests and public unrest that followed the murder of George Floyd.
These events helped fuel the growing movements aimed at scaling back, reimagining or altogether eliminating some functions of law enforcement. Responding to mental and behavioral health crises is central to this issue. Jurisdictions across the country are rethinking how they respond to individuals in crisis with co-responder programs, mobile crisis teams and civilian-only responses.
Traffic stops have also come under the microscope. Some cities have implemented unarmed civilian response to traffic stops for minor infractions, and some governing bodies have gone so far as to prohibit law enforcement from stopping drivers for low-level traffic violations altogether.
Finding cooperative solutions will be the key to making lasting changes that work for your agency and community. Use your agency's data to establish patterns and gain further insights, and be sure to engage community leaders early to gather input and build relationships.
TREND #2: DATA IS KEY TO IMPROVING RELATIONSHIPS WITH ALL STAKEHOLDERS
Chances are your agency has tons of data on hand, but what are you doing with it? Consider how you can use your data to determine needs and priorities – such as identifying hard-hit neighborhoods that could benefit from increased patrol – and build community trust.
Invite the members of your community to take an active role by making your agency's data available, accessible and authentic. Don't wait for an annual report – share information regularly via your website (make sure it's mobile-friendly!) and social media with community members in mind. Include context to help your intended audience understand the information you're sharing and what it means for your community.
Your goal should be to start a conversation that sparks reciprocal sharing of information between your agency and the community you serve.
TREND #3: MODERN, DIVERSE WORKPLACES ARE KEY FOR PUBLIC SAFETY RECRUITMENT AND RETENTION
Recruitment and retention are challenges for agencies of all sizes. Today's job applicants expect a modern workplace that includes functional facilities and intuitive technology, as well as one that prioritizes social responsibility, diversity and inclusion.
Recent U.S. Census data shows that American neighborhoods are becoming more diverse. Public safety agencies should work to increase diversity in their ranks to build workforces that are more reflective of the communities they serve, both in race and gender.
In particular, women comprise a little more than half of the U.S. population but less than 13% of sworn law enforcement. Research shows that female officers use excessive force less often, are named in fewer complaints and lawsuits, are perceived by communities as more compassionate, make fewer discretionary arrests and see better outcomes for crime victims, especially in sexual assault cases.
Recruiting more women into the field can strengthen the profession and help your agency better serve and protect. Consider joining the 30x30 Initiative, a national effort to advance women in policing that seeks "to increase the representation of women in police recruit classes to 30% by 2030 and ensure police policies and culture intentionally support the success of qualified women officers throughout their careers."
These efforts can help your agency recruit and retain talent so your ranks better match the community you serve.
TREND #4: MOBILE TECHNOLOGIES ARE CRITICAL TO CONNECT RESPONDERS AND ENHANCE SAFETY
Equipping officers for today's challenges means adopting technologies that deliver the right information at the right time. In a smartphone world, where a wealth of information is just a tap away, modern mobile technologies offer first responders remarkable potential for situational awareness and greater efficiency in the field.
Smartphones and tablets with mobile apps provide two-way data flow to help officers stay advised, as well as report back with new information. Context-driven mobile apps can provide responders with the information they need at any particular moment. For example, an app that provides in-field access to the agency's records management system means an officer does not have to wonder if they interacted with someone on the "most wanted" list – they can look it up on their mobile app.
Mobile technologies also allow responders to easily record information from the field without returning to the station. With the ability to document and report accidents in the field, officers can finish reports faster and spend more of their shift in the community.
Interoperability is critical when considering these tools. Look for applications with a proven capability to integrate with third-party technologies through an open API, and involve officers and the community in technology procurement.
TREND #5: AS CYBERATTACKS EVOLVE, SO MUST CYBERDEFENSES
Every year, cyberattacks increase in complexity, causing costly chaos for government agencies and businesses alike. Ransomware attacks cost U.S. government organizations $18.8 billion in 2020. Your agency must proactively address vulnerabilities to its mission-critical systems now. Here's how:
Partner with cyber-smart vendors. Clearly define your agency's cybersecurity strategy and seek out vendors with proven security records. Ask questions like, "Do you have an encryption key policy?" or "What type of security certifications does your organization hold?" Ask vendors to share the results of their SOC Type 2 audit or other comparable security audit, and look for partners who go beyond CJIS and federal information processing standards requirements.
Make the cloud your first line of cybersecurity. In-house IT teams are expensive. The most effective way to augment your agency's IT resources is by leveraging the cloud and cloud-native technologies. Look for a vendor that uses government-level cloud providers, which employ top cybersecurity experts and spend more than a billion dollars a year in cyberdefense.
Be ready to respond. Your agency must have a crisis plan designed specifically for cyberattacks. Many business continuity and disaster recovery plans include these critical elements:
Data backups that are physically and virtually separate from primary systems.
Crisis communication and liaison plan for impacted stakeholders.
Cyber insurance policy.
Contact information for the closest FBI field offices.
TREND #6: CONSENT DECREES ARE HERE TO STAY
The U.S. Department of Justice has long used settlement agreements and consent decrees to bring reforms to agencies shown to have a practice and pattern of misconduct. Due to calls for state attorneys general to conduct their own investigations, the use of consent decrees is likely to expand in the coming years.
Consent decrees specifically target allegations of systemic police misconduct, such as biased policing, unlawful use of force or unlawful stops, searches and arrests. To avoid triggering a DOJ investigation, your agency should demonstrate its commitment to constitutional policing, practice policing by consent, build and maintain a relationship with the community based on trust and embrace a culture of reform and innovation. Best practices include:
Review your policy and procedures to ensure they adhere to 21st-century best practices.
Maintain a relationship with your community based on trust and transparency. The time to build these relationships is now – don't wait until an adverse incident.
Demonstrate your agency's practice of constitutional policing through data capture, analysis and reporting.
If your agency should face a consent decree, remember that it is an agreement, and your leadership should have a seat at the negotiation table. Compliance and collaboration with the monitoring team is a must to successfully navigate the process. Dedicate agency staff, facilities and resources to collaborate with the DOJ and monitors.
Demonstrating your agency's commitment to reform will require intensive data collection, analysis and reporting. Use the information collected to support ongoing innovation, as well as regular communication and collaboration with the community. Sharing important information with the citizens you serve, as well as the DOJ monitors, can help to mend relationships and provides an opportunity for your agency to tell your story to the public.
FINAL THOUGHT
The world is changing rapidly, and public safety agencies must respond. Despite the many challenges facing law enforcement today, leading agencies can and will overcome these obstacles by addressing the trends outlined above, developing new approaches and adopting innovative tools to better protect and serve their communities.
Visit Mark43 for more information on new technologies for public safety.
Next: Watch "Looking over the horizon: a discussion of US public safety trends for 2022" (on-demand webinar)

Request information from Mark43
Thank You!