6 predictions on the future of SWAT
SWAT teams should keep a watchful eye on the future in order to prepare for the worst
---
This feature is part of our new PoliceOne Digital Edition, a quarterly supplement to PoliceOne.com that brings a sharpened focus to some of the most challenging topics facing police chiefs and police officers everywhere. To read all of the articles included in the Summer 2016 issue, click here.
By Dan Marcou, Police1 Columnist
The future of SWAT (Special Weapons and Tactics) will be influenced by the tactics of the criminals and killers confronting law enforcement. Active shooters and killers are and will continue to be a driving force in the direction of SWAT. These people will continue to kill for many different reasons.
One thing is certain: SWAT will play a major role in the response, no matter what the killer has in his or her mind at the time of the attack.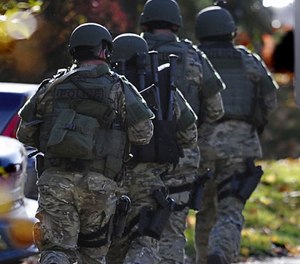 So what does the future hold for SWAT? Here are a half-dozen predictions.
1. SWAT will play a major role in training
These events will lead SWAT team trainers to train more than just the SWAT team members. They will be called upon to develop courses for their communities. The ultimate goal of these courses will be to prevent events or to minimize casualties once a crisis is thrust upon them.
SWAT trainers will be training more and more street officers as well. In tomorrow's world, the chance of any given officer meeting one of these killers will be less of a possibility and more of a probability. With this in mind, many SWAT trainers will work to improve the tactical capabilities of every first-responding officer in the nation.
You will see SWAT courses increasingly attended, not just by future SWAT team members, but also by patrol-level first responders. These patrol officers will be sent by forward-thinking leaders who recognize the potential threats facing their street officers. The training will allow for these officers to acquire the skills to meet and defeat those threats.
A large percentage of patrol officers' tactical skills will begin to rival those of SWAT out of necessity. The lessons of Fort Hood, San Bernardino and Garland were received loud and clear by officers on the beat nationwide. Modern battles will be decided in seconds by patrol officers, not in hours by SWAT teams. Patrol officers will be the front line in the "war on terror."
We are already seeing what used to be exclusively SWAT tactics introduced to recruits in police academies all over the nation.
2. SWAT communications will remain essential
SWAT teams will continue to be called upon to save lives in dire situations. Because life is precious to SWAT teams, negotiators will be a critical part of every SWAT team, as they always have been. Teddy Roosevelt's observation, "Speak softly and carry a big stick; you will go far," will still ring true.
Negotiators will continue to develop their ability to communicate effectively with emotionally disturbed individuals in crisis. They will also train tactical team members and first-responding officers to adept in effective communications with people in crisis.
3. New non-lethal options will be invented
Throughout history it has been the desire of Law Dogs to avoid the use of deadly force whenever possible. For example, Wyatt Earp preferred "buffaloing" to shooting a suspect. Buffaloing is the bashing of a suspect across the brain-pan with a revolver to cause incapacitation, better known as pistol-whipping. It would raise eyebrows today, but it was a more humane option in the 19th century.
In the near future you will see improvements to special munitions, as well as to electrical control devices.
The military and the private sector are aggressively involved in research to discover new less-than-lethal options that are practical and tactical for use by law enforcement. The next great less-than-lethal option for law enforcement is on the horizon, and whatever that option is, it most certainly will be field-tested by SWAT.
4. Explosives will become more common
The neutralization, investigation and tactical use of explosive devices will become a more common occurrence in the future. Attackers will attempt to construct bombs, and SWAT/explosive ordnance disposal teams will be called upon to lead the way in the response.
5. Agencies will use combined teams
The cost of some of equipment now deemed essential for a prepared SWAT team has become prohibitive for most agencies. Since much of this equipment is rarely used but at times greatly needed, the real story is not about the types of equipment and technology available. It is more about the cooperation, collaboration and even the combination of teams that will occur to allow agencies to acquire the equipment and technology.
Not every agency can afford to have an armored rescue vehicle, but when a group of agencies work together they can acquire one to be made available to any of them when needed. This goes for computer internet experts, robots, drones, thermal imaging, bomb squads, chemical munitions delivery systems, explosive entry capabilities, GPS tracking equipment and the list goes on.
6. New case law will be made
The advent of these technologies has inspired volumes of new case law. Because these tools are a growth industry in law enforcement, it will be imperative not only to know what case law exists regulating the use of the particular technology in play, but also to anticipate the direction in which the courts are going. No one wants to be the agency that was the cause for bad case law for their law enforcement brethren.
The future is coming: Prepare for the worst
No matter what advances are made in technology, there will come times when highly trained teams of LEOs will have to go through doors and confront the threats posed by criminals. Whatever the future holds, it behooves all SWAT leaders to keep a careful eye on the future in order to prepare for the worst as they hope for the best.

Request product info from top Tactical Products companies
Thank You!