How to train and equip SROs to be a school's first line of defense
If SROs are expected to be our school's first line of defense, we must provide these officers with the best specialized tactical training and equipment possible
---
Unfortunately, it's not the program's success as a component of an overall community policing model, but rather the alarming rise in the lethality and frequency of school shootings that has been a major driving factor for requests for SROs in our schools. These requests come not only from law enforcement agencies with established SRO programs, but from elected officials, school officials and the public who may not be aware of the many facets of an SRO program.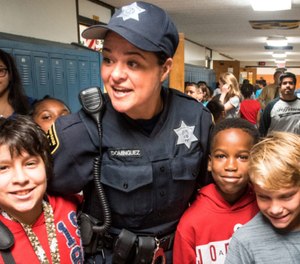 By looking at the current mission and design of SRO programs, we can better train and equip our SROs to meet that mission, as well as the expectations of our community stakeholders.
Cops on campus
Having law enforcement officers on campus is not a new idea. SRO training has long held that a public school is a microcosm of the community and will reflect all the aspects of the community – to include campus crime. Many school systems have maintained their own school police departments for years. Other agencies have sought to develop programs that allowed them to interact with students and school staff. 
In the 1960s and 70s, many elementary students were introduced to "Officer Friendly," who gave basic safety lessons like "stranger/danger," "cross at the green, not in between" and bicycle safety. 
The 1980s saw a rise in agencies partnering with and sponsoring intervention programs such as the LAPD and D.A.R.E (Drug Awareness Resistance Education), the NYPD and S.P.E.C.D.A (School Program to Educate and Control Drug Abuse) and the ATF and G.R.E.A.T (Gang Resistance Education And Training). 
All of these programs sought to increase the positive interaction experiences between students and law enforcement through periodic visits and a structured program presentation.
The SRO difference
Unlike those earlier programs, the SRO program utilizes law enforcement officers who are assigned full time to one or more elementary, middle or high schools. 
Basic SRO certification requires the officer to attend and pass a 40-hour block of instruction that prepares the officer to carry out the three primary duties of an SRO: 
Educator; 
Counselor;
Law enforcer. 
Officers are taught a wide curriculum that includes topics such as how to create lesson plans, different types of learning styles and peer mediation techniques. 
SRO training needs 
Expanded duties and missions will always bring a need for training. In addition to the basic SRO certification, law enforcement agency leaders should ensure their SROs receive training in the following areas:
1. Physical security
It is widely recognized that our public schools were not designed with the intention of preventing or mitigating an active violence incident. Therefore, our first step should be to proactively seek the best ways to integrate preventative physical security features at our schools. 
When we look at school shootings over the last 20 years, we find that with the exception of a few ambush-style shootings occurring outside of the school, most shootings have taken place inside buildings in densely populated areas such as the cafeteria, gymnasium and library. We must improve our ability to deter unauthorized persons from entering these areas specifically and our school campuses in general. 
The completion of a physical security professional training and certification program will allow SROs to effectively partner with school administrators in order to craft recommendations that are site specific to their school and employ industry best practices regarding the physical security features of their schools.  
Organizations that can provide physical security professional training and certification to SRO's include the American Society of Industrial Security (A.S.I.S), as well as the U.S. Department of Defense. In addition, SROs can receive Crime Prevention Through Environmental Design (CPTED) training that is geared toward the school campus from both the National Association of School Resource Officers and the National Institute of Crime Prevention.   
2. Shoot, move and communicate
An SRO will need to build on their basic patrol skills regarding their ability to shoot, move and communicate during an active shooter incident. 
Unlike many other types of response scenarios, the response to an active shooter threat will most likely result in the officer having to challenge and engage the shooter in armed combat. The operating environment will be loud and chaotic, making communication difficult. And, the officer will most likely engage the shooter while multiple innocent victims are moving erratically in the area in front of, beside and behind the shooter. 
SRO equipment needs
As law enforcement professionals, we are expected to maintain our operational readiness, which requires our equipment to be close at hand. When an SRO needs to respond to an active shooter threat at their school, there is no time to go to the station or a police vehicle to retrieve equipment. Therefore, we must address the two key considerations of being able to provide our SROs with necessary equipment, as well as an appropriate area for staging and deployment.
1. Provide the necessary equipment
Breaching tools gives the responding officer options for overcoming barriers between them and the active shooter. Other equipment would include a school portable radio for communicating with school staff, as well as an agency portable radio, first aid kit, defibrillator and bottled water.
2. Provide a readily accessible deployment space at their school
Tactical considerations dictate that the staging and deployment area for active shooter response equipment should be an area that is separate from the SROs campus office space, as inconspicuous as possible so as not to draw unwanted attention, and centrally located to facilitate rapid access if needed. 
Since most active shooters seek the most populated areas of a school, a non-descript custodial closet at the end of a main corridor and adjacent to one of these areas would make a desirable location to stage the SRO's active shooter response equipment. Additional security for the stored items can easily and economically be provided with a lockable metal filing cabinet. 
Having a second closet located at the opposite end of a main campus corridor would be even better, allowing a rifle to be stored at one site and a shotgun at the other. This would give the SRO an option of using the best tactical location, based on the situation and the shooter's location. We all know that "if one is good then two is better" and increasing our options often means increasing our chances of success.
Conclusion
Law enforcement is as challenging and complex as ever, yet the two simple rules my FTO told me more than 27 years ago still ring as true today as they did then: 
Go home alive at the end of your shift;
You can't help anyone until you first safely arrive at the scene.
Our SROs are no exception to these rules and deserve our full support and commitment to help them achieve their ever-expanding goals of providing a safe and secure learning environment in our nation's schools.

Request product info from top Police Training companies
Thank You!