PRESS RELEASE
Florida Department of Management Services partners with Mission Critical Partners to lead statewide training program
---
More than 500 public safety professionals have participated in the new virtual training program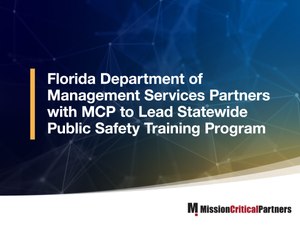 STATE COLLEGE, Pa. — The Florida Department of Management Services (DMS) announced today that it has trained more than 500 public safety personnel in the state using a professional development training program developed with Mission Critical Partners (MCP). The program has hosted 25 virtual training workshops to educate regarding Next Generation 911 (NG911) trends, standards, and best practices, while also providing hands-on learning opportunities that enable personnel to excel in their environments.
The Florida Department of Management Services recognizes the need for additional training for public safety professionals concerning NG911 implementation, especially given the shortage of in-person training opportunities during the pandemic. Following a competitive procurement process, Mission Critical Partners was selected by the state of Florida to develop and deliver NG911 training programs to assist learners and track and report learning in real time.
The workshops allow telecommunicators, PSAP managers, and 911 coordinators to improve their readiness for NG911 and gain skills and valuable experience for the transition. There are five offerings:
PSAP Quality Assurance/Quality Improvement — ensures that personnel have a better understanding of the QA/QI process and are better prepared to assist with training and other QA/QI pursuits
PSAP Continuity of Operations Planning (COOP) — addresses the importance of COOP and provides critical information so that students can assist with the development, implementation, and updating of a COOP plan for their agency that adheres to the Federal Emergency Management Agency's (FEMA's) guidance
Cybersecurity for the Telecommunicator — improves the ability of telecommunicators to recognize and combat cybersecurity threats facing the public sector
Surviving Stress Workshop — introduces telecommunicators to stress management terms, acronyms, causes, and stress detection within themselves and coworkers
Crisis Situations — addresses how telecommunicators can detect and effectively respond to low-frequency, high-severity crises based on industry best practices
"MCP applauds the Florida DMS's commitment to strengthening its public safety workforce through this training initiative. Not only will this advance their careers and give them the confidence to excel within their roles, but it also will increase engagement and improve overall talent retention. It certainly will play a role in helping the state deliver the highest quality of public safety service to its citizens and visitors," said Darrin Reilly, MCP's president and chief executive officer.
About Mission Critical Partners (MCP)
Mission Critical Partners (MCP) is a leading provider of data integration, consulting, network, and cybersecurity solutions specializing in transforming mission-critical communications networks into integrated ecosystems that improve outcomes in the public safety, justice, healthcare, transportation, and utility markets. Our comprehensive experience and vendor-agnostic approach helps us develop modernized solutions for our clients to maximize value and create optimal efficiency while mitigating risk. Additional information and career opportunities are available at www.MissionCriticalPartners.com

Request more info from Mission Critical Partners
Thank You!