How to train for mass gatherings, protests and riots (eBook)
In this free eBook, you'll learn best practices to effectively respond to a variety of mass gathering events
---
By Police1 Staff
Attacks on mass gatherings like the Route 91 concert, and conflicts between protestors or attacks on police during riots, strain public safety resources and put both officers and the public in danger.
Police tactics during such responses also place PDs under the harsh glare of the media spotlight and subject to after-action reviews.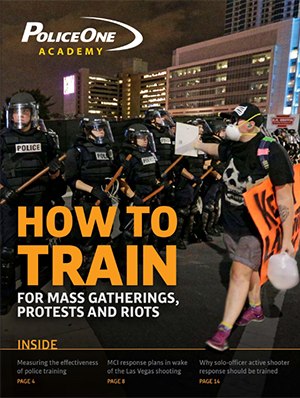 Mass gatherings can be spontaneous or one-time protest events planned months ahead. They can be peaceful and planned – children form mass gatherings in schools five days a week – or subject to varying crowd size and demeanor as seen at music concerts.
Law enforcement agencies need multifaceted response strategies in place to address all of these scenarios, which have to be perfected through varied and ongoing training.
In this free eBook, brought to you by Police1 Academy, you'll learn best practices you can use to prep both police officers and police leaders to effectively respond to a variety of mass gathering events, including:
How to measure the effectiveness of police training programs
Essential truths about MCI response plans in the wake of the Vegas shooting
Crowd control training essentials
Fill out the form below to download the eBook in either PDF or digital flipbook format!