Electric motorcycles gain traction
But will anyone ride a motorcycle that doesn't make noise?
---
The police department where I worked held motor officers in very high regard. It was extremely rare for anyone to rise in the department without having spent a couple of years on motors, writing tickets and checking yourself out in the plate glass windows of businesses along the street. The noise the bikes made was no small part of the panache. One year, the city bought bikes from a well-known American manufacturer instead of the Kawasakis they had used for years with great success. The cops dearly loved the American iron for their distinctive sound, forgiving the bikes' frequent tendency to refuse to start after finishing a traffic stop. Now that electric motorcycles have matured enough to take a place in police fleets, will their lack of noise cause the cops to eschew them?
There were electrically-powered motorcycles in production before there were electric cars, but they've had the same limitations the cars experience. Batteries performed unpredictably in temperature extremes, and the range of the bikes between charges was a concern. Even though most motorcycles aren't ridden as much as their owners intend when they make the purchase, they still want to be able to go on the occasional road trip, which an electric bike won't support.
Police use is different. Many police motorcycles in regular use for traffic enforcement don't rack up 50 miles per day, which is well within the range for bikes in current production. The downside here is that police bikes often have high electrical demands for emergency lights, siren, radios, and radar/laser devices.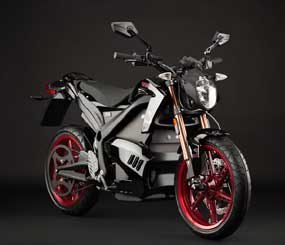 The two leading makers of electric motorcycles are Zero Motorcycles in Scotts Valley (Calif.) and Brammo in Ashland (Ore.). Brammo's heaviest street model is the Empulse, with a range of 100 miles and a top speed of 100+ mph. Zero Motorcycles has the ZFS, rated for 114 miles range and a top speed of 88 mph. Recharge times vary between two and 10 hours, depending on the type of charger used and the state of the battery at the time charging begins.
Both companies use lithium-ion (Li-Ion) batteries, which are less sensitive to temperature and do not develop a "memory" effect when they are recharged before being completely discharged, as do nickel-metal hydride (Ni-MH) batteries. Zero Motorcycles estimates the battery pack will still hold 80 percent of its original capacity after 308,000 miles. Brammo doesn't give life cycle data, but the performance should be similar. Battery pack life was a big concern when cars like the Prius started hitting the road, but experience has shown that the batteries have endured at least as long as their manufacturers predicted. Given that the bikes require very little maintenance and no gasoline at all, these could look very attractive to fleet managers.
Electric motorcycles, like most electric cars, use a one speed or continuously variable transmission, so there is no gear shifting. Although the top end speed is not going to outpace most gas-driven bikes, electric motors deliver their full torque from a standing start, and can often beat gas-powered engines off the line.
The lack of emissions can make an electric motorcycle a great vehicle for patrolling a facility like a warehouse complex or convention center, where the officer may have to move indoors and outdoors many times over the course of a shift. Most facilities with this kind of need use bicycles or electric vehicles like golf carts and Segways, but they can't chase down a car. An electric motorcycle could chase the car and still be driven inside the building when the pursuit was over.
These are not especially expensive vehicles. The top-end model from Zero Motorcycles sells for just over $15,000, fully loaded, and Brammo's bike is $13,995. That's inexpensive enough for many departments to try one or two as an experiment, deploying the bikes in different roles and patrol assignments.
What's not going to be the same is watching the motor cop sitting at a traffic light saying, "Vvrrooom!" under his breath.

Request product info from top Police Motorcycles companies
Thank You!