House passes bill to help smaller police departments train, recruit officers
The measure, which would provide $300 million over five years to PDs with no more than 125 officers, was one of several policing bills passed
---
By Jonathan D. Salant
nj.com
WASHINGTON — Legislation to authorize federal funding to help smaller police departments train and recruit officers overwhelmingly passed the U.S. House Thursday.
The measure, which would provide $300 million over five years to police departments with no more than 125 officers, was one of several policing bills passed as Democrats sought to rebut Republican charges that they supported defunding the police, a position taken by some progressives but not by most Democratic members of Congress.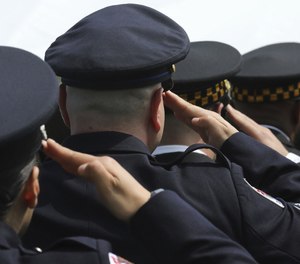 The bill passed, 360-64. Nine progressive Democrats voted no while 153 Republicans voted yes, including Rep. Chris Smith, R-4th Dist. All 10 New Jersey House Democrats backed the bill.
"Every single member of our caucus is going to fund law enforcement, not defund," said Rep. Josh Gottheimer, D-5th Dist., the measure's chief sponsor. "That is the clear message."
He estimated that 96% of police departments in the country would be eligible for funding.
The Senate in August unanimously passed similar legislation, and the House action brought the measure one step closer to passage.
Gottheimer touted the bill at a Capitol Hill press conference in May, and worked since then to attract members of the Congressional Black Caucus and others upset over the failure to get legislation passed that would to overhaul policing following the deaths of George Floyd and other unarmed Black residents at the hands of police.
Members of the caucus questioned sending more money to police forces without any new accountability standards.
But Gottheimer and other more moderate House Democrats have pushed legislation countering Republican accusations that they wanted to defund the police as violent crime rose during the coronavirus pandemic.
It was one of the issues Rep. Jeff Van Drew, R-2nd Dist., highlighted In his successful high-profile re-election campaign against Democrat Amy Kennedy.
Van Drew was one of 55 Republicans voting against the Gottheimer bill, calling it "faulty and a last-minute attempt" for Democrats "to redeem themselves." He called the measure "hypocritical" and "nonsense."
Passage of the legislation was held up for months, including for several hours on Thursday, while some lawmakers objected to giving more money to law enforcement without also taking action to address the killings of unarmed Blacks by police officers.
Efforts to overhaul policing following the Floyd's death, sponsored by U.S. Sen. Cory Booker, passed the House but ran up against Republican opposition in the Senate.
Some of those concerns were addressed in Thursday's legislation. Gottheimer's legislation would provide training funds for officer safety, de-escalation efforts, and domestic violence responses, as well as money to recruit and keep new police officers.
Another measure that passed the House Thursday would provide grants to hire, train, and send mental health professionals rather than police to respond to emergencies involving a person with a mental health crisis.
"By ensuring that a mental health professional is the responder in situations where a person is experiencing a mental health or disability-related crisis, this legislation will help keep some of the most vulnerable members of our community safe," said Rep. Frank Pallone Jr., D-6th Dist., who led the House floor debate.
The other two House-passed bills would offer grants for programs to reduce violence in communities, and would help police departments investigate unsolved crimes, particularly those involving guns.
Every New Jersey Democrat backed the other three bills while a majority of House Republicans, including Van Drew and Smith voted against them.
Among those co-sponsoring Gottheimer's legislation were Reps. Andy Kim, D-3rd Dist., who is facing a well-funded opponent, and Tom Malinowski, New Jersey's most vulnerable incumbent.
"For the safety of our communities, our loved ones, our neighbors, and our police officers, we must fund local law enforcement and give them the tools they need to prevent crime while also investing in better training and accountability," Kim said.
Malinowski said the legislation made it clear where his party stands regarding law enforcement.
"There were a few voices on the far left of our party who used that defund the police slogan," Malinowski said. "The overwhelming majority of us rejected that from the start, from the president on down and the Democratic Congress has continued through the bills we passed today to support greater funding for law enforcement at every level.
Both challengers used the defund the police slogan on their campaign websites, Malinowski's Republican challenger, former state Senate Republican Leader Tom Kean Jr., said he was "opposing any and all efforts" to defund the police, while Kim's opponent, yacht company owner Bob Healey Jr., said Biden and President Biden and "radical Democrats" have "defunded our police."
©2022 Advance Local Media LLC. Visit nj.com. Distributed by Tribune Content Agency, LLC.
McClatchy-Tribune News Service