How can we stop school shootings in America?
Strategies should include reporting the signs, anonymous tip lines and behavioral threat assessments
---
By Bradley D. Beach
Bullets rang out recently at another elementary school in America. A suspect shot through the glass front doors to enter the campus. Young children ran away and ducked for cover; adult staff members went toward the suspect. Six were dead in a matter of minutes, including three 9-year-olds.
America's worst nightmare happened again in March in the Green Hills neighborhood of Nashville, Tennessee. The 28-year-old shooter was killed by the police, but not before she shot and killed her victims. Although mass shootings in schools are rare, they are among the deadliest emergencies a school can face. Tragically, their frequency continues to increase. Children are the most precious thing in the world, and we are obligated to do our best to protect them. To do so, we have to "think the unthinkable:" how best to secure our schools.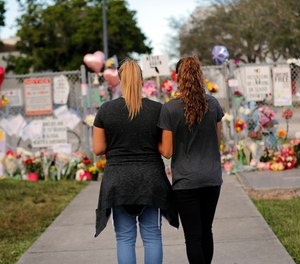 School shooting statistics, Columbine to today
Since the Columbine massacre on April 20, 1999, there have been 304 fatal school shootings. [1] During that period, 392 people have been killed, and 1,119 have been injured in K–12 school shootings. From 2020–2021, there were 93 school shootings resulting in casualties at U.S. schools. [1] In 2021 alone, 165 people were injured in school shootings, the highest number ever recorded for this type of crime.
Let's look at the number of gun incidents on K–12 school grounds and the percentage of active shooter incidents by school level. From 1999–2014, there were only single-digit (1–9) numbers of gun incidents on campuses each year. [1] In 2015, the number jumped to 40 (over a 400% increase), and in 2018 it rose to 116 (almost a 300% increase from 2015). Then they hit a peak in 2021 with 249 (more than doubling in three years). [1]
From 1999 to 2022, 59% of school shootings happened in high schools, 21% in junior highs, 14% in elementary schools, 3% in K–12 or K–8, and 3% other. [2] In 2022 alone, 50 people died, and 122 were injured in 152 incidents. [2] These numbers are staggering and increasing at alarming levels.
Now let's look at the weapons used in these incidents. Statista studied mass shootings from 1982–2023. Handguns were the most common weapon type used in mass shootings in the United States, with a total of 161 different handguns being used in 111 incidents between 1982–2023. [2] Handguns were involved in about 78% of mass shootings. Since 1985, there have been 58 mass shootings involving rifles, and rifles were used in four of the five deadliest mass shootings. [3] Although not at a school, 58 were killed and 546 were injured with rifles in the 2017 Las Vegas Strip massacre.
Even though these shootings are increasing rapidly, several have been averted over the years. In 2021 the U.S. Secret Service released a report on averted school shootings. Researchers studied 67 disrupted school-based violence threats against K–12 schools from 2006–2018 to determine possible ways to prevent shootings. Of these plotters, 95% were male, and the average age was 16. [2] More than four-fifths (85%) engaged in planning related to weapons, and 73% detailed how they would carry out the attack. And, most alarmingly, 94% shared their intentions about carrying out an attack. [2] Our country must get better at recognizing the red flags and stopping these shootings before they occur.
Police1 resource: What law enforcement can learn from averted acts of school violence
Additional red flags and bullying
In 2021, the National Center for Education Statistics published a study of students who carried a weapon at least once in the last 30 days by race/ethnicity, sexual identity and location in 2019. The study concluded that more than 70% of school shooting plotters had access to a family member's firearm in the home. [2] American Indians/Alaska Natives had the highest percentage among the races at 27.3%, and sexual identity didn't play a major role. [2]
Bullying is cited as a major reason for attacks, and school districts need to provide more mental health support. Nine in 10 students in grades 4–8 report having been bullied or harassed, and nearly 75% of school shootings have been linked to bullying. [4]
Police1 resource: Bystanders: One key to preventing school violence
How to harden the targets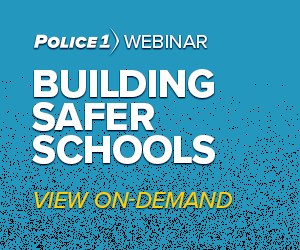 There are many ways to harden school targets, and they should all be explored. Some are expensive, and some are very simple. There are advanced video surveillance and artificial intelligence software programs that can recognize guns and hear shots. Some schools have locked down their campuses and created a single access point with Ring doorbells so staff can see who is requesting to enter. There are door locks and devices to secure them closed. Some campuses have tried metal detectors or wands. Special resource officers (SROs) are on many campuses, as well as security guards, but budgets are tight for many districts, and law enforcement staffing shortages may make this difficult. As a result, California's ABC Unified School District recently hired a campus safety and security officer to conduct safety assessments at all school sites, provide active shooter training to staff, and strengthen collaboration with local, state and federal law enforcement agencies. [5]
There are alarms for active shooters that differ from alarms to evacuate the school, and 95% of schools practice active-shooter drills at least yearly. [6] Some schools provide ballistic material to shield students and tourniquets in every classroom. Many advocates call for stricter gun laws and universal background checks. School districts are also providing active-shooting training to staff with law enforcement based on the "run, hide, fight" model.
Police1 resource: An integrated technological approach to school attack prevention and response
Ways to prevent school shootings
Hardening the target is great, but how can finally stop these school shootings?
Many school shooters display disturbing behavior before their attacks, and the people around them miss opportunities to intervene. One example is the Parkland shooting suspect from 2018. As a 19-year-old, he'd had more than 40 documented encounters with law enforcement and a history of threatening others. He purchased multiple weapons, and his family expressed concern about his irrational behavior. Later that year he orchestrated a shooting that killed 17 people and wounded many others.
There are three things that can be done to prevent school shootings according to research:
We can teach students and adults to report warning signs. The Rand Corporation has done extensive research on this and found students who feel a strong connection to their school, a sense of belonging, are much more likely to come forward. [7] Students often don't realize the importance of the information they have, and administrators often feel the student isn't serious about what they are saying. Students need to be trained to report anything suspicious to their parents, teachers or school administrators.
We can develop and publicize around-the-clock anonymous tip lines. There is so much valuable information on social media that needs to be observed for any irregular posts or threats and should be taken very seriously. Parents often learn of threats first from their children, and they need to have a clear avenue to report them.
We can conduct behavioral threat assessments and management for people who exhibit dangerous signs. The National Policing Institute maintains an Averted School Violence Database. As of 2021, the database showed 171 attacks were averted, and 88 of them were first discovered by a peer of the potential attacker. [8] According to the U.S. Secret Service's National Threat Assessment Center, communities should not wait for a specific threat before taking actions. [9] Schools should consider strategies for resolving grievances, and individuals sharing final communications or final acts warrant immediate intervention.
Police1 resource: Building safer schools: How law enforcement and educators can develop effective threat assessment teams to stop school violence
Conclusion
Mass shootings have increased at astronomical numbers in past years. We need to do more to protect our children and get shooters the help they need before they commit such an egregious crime. As a law enforcement officer for more than 24 years and a school board president, I call the nation to action. Let's create a president's or governor's task force on school shootings to thoroughly study school shootings and make recommendations. I'm willing to work with other school board presidents and superintendents to lead the charge. It's a team effort, and we need all hands on deck to finally end these senseless tragedies.
Police1 resource: Prevention, disruption & response: The strategies communities must deploy to stop school shootings
Watch Police1's Policing Matters podcast series on active shooter threat management & response: 

References
1.  Vigderman A, Turner G. (May 2023.) A Timeline of School Shootings Since Columbine. Security.org.
2. Winn Z, Rock A. (Dec. 2022.) U.S. School Shooting Statistics: Data on Incidents, Shooter Warning Signs. Zach Winn, Amy Rock. Campus Safety. 
3. Weapon types used in mass shootings in the United States between 1982 and April 2023, by number of weapons and incidents. Statista.
4. Loweless B. Bullying Epidemic: Facts, Statistics and Prevention. Education Corner.
5. Campus Safety and Security Officer job listing. ABC Unified School District. 2023. www.EDJOIN.org
6. Reconsider Active Shooter Drills. Everytown for Gun Safety.
7. Irving D. (March 2023.) Preventing Violence in Schools: How to Encourage Students to Report Threats. Rand Review. 
8. Kingston B, Goodrum S. (March 2023.) 3 Ways to Prevent School Shootings, Based on Research. The Conversation.
9. Mass Attacks in Public Spaces: 2016–2020. (January 2023.) National Threat Assessment Center.
---
About the author
Bradley D. Beach is a supervising agent in charge for the California Department of Alcoholic Beverage Control, serving a large portion of Los Angeles County, and has been employed there since 1999. As a sworn peace officer, Beach is a background investigator, field training officer, internal affairs investigator, acting public information officer and long-time firearms instructor. He was also elected in 2020 and is a governing board member for the ABC Unified School District, which oversees 30 schools and 2,000 employees.
Beach currently attends the University of San Diego and is working on his Master of Science degree in law enforcement and public safety leadership. Before that he attended the POST Command College and San Diego State University, where he graduated with a Bachelor of Science degree in criminal justice (cum laude) and a minor in kinesiology. He currently enjoys traveling and coaching his daughter's softball team.