RISE Award nominee: How one cop is helping his agency move forward after a line-of-duty death
On the cusp of retirement, Lt. Bruce Holt committed to helping his small department recover and rebuild after a tragic loss
---

Editor's Note: In the third annual edition of the RISE Award Program, TASER | Axon and Police1 again honor officers and agencies who have risen above the rest. Lt. Bruce Holt, Seaside PD, Oregon, is a shining example of what a Leadership nominee should be. Winners will be announced on September 1.
By Rachel Zoch for Police1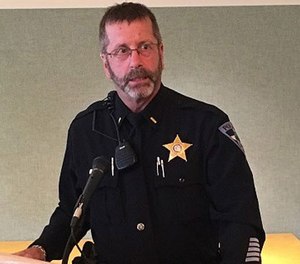 Bruce Holt is probably the last person to call himself a leader, although he is reliably the first to step in when something needs to be done.
Holt started with the Seaside PD as a reserve officer in 1983 and joined the ranks officially later that year. He's spent his whole career in Seaside, a popular oceanfront resort town just 80 miles west of Portland, Oregon. Now a lieutenant, Holt served as a sergeant for many years and was considering retirement at the beginning of 2016. Then tragedy struck.
On Feb. 5, Sgt. Jason Goodding was killed in the line of duty. As he and another officer tried to detain and arrest a wanted 17-time felon, the suspect killed Goodding with a single shot from a semi-automatic pistol. The sergeant was the first officer to be shot and killed in the line of duty in Clatsop County in more than 30 years.
Picking up the pieces
Chief Dave Ham, a close friend of the slain officer, focused his efforts on the Goodding family. Ham named Holt as liaison to the Oregon Fallen Badge Foundation, which coordinated memorial arrangements. Holt stepped into the breach to keep things going with day-to-day concerns, answering questions, organizing peer counselors and looking after the needs of his fellow officers, who were mourning the loss of their colleague and friend.
"Sgt. Holt stepped up and took care of the work family, all of us at the department," said Sgt. Guy Knight. "He was that glue that kept everybody tasked with his ability to keep everything moving, keep everybody focused and still care enough to ask you, 'Are you doing OK, do you need anything?'"
Shane Strangfield, a lieutenant with the Clackamas County Sheriff's Office and president of the Oregon Fallen Badge Foundation, took on the role of incident commander for the memorial and counseling services provided by the foundation. Strangfield said he could tell right away that Holt was a man of high integrity and soon discovered that Holt's presence was reassuring to his fellow officers.
"You get a feeling when you're talking with him that things were gonna be OK and that they were gonna get through this," Strangfield said. "You could see that he was gonna be good for the agency and help bring them through this tragic event."
Rising to the challenge
Fully staffed, the Seaside PD boasts 19 sworn officers and the chief. The department was already down by half before Goodding was killed. Then the lieutenant, the department's second in command, retired. Holt was the rock, the person everyone on the force looked to for guidance and support.
But the department was still down 10 officers, and several retirements had depleted the ranks of decades of experience. Holt, too, was up for retirement – but he wouldn't leave, not when his department needed him. Named acting lieutenant in March, Holt decided to put off retirement and commit an additional five years to Seaside. He told Chief Ham that he wanted to help rebuild the department and lay the foundation for its future success.
"Holt stepped up in an amazing way and rallied the department," said Sgt. Gary Welborn. "It was a critical time for us, extremely difficult, and he literally worked tirelessly and has been ever since then to get our department back to where we need to be, even through his promotion, putting in an incredible amount of hours. It would have been easier for him to leave, but he didn't."
It's clearly a labor of love for Holt, who gets choked up when he talks about how the eight remaining officers pulled together in the spring to serve the community, in spite of heartache and hardship.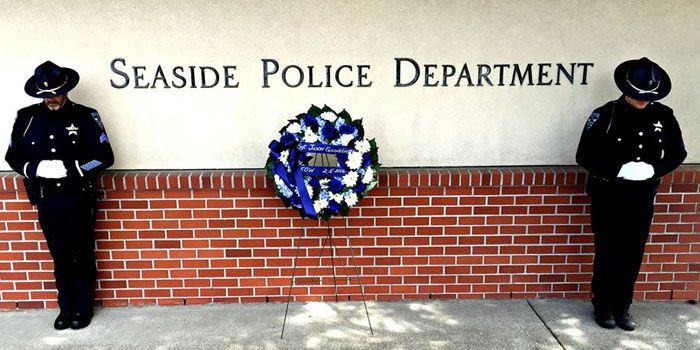 Sgt. (now Lt.) Bruce Holt and Officer David Davidson stand watch over a memorial wreath for Sgt. Jason Goodding. (Photo/Seaside PD)
"I was so impressed by how people didn't even complain. There was no sick leave taken during that time. Everybody stepped up," Holt said. "They recognized the shortage, and they did such a remarkable job of just taking care of their citizens. … I haven't been more proud."
Holt didn't skip a beat, said Ham. Even before Holt was officially named lieutenant in June, he took on an array of operational tasks and worked to boost morale and ensure that Seaside's officers had what they needed to get the job done.
"He's been doing a great job in that command-level position for our patrol and detective units. He just jumped in with both feet and was not shy about taking on those roles," Ham said. "He's doing a bang-up job with it and is readily accepting any and all new challenges. The leadership that he brought to a challenging and tragic situation was absolutely beneficial to our department and the individuals here. He's just been amazing."
Leading by example
For Holt, leadership is about service. He strives to set an example and to provide training and support for his fellow officers.
"He's that guy working right alongside you, helping you make the right decisions but not looking for anything out of it," said Knight. "He's not the guy that looks for any kind of kudos. That's not what drives him. What drives him is seeing other people be successful. He wants you to be better."
Holt is busy now laying the foundation for the department's future. Seaside PD often serves as a starting point for young officers, hiring first-time recruits and training them to be competent, professional officers. Still recruiting, Holt expects to have the department fully staffed by early 2017. He is proud to help others grow in their careers and emphasizes training for officers at every stage of their careers.
"Chances are we'll have several new faces to the criminal justice system. In our area, we get very few laterals … so a lot of what we do is hire very green, young individuals who've never had any exposure to law enforcement," he said. "If we pick them up, we start the process of building them into young men and women who are officers. We don't take that job lightly."
Holt is a longtime firearms instructor and has always encouraged others to hone their skills and continue training to stay sharp. Now, as lieutenant, it's his job to make sure that all of Seaside's officers have the skills and training they need. He still does hands-on training with new recruits.
"Even with all the stuff he has to do, he wants to take the time to make sure that they're taught correctly and make sure that they understand the importance of certain things," said Knight. "It's nice to see him take that time to help the new people even though he has so much on his plate now as a lieutenant with all the administrative duties. He still wants to be down on the ground helping everybody out."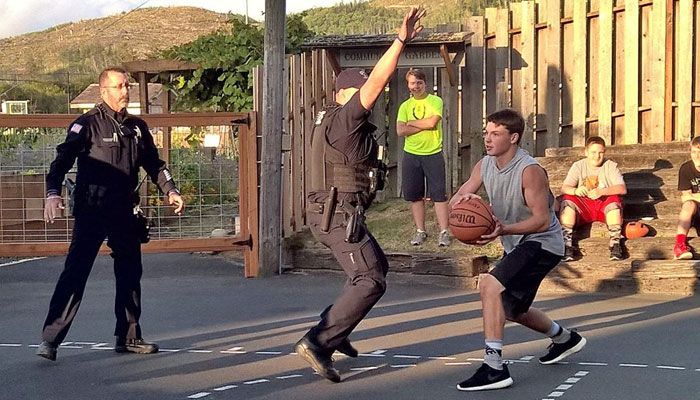 After National Night Out on Aug. 2, 2016, Holt joins two other Seaside officers in a 3-on-3 basketball game at the middle school. (Photo/Seaside PD)
Training and career development are top priorities for Holt, and he's happy to report that Seaside PD is taking steps in the right direction. He is pleased with the teamwork and problem-solving on the force, and he continues to learn how to help his officers grow.
"I always had an interest in people's careers being the most that it could be for them, and I think with my new job, I have a little more impact in seeing that that can be assured," said Holt. "My mission is to see that my sergeants are helping the troops do their jobs the best they can."
Providing support and encouragement
Part of that mission is to care for the emotional well-being of his fellow officers. Holt feels responsible for them and says family comes first, always.
"A lot of times in law enforcement, individuals get into a routine where they become somewhat callous, immune to the chaos they have to witness – the abuse of children, the stuff that nobody else wants to go see, let alone have to investigate – in order to do their job and do it very well, and they end up suppressing those emotions," said Holt. "Sooner or later, if unrecognized, that can have a devastating effect on both work relationships and personal relationships."
He is committed to providing counseling, time off or whatever an officer needs to process the darker parts of the job. Welborn says Holt does a lot behind the scenes to care for his fellow officers, never seeking recognition or asking for help himself. On a sleepless night shortly after the death of Sgt. Goodding, Welborn came to the station in the wee hours to find Holt, who also hadn't slept, washing the department's cruisers in preparation for the memorial procession.
"It's those types of things that he doesn't want any recognition for, but that's the kind of things he does that nobody's really aware of," said Welborn. "He's just done a lot. He's stepped in for me a lot when I was having a difficult time."
And Holt has a knack for lightening the mood when needed. During the memorial preparations, Strangfield was impressed by his ability to put people at ease with a well-timed joke, and Knight says Holt's sense of humor is well-known in Seaside.
"Everybody loves him. He just wants to make you smile, make you laugh, have a good time," said Knight.
A self-professed "goofball," Holt uses humor to build rapport and put people at ease, whether colleague, citizen or suspect. He is quick to crack a joke, especially when making a doughnut run – in uniform, of course. Chief Ham says this habit has served Holt well, enabling him to get along with a wide variety of people, some of whom might otherwise be intimidated by the badge.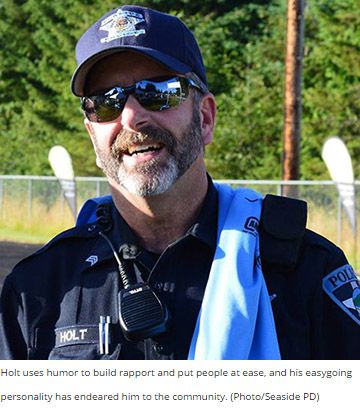 "I like to have fun at work, and it doesn't matter the situation. I'm gonna find a way to further encourage people, even if it's a tough time," said Holt, noting that it has been a somber year for the department. "My job's not done here."
Holt's easygoing personality has endeared him to colleagues and the community, and when his promotion to lieutenant was announced on the Seaside PD Facebook page, it drew more than 100 comments congratulating him.
"He's just a really good, down-to-earth kind of guy," Ham said. "It's amazing to see that out of such a tragic event, somebody can step up and fill that role that's needed and then some."
Doing what needs to be done
At the cusp of retirement, Holt chose the harder path because it needed to be done. A true leader, he couldn't just walk away and make it someone else's problem.
"I'm not ready to call it quits. I'm ready to take people's strengths and utilize those to help build a smoother transition," he said.
In this next phase of his police career, Holt is building a plan to help the department succeed as many of its officers inevitably move on to grow in their careers with larger agencies. He is happy to be a part of that process and hopes to launch a few more good cops before he does finally retire.
"You look at all the good that law enforcement does on a daily basis – I think it's a pretty admirable profession. I'm proud to be still a part of it, and I want everybody who comes through my doors and is a part of it through our agency to have and experience the same sense of professionalism and pride in the profession that they've chosen," he said, "and give it the best that they can throughout their career."
Lt. Bruce Holt's dedication to his community, his fellow officers and to the profession as a whole is why we're proud to name him as a nominee for the TASER | Axon and Police1 RISE Leadership Award.
---
About the author
Rachel Zoch is a writer and editor for PoliceOne's BrandFocus division. Previously, she worked the copy desk of a local daily newspaper and served as managing editor of a trade magazine for the multifamily housing industry.

​Contact Rachel Zoch