Body armor saves recognized at SHOT Show 2018
Don't just wear a vest, wear a vest that will save your life
---
In late 2016, a thief was chased into his house and Officer Luke Brown attempted to take him into custody. A deputy was about to hit the suspect with a TASER when the suspect reached for a shotgun near the doorway. Brown was about a foot away from the barrel of the shotgun when it went off. Brown fired back twice, striking the suspect. After the exchange of gunfire, and while wounded, Brown performed medical treatment on the suspect until the arrival of paramedics.
What saved Brown? His wife, Amanda, a dispatcher for the Green Castle Police Department in Indiana said it best: "Don't just wear a vest, wear a vest that will save your life."
In this case, the specific vest worn by Brown was a Point Blank Alpha Elite using panels made from Dyneema Force Multiplier Technology by DSM. More than 250,000 have been sold in the United States in the past four years to law enforcement agencies in all 50 states, such as the NYPD, federal agencies and the United States Department of Defense.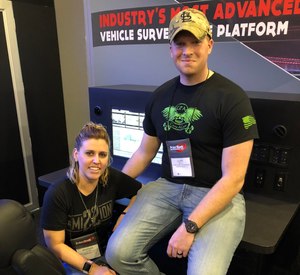 Force multiplier technology makes the panels in the Alpha Elite super light and super thin. They weigh just 0.63 pounds per square foot and 0.18 inch thick for Level II, and 0.87 pounds per square foot and 0.19 inch thick for Level IIIa.
In addition to Brown and his wife, Point Blank invited six other survivors and their loved ones to SHOT Show 2018 to award them each a plaque made from a ballistic panel with an embedded round similar to what they survived. The awards were jointly presented by Marcio Manique, global business director of Life Protection for DSM Dyneema, and Michael Foreman, Point Blank vice president of Government and International Sales.
Point Blank's vests are manufactured, sold and supported by 600 employees in Greenville, North Carolina. While their corporate headquarters is in the Netherlands, DSM has a fiber manufacturing facility just down the way from Point Blank.
Safariland Armor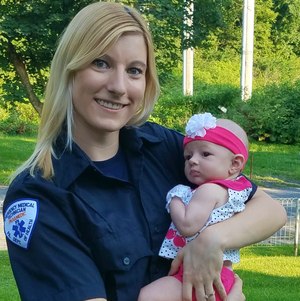 Another company introducing new armor for 2018 is Safariland, whose Level II and Level IIIa vests are available in multiple price points and in both men's and women's cuts. 
New for 2018, Hardwire armor systems panels are woven from DSM Dyneema fiber. Hardwire Level IIIa armor is offered in two weights at different price points; 0.68 pounds and 0.74 pounds per square foot. And while they cannot be used as a life preserver, Safariland says that the panels themselves are light enough to float.
As I wrote in an earlier article, the Safariland Group's SAVES CLUB recognizes police officers who have survived a life-threatening incident while wearing the company's armor and/or protective equipment.
The company's SAVES CLUB may hold a record: a single vest that saved two lives. On April 9, 2017, paramedic Danielle (Dani) Kamenar and her partner were transporting a patient who was suffering shortness of breath when the patient suddenly became combative and struck Kamenar in the abdomen.

Kamenar was 32 weeks pregnant at the time and was immediately admitted to a hospital. The assault caused a partial placental abruption and she spent more than a month on continuous bed rest. Despite the medical attention Kamenar received, she went into early labor and safely delivered Brooklyn Kamenar prematurely.
Every doctor, specialist and nurse that treated Kamenar determined that without her Safariland MT2-1 armor, there would've been a greater chance of a full abruption and both mother and child may have died. So with one vest, Brooklyn Kamenar, SAVE #1988, and Paramedic Dani Kamenar, SAVE #1989, were welcomed to The Safariland Group SAVES CLUB.