NC police chief's 'Black Lives Matter' Facebook post being reviewed
The NAACP and other leaders are looking into a post by a veteran police chief on his personal Facebook
---
By Ashley Morris
Star-News
SURF CITY, N.C. — The president of the state chapter of the NAACP and other leaders said they are meeting this week to discuss their response to a Facebook post written Sept. 3 by Surf City Police Chief Mike Halstead.
Halstead wrote on his personal Facebook page about the Black Lives Matter movement, where he places blame for recent killings of police officers, how and when he has trained his officers to respond with force, and the race problems in the country.
In the 662-word post, the police chief, who has been with Surf City for 13 years and in law enforcement for more than 35 years, said the Black Lives Matter movement was "nothing more than an American born terrorist group brought on by the lie of the hands up don't shoot during the criminal thug Michael Brown incident." He writes that he believes neither the government nor blacks in the United States would tolerate a white supremacist group marching through the streets calling for "the murders of a race of people and a group of public servants."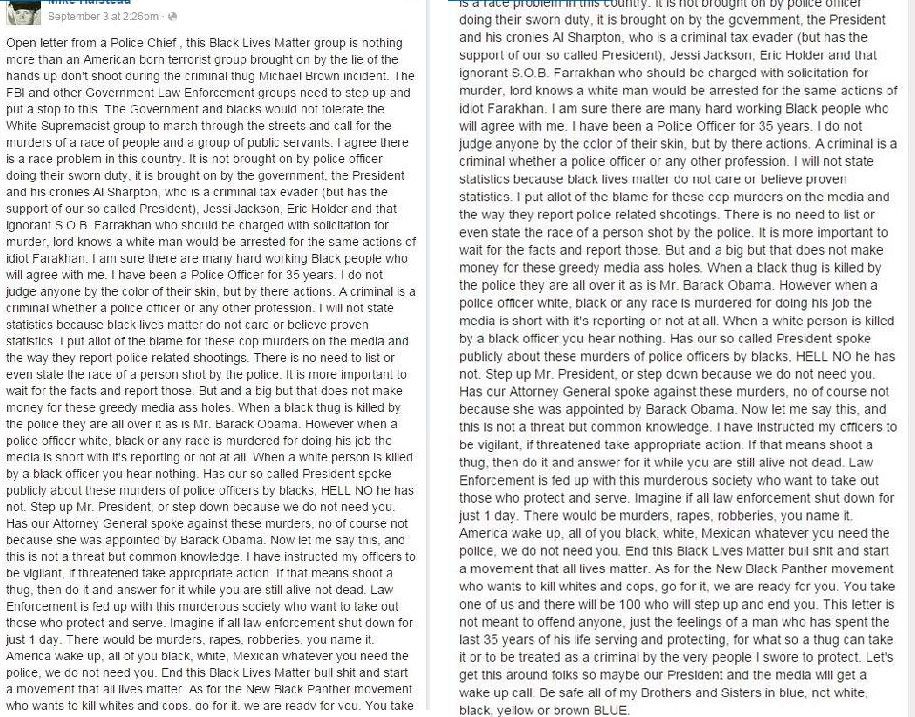 Halstead continues to say he does not judge anyone by the color of their skin, but by their actions, and said criminals are criminals no matter what their professions, even if they are police officers.
He then went on to blame the media's coverage of police-on-civilian shootings for recent murders of police officers.
Surf City Town Manager Larry Bergman said he spoke to Halstead about the post after the StarNews sent Bergman the post. Bergman said the town currently does not have any policies governing an employee's use of social media.
Bergman said Halstead was frustrated over recent killings of officers across the country and he was taking out his emotions in the post. Bergman said Halstead did not mention Surf City specifically.
But Halstead did write about his officers: "Now let me say this, and this is not a threat but common knowledge. I have instructed my officers to be vigilant, if threatened take appropriate action. If that means shoot a thug, then do it and answer for it while you are still alive not dead."
The chief removed the post from his Facebook page Monday, but Bergman said Halstead did that on his own accord and was not instructed by the town to do so.
When asked if Bergman agreed with Halstead's description of using force, Bergman said he expects all of the town employees to carry out their jobs and be professionals.
"I do expect for our officers to be vigilant — that is not a new concept," Bergman said. "If an officer ever doubts their actions and it's a difference between life and death for them, I want them to be confident in their work and if they were ever in a situation where they felt threatened they have protocol to follow."
Bergman said the officers are trained to respond appropriately for each situation and not escalate incidents that do not need to be escalated. For example, he said if a suspect being arrested was mouthing off to an officer, the officer knows to not use physical force, but if a suspect resisted arrest or fought back, then physical force would be used.
North Carolina NAACP President the Rev. William J. Barber II said the chief's comments were forwarded to him Monday by New Hanover County NAACP district President Deborah Dicks Maxwell. Barber said he, a team of lawyers, the NAACP criminal justice chair and Maxwell would review the post this week.
"After seeing the post, on first read it is quite troubling," Barber said. "It is not just the words in the post that are troubling, but the attitude of this chief and his officers who are called to protect and serve people — all people."
Surf City Mayor Zander Guy referred all comments to Bergman on the matter.
Halstead did not return a phone call from a reporter seeking comment Monday evening.
Copyright 2015 the Star-News
McClatchy-Tribune News Service