Detroit cop won't go on trial 3rd time in OIS, charge to be dismissed
The final charge is expected to be dismissed against a Detroit police officer who fatally shot a 7-year-old during a raid that was filmed by a reality TV show
---
By Corey Williams
Associated Press
DETROIT— The final charge is expected to be dismissed against a Detroit police officer who fatally shot a 7-year-old girl during a nighttime raid that was filmed by a reality TV show, a prosecutor said Wednesday.
Aiyana Stanley-Jones' mother was told Wednesday that authorities will not seek a third trial against Joseph Weekley and that Wayne County Prosecutor Kym Worthy will move Friday to dismiss the remaining reckless use of firearm charge.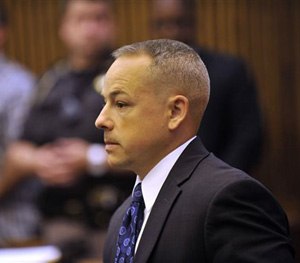 Aiyana was shot in the head while she slept on a living room couch in May 2010. Police were accompanied by a camera crew from "The First 48," which recorded it from the outside but not inside where Aiyana was shot. The shooting was not considered intentional.
Weekley's first trial ended without a verdict in June 2013. His second ended in October with a hung jury. During the trial, a judge dismissed a charge of involuntary manslaughter.
Worthy called it "unfortunate" that Judge Cynthia Gray Hathaway dismissed the felony manslaughter charge, leaving only the misdemeanor count. It carries a maximum punishment of two years in prison.
"Under the law, her decision cannot be appealed," Worthy said in a statement.
The Associated Press left messages Wednesday seeking comment from Aiyana's family and from Weekley's attorney.
Weekley has said he feels "haunted" by the tragedy. He was a member of an elite police unit and was the first officer through the door of the home during a chaotic search for a murder suspect.
Weekley's submachine gun fired seconds after a stun grenade was thrown through a window to confuse anyone inside. He didn't testify but insisted that he mistakenly pulled the trigger during a struggle with Mertilla Jones, Aiyana's grandmother. Mertilla Jones denied she struggled with the officer.
Copyright 2015 The Associated Press
Copyright Associated Press. All rights reserved. This material may not be published, broadcast, rewritten, or redistributed.